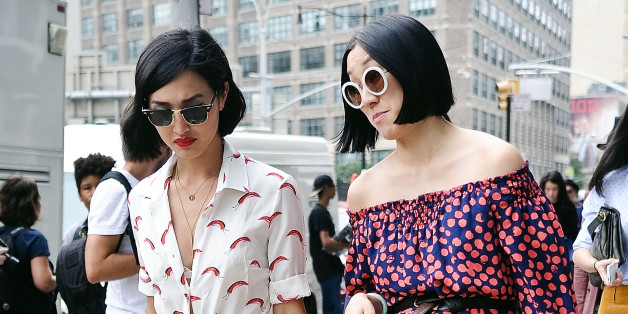 Another week has gone by and people are tweeting as often as Instagrammers are snapping photos of foliage.
Man Repeller realized that letter from Hogwarts is never coming, but we're still totally holding out for ours. We saw some expected sarcasm from our good friend Eva Chen, and the shameless tweets about selfies from Alexa Chung made us literally LOL. Emily Schuman from Cupcakes and Cashmere pointed out that "adding raisins to your food (particularly when it's savory) is the equivalent of edible booby traps" and we couldn't agree more.
Basically, it's been another stellar week on the internet. For more great tweets from people in the fashion industry, scroll through the list below.
I just sent my second-ever High Priority email in life (it was to @rapo4 & @bonappetit to borrow a pot for a very important photo shoot).

— Eva Chen (@evachen212) October 24, 2014
Who cares about the question.... the answer is wine

— Carrie Bradshaw (@Carrie_Bradsh4w) October 31, 2014
If I go to the gym, then have leftover Chinese food for dinner, does the tree make a sound?

— Jamie Feldman (@RealGirlProject) October 28, 2014
I mean, I just say yes when people ask if I know Jay Z.

— refinery29 (@Refinery29) October 30, 2014
I had a really good chat with my leather jacket this morning. We both agreed that I am a sex machine.

— John Jannuzzi (@johnjannuzzi) October 31, 2014
It can take a really long time to realize that your admissions letter for Hogwarts is never coming. http://t.co/3FuuniZHjp

— Man Repeller (@ManRepeller) October 31, 2014
The shame of missing a good photo opportunity because your camera was on selfie mode and took too long to flip. :(

— alexa chung (@alexa_chung) October 28, 2014
I'm thinking of going as Slutty Martha Stewart for Halloween.

— Stella Bugbee (@stellabugbee) October 30, 2014
Adding raisins to your food (particularly when it's savory) is the equivalent of edible booby traps.

— Emily Schuman (@byEmily) October 29, 2014
I hate people who are private on Instagram. Yup.

— Damsel In Dior (@damselindior) October 28, 2014
My perfect Halloween involves loads and loads of carbs. That's everyday, actually.

— Chanel (@chanelinezp) October 31, 2014
BEFORE YOU GO
PHOTO GALLERY
Fashion Week Street Style