While the battle for the U.S. Senate has captured attention nationwide, some of this year's closest contests are among the 36 governor's races, nearly a third of which are headed to virtual photo finishes, according to recent polls.
As of this writing, the HuffPost Pollster tracking models show the top candidates separated by less than three-tenths of a percentage point in four states -- Connecticut, Florida, Illinois and Maine. Four more states -- Alaska, Colorado, Michigan and Wisconsin -- are near tossups with the top two candidates separated by less than 2 percentage points. In three more contests -- Georgia, Kansas and Massachusetts -- the margins are slightly greater but remain close enough to allow for election night surprises.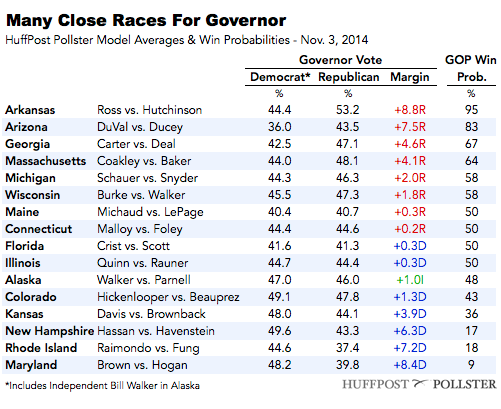 Those 11 races include seven seats currently held by the GOP and four held by Democrats, although any trend across the states may have more to do with general voter dissatisfaction than partisanship. Each, save Massachusetts, features a vulnerable incumbent, many of whom are taking criticism on how their states weathered the economic conditions of recent years.
Three states -- Florida, Kansas and Pennsylvania -- are leaning toward replacing a Republican governor with a Democrat, while two others -- Massachusetts and Connecticut -- may replace a Democratic governor with a Republican. But again, in all except Pennsylvania, the margins are remarkably close. If nothing else, these contests will make for considerable drama as the votes are counted Tuesday night.
Alaska: Parnell (R, incumbent) vs. Walker (I)
What looked like a three-way race among Republican Gov. Sean Parnell, Democratic challenger Byron Mallott and independent challenger Bill Walker was suddenly transformed in early September when Mallott and Walker joined forces against Parnell. Alaska Democrats endorsed Walker for governor and Mallott for lieutenant governor, and the result has been a very close race throughout the fall.
HuffPost Pollster's model currently shows the race at a near tie, with Walker only slightly more likely to prevail. Even without the complication of shifting party lines, polling in Alaska is notoriously difficult.
Colorado: Beauprez (R) vs. Hickenlooper (D, incumbent)
Gov. John Hickenlooper, once considered among the nation's most popular governors, is now in a tough battle with challenger Bob Beauprez. Hickenlooper's substantial leads earlier in the year narrowed through May and June, leaving the race in a near dead heat just days before the election. The HuffPost Pollster model gives Hickenlooper a 57 percent chance of winning as of this writing.
Polling in the Colorado gubernatorial race faces the same difficulties as polling in the Colorado Senate race: Measuring the Latino vote and likely turnout has consistently been a problem, while the state's new all-mail voting system, which Democrats hope will boost turnout and give them an edge, has added its own survey complications.
Connecticut: Foley (R) vs. Malloy (D, incumbent)
Gov. Dannel Malloy has faced an uphill and often vitriolic battle against challenger Tom Foley, whom he only narrowly defeated in 2010. This might seem surprising in typically blue Connecticut, until one considers the state's troubled economy and recognizes that, in fact, Malloy's 2010 win was the first Democratic gubernatorial victory in the state since 1986.
HuffPost Pollster's model has shown Foley slightly ahead most of the year, but polling was sparse until late summer. The contest is now a virtual tie, with the candidates separated by just 0.2 points and equally likely to win as of this writing. Unaffiliated candidate Joe Visconti's last-minute decision to suspend his campaign and endorse Foley may have thrown another wrench in the works.
Florida: Scott (R, incumbent) vs. Crist (D) vs. Wyllie (L)
Former Republican governor-turned-Democrat Charlie Crist has posed a significant challenge for Republican Gov. Rick Scott in this year's costliest and most-polled gubernatorial race. Both candidates seem close to setting a record for unpopularity. Crist began the year 4 points ahead, but lost the lead to Scott in May and didn't regain it until the end of September. Libertarian Adrian Wyllie is polling at about 5 percent
On the final day before the election, the HuffPost Pollster model finds the race nearly tied.
Georgia: Deal (R, incumbent) vs. Carter (D) vs. Hunt (L)
Between the very close Senate and gubernatorial races, questionable polling quality and changing demographics, there's been a lot to talk about this year in Georgia. Republican Gov. Nathan Deal, who faces multiple ethics investigations, has held a steady, if narrow, lead throughout the campaign against President Jimmy Carter's grandson, Democrat Jason Carter.
Any winner in Georgia, however, must clear 50 percent of the vote in order to avoid a runoff. With numbers in the upper 40s, Deal has a decent chance to clear that threshold -- unless libertarian Andrew Hunt pulls more of the vote than expected. HuffPost Pollster gives Deal a two-thirds chance of being re-elected.
Illinois: Rauner (R) vs. Quinn (D, incumbent)
In 2010, Democratic Gov. Pat Quinn looked like the underdog against Republican Bill Brady, but he pulled it off on Election Day. Now one of the country's least popular governors, Quinn finds himself in a tight race again, this time against Republican challenger Bruce Rauner. Quinn has trailed Rauner the entire year, though the contest has closed to a near tie. In the final hours, HuffPost Pollster rates this race a 50/50 tossup.
Kansas: Brownback (R, incumbent) vs. Davis (D)
Typically deep-red Kansas has had an unusually colorful campaign season this year, with highly competitive Senate and governor's races in which Republican incumbents face strong probabilities of losing their re-election bids. In the gubernatorial race, a state government revenue shortfall, due partially to controversial income tax cuts, and a split between conservative and moderate Republicans have enabled Paul Davis to mount a serious challenge to Gov. Sam Brownback.
Davis has held a small but steady lead since the end of July in the HuffPost Pollster model, and as of this writing he has a roughly 4-point advantage over Brownback. This gives the Democrat a better than 60 percent probability of winning the election.
Massachusetts: Baker (R) vs. Coakley (D)
Democrat Martha Coakley entered Massachusetts' open gubernatorial race with a strong lead over Republican Charlie Baker. Since the Aug. 20 primary, however, her chances of winning have diminished. Baker opened up a lead of his own throughout October -- a bit of unpleasant deja vu for Coakley, who similarly saw her lead slip away in her unsuccessful 2010 campaign for Senate against Scott Brown.
Frequent polling by state media outlets and universities has produced a rough consensus, with Baker leading in seven of the eight most recent surveys. In the coming weeks, look for a lot more analysis of how Coakley's previous campaigns and Massachusetts' unfriendly attitude toward female candidates affected her. The HuffPost Pollster model gives Baker a lead of about 4 points and a 64 percent chance of winning on Tuesday.
Maine: LePage (R, incumbent) vs. Michaud (D) vs. Cutler (I)
Maine has a habit of giving an unusually large share of votes to independent candidates, leading to some unlikely victories. That's how Republican Gov. Paul LePage was elected in 2010, and it's how the outspoken incumbent is still in the running against Democrat Mike Michaud. This time the culprit is independent Eliot Cutler, who is pulling roughly 14 percent of the vote according to HuffPost Pollster's model. Cutler indirectly acknowledged that his presence was hurting Michaud last Wednesday when he told voters to "vote their conscience" if they don't think he can win.
There's no telling how much Cutler's late advice will affect actual votes on Tuesday, but even a small boost for Michaud could change the outcome of the election. Currently, HuffPost Pollster finds Michaud and LePage equally likely to win.
Michigan: Snyder (R, incumbent) vs. Schauer (D)
Gov. Rick Snyder's once-solid 5-point lead over challenger Mark Schauer is down to less than 2 points. Snyder, who won by 18 points as an outsider candidate in 2010, is running on the improvements in Michigan's economy since he took office, but faces enmity from labor leaders and apathy among some segments of his own party.
Most recent polls give Snyder a small edge, while HuffPost Pollster shows him with a 58 percent probability of winning.
Wisconsin: Walker (R, incumbent) vs. Burke (D)
Gov. Scott Walker is another incumbent potentially in trouble. Though he has led throughout the year, challenger Mary Burke has never been far behind. He is now ahead by just under 2 points. Walker faced an attempted recall less than two years into his first term, which he survived despite similarly close polling.
The HuffPost Pollster tracking model gives Walker a 58 percent chance to win re-election, as of this writing. Though he hasn't led by more than 2 points since June, the consistency of that lead points toward a successful Election Day for the incumbent.
BEFORE YOU GO
PHOTO GALLERY
2014 Gubernatorial Challengers