Whether you're gluten-free, vegan or dairy-averse, you probably still love cookies. You might just have a tough time finding a tasty one that suits your dietary needs.
We can all give blogger Handle The Heat a mighty and enormous "thank you" for masterminding several recipes and producing multiple batches of chocolate chip cookies, while reporting on what changes looks, recipe and taste-wise with each specific diet.
Handle The Heat used the classic Nestle Toll House Chocolate Chip Cookies recipe as her control (you know, the one of the back of a bag of chocolate chips).
Then she fiddled around with variations, including cookies made with whole wheat flour, gluten-free flour, coconut oil (for a dairy-free snack), maple syrup (to nix the processed sugar) and flax egg (to substitute chicken eggs). To be real here for a sec, all of the results look delicious in their own way. I wouldn't turn down one of them -- except maybe for the maple syrup variety. She's just not my type of cookie: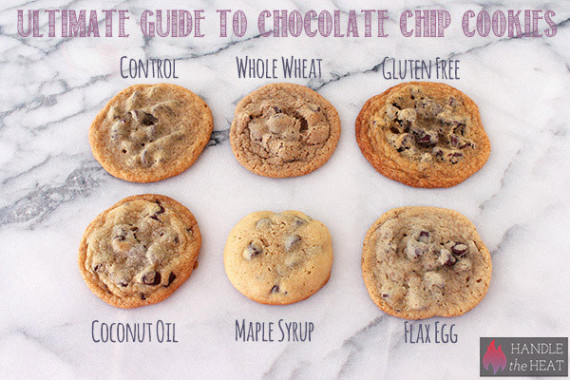 Looks aside, Handle The Heat shared very specific reviews for each treat. Whole wheat was reportedly nutty, firm and delicious. Gluten-free was grainy and good. Coconut oil made the cookies chewy and moist. Maple syrup mellowed out the cookies' sweetness, but nonetheless tasty. And the flax egg cookie lost the cookie competition -- Handle The Heat says these were flat, gritty and too-sweet.
Now that you know the basics, head over to Handle The Heat's wildly informative cookie baking guide and get mixing. No matter who you are or how you eat, cookies are in your future.
Want to read more from HuffPost Taste? Follow us on Twitter, Facebook, Pinterest and Tumblr.
BEFORE YOU GO
PHOTO GALLERY
Paleo Cookies