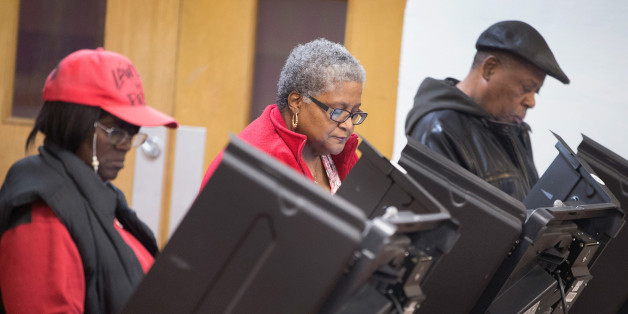 WASHINGTON -- Voters in Ferguson, Missouri, faced long lines at polls Tuesday after a push by voting rights advocates encouraging residents of the St. Louis suburb to vote.
Some voters in Ferguson, where there have been protests since the police shooting of unarmed teenager Michael Brown in August, were still waiting to vote more than an hour after polls closed. St. Louis Alderman Antonio French said local media reported voters waiting 90 minutes to cast ballots. A St. Louis Post-Dispatch photo showed a long line at a polling location after paper ballots ran out. A photographer and reporter from the paper were temporarily kept out of a polling station.
Deborah Jackson sits just before polls close in Ferguson as lines form- paper ballots out. Pic- @pd_shutterspeed pic.twitter.com/TtmfMWzs5D

— Lynden Steele (@manofsteele) November 5, 2014
Stephen Deere, the Post-Dispatch reporter, said that at least one "frustrated" voter gave up after waiting for 45 minutes:
"It's not worth waiting for," said one frustrated voter at Lee Elementary in #Ferguson after waiting 45 min in line. He gave up and left.

— Stephen Deere (@stephencdeere) November 5, 2014
Ferguson's voter turnout is attracting national attention in the wake of the shooting of Brown, 18, by Officer Darren Wilson. The town erupted with protests, and voting advocates began a drive to increase voter registration. The effort came under fire from the head of the Missouri Republican Party.
While two-thirds of Ferguson's residents are black, nearly all of its elected officials are white. Only 12.3 percent of eligible voters cast a ballot during municipal elections in April.
BEFORE YOU GO