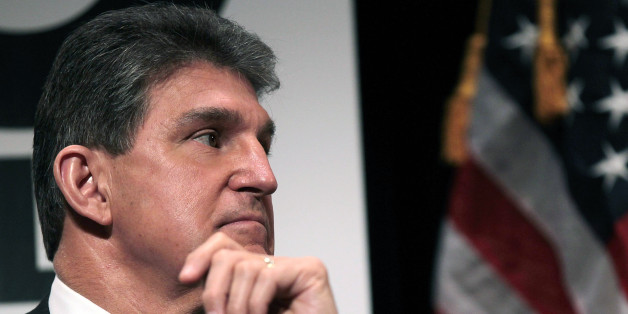 WASHINGTON -- The result of the closely fought Senate race in Colorado won't be known until late on Tuesday evening. But already, the contest is causing political sniping in Washington, D.C.
Multiple national Democratic sources have told The Huffington Post that Senate Democrats are furious with the non-partisan group No Labels for having actively supported Rep. Cory Gardner (R-Colo.) in the closing weeks of the race.
Sen. Joe Manchin (D-W.Va.), the sources added, is particularly upset about the work No Labels did to defeat Sen Mark Udall (D-Colo.), and is seriously considering leaving his leadership post with the group as a result.
"Senator Manchin 100 percent supports Senator Udall, and does not agree with the approach No Labels is taking in Colorado," said Manchin spokesman Jonathan Kott. "He is going to discuss this with No Labels and will take the appropriate actions."
Bill Galston, a co-founder of No Labels and a senior fellow at the Brookings Institution, declined to comment on whether Manchin has told the group that he is considering stepping down as a "national leader," a role he has held since January 2013. But Galston added that the senator shouldn't have been caught off guard by the group's support for Gardner.
"It is extremely hard for me to comment on something that somebody is reportedly feeling," said Galston. "But I will say this: No Labels has pursued a course entirely consistent with its publicly-stated principles, its publicly-stated criteria for rewarding the seal [of approval]. We have rewarded the seal to 25 Democrats and 25 Republicans during this period. I think that we have played the game in accordance with our principles. We have not played favorites. We have opened our door to everybody."
No Labels, a nonpartisan group that advocates centrism and an end to political gridlock, is not exactly known as a campaign juggernaut with the power to decide elections.
Though the group has organized get out the vote operations in Colorado on Gardner's behalf, Democratic operatives there and in Washington have said that the impact has been marginal.
But what incensed Democrats was that No Labels gave Gardner a moderate label that they and others believe is not deserved.
"The endorsement, no question, had an impact on the goo-goo elites in Colorado who got a lot more comfortable with Gardner," said a Democratic operative. "It helped him reposition himself when he's really a tea party radical."
Manchin's rift with No Labels dates back to April, which is when the group first gave Gardner its "problem solver seal of approval." The announcement was interpreted as an endorsement, though the organization said any lawmaker could earn the same title by joining its congressional "coalition of problem solvers," something that Udall refused to do. Udall's campaign has noted that the senator does not sign pledges out of principle.
According to two sources, Mark McKinnon, a Republican strategist and a co-founder of No Labels, had to call Manchin to "bring him back in the fold" after the Gardner announcement.
Those sources said the group clarified to Manchin and others that the seal of approval was not a formal endorsement and that no such endorsement would be made.
Things remained calm until late October, when No Labels announced that it would organize get out the vote efforts from Oct. 31 through Election Day on Gardner's behalf.
"Senator Manchin was very surprised by that," Kott said.
Officials with No Labels said that they would never have worked on Gardner's behalf if Udall had simply joined the coalition. They noted that both Senate candidates in Iowa made the pledge and the group has stayed neutral in the race.
"The door was shut on us with Udall's office. Cory Gardner took it. We begged the Udall people and we are still probably a little bit baffled about why he never wanted to endorse this process," said No Labels' founder Nancy Jacobson. "The Iowa team, both candidates wanted to do it. We have just been continually baffled here."
Gardner's critics take issue with this logic. Virtually every politician running in a general election positions him or herself as a centrist or pragmatist. That Gardner would make such a pledge is hardly revelatory, so they think the fact that No Labels chose this race to lay down a marker is baffling.
"This is such a sin. It is not like they weighed in on [former Delaware Rep.] Mike Castle running against [Christine O'Donnell]," said a Democratic operative. "They weighed in on Mark f--king Udall."
The Udall campaign declined to comment.
BEFORE YOU GO
PHOTO GALLERY
How To Survive The Impending Collapse Of Civilization