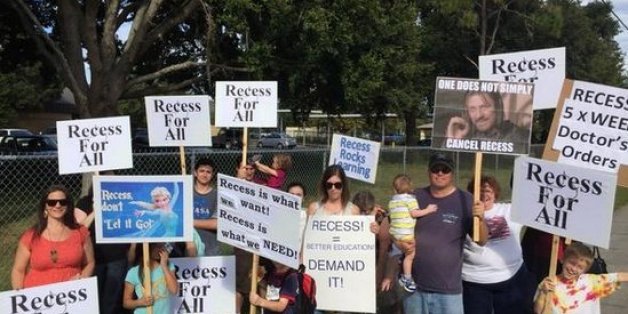 Despite efforts from a group of parents from Lake County School District in Florida to increase the amount of recess time their kids get at school, the school district will not be requiring schools to give elementary students more than an hour of playtime per week.
Parents and grandparents started protesting the fact that the district was not requiring recess in July, according to the Orlando Sentinel. They asked that their young children be given 30 minutes of recess everyday. On Monday, district superintendent Susan Moxley ended the debate by issuing a directive that students be given one hour of free play per week, although principals of individual schools can decide whether or not they want to lengthen that amount.
"It's not what we were asking for but we're getting there," parent Kristi Burns, who led the parents in demanding recess, told local outlet WKMG-TV..
Last week, a group of parents picketed the district to protest the lack of recess, reports Yahoo.
Successful #recessforall rally. Kids need breaks. Hope LakeC SB gets the msg. We are serious. @Playworks @FLBATs pic.twitter.com/PWVMG05LWO

— HealthySchools (@RecessForAll) October 31, 2014
On our way to the Lake C rally for recess. Parents want #recessforall kids every day district wide. pic.twitter.com/tO4lfzOdYd

— HealthySchools (@RecessForAll) October 30, 2014
Can I get a RT LC Parents Rally 3-3:30 Thurs Treadway elem. to push SB for #recessforall. MitchBozeman @JacquezGreen pic.twitter.com/kmR5HhagGE

— HealthySchools (@RecessForAll) October 30, 2014
Notably, kids in the district do have daily physical education classes. But the Florida Department of Education does not require a daily recess period, according to Yahoo.
Previously, some teachers in the district were giving their kids recess, while others were not. Now all teachers will be required to give kids a minimum amount, although Moxley said she wanted to leave details to each school's discretion.
Fourth-grader Angelina Smith told WMKG-TV that she did not receive much recess last year.
"Some classes went to recess last year and it kind of made me wonder, how come they get recess and we don't get recess, we're in the same grade?" she told the outlet.
On Monday, Moxley said that "recess is valued, it is supported in our district and it does play a very important role in the health and well being of the learning environment in our schools ... But a one-size-fits-all [mandate] is very difficult. We never want to put teachers in a situation where they would be out of compliance," reports the Orlando Sentinel.
A group of parents nearby in Orange County, Florida have also started protesting the lack of recess in their district. A petition asking that the district require 20 minutes of recess per day had garnered over 1,000 signatures by Tuesday evening.
BEFORE YOU GO
PHOTO GALLERY
States With Best Educational Outcomes For Girls