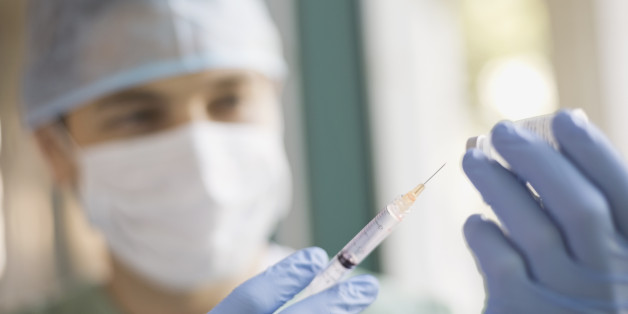 A California ballot measure to conduct random drug-testing of doctors and raise the cap on "pain and suffering" damages in medical malpractice lawsuits failed to pass Tuesday.
Proposition 46 stemmed from a tragedy faced by its author, Bob Pack, whose young children were killed nearly 11 years ago by a driver under the influence of drugs prescribed by multiple physicians. When Pack set out to sue those doctors for pain and suffering, he struggled to find a lawyer because of California's cap on such damages (legal fees in medical malpractice cases are often a percentage of the money won for the client).
At $250,000, California's cap on pain-and-suffering damages is the lowest in the country. Prop 46 sought to raise it to $1.1 million.
Opponents of the measure argued that change in particular would be costly. As lawyers lured by higher potential fees brought more suits and doctors practiced more "defensive medicine," they said, health care spending would rise.
The opponents contended that Prop. 46 would end up costing a family of four more than $1,000 annually, according to the Los Angeles Times. Supporters argued that it would actually save money by decreasing the number of costly medical errors.
The doctor drug-testing provision also proved to be controversial. Under Prop. 46, physicians could have been tested for drugs at random, within 24 hours of an adverse event suffered by a patient under their care, and when they were accused of possible substance abuse. Had it passed, California would have been the only state requiring random drug tests of doctors, the East Bay Express wrote.
Reform groups criticized that provision as ineffective in decreasing substance abuse, unfairly punitive of doctors and a step backward in ending the war on drugs. In a statement sent to The Huffington Post, the Drug Policy Alliance noted that random drug testing "cannot be used to determine the extent of drug misuse, impairment, frequency or amount of use." Moreover, it said, random drug-testing "often creates incentives to use riskier substances in counterproductive ways."
Prop. 46 would also have required physicians to consult a statewide prescription database.
According to Mother Jones, every major newspaper in California, both left- and right-leaning, came out against Prop. 46.
BEFORE YOU GO
PHOTO GALLERY
People Killed By The War On Drugs