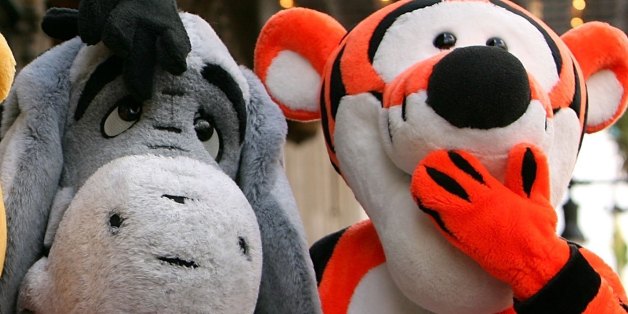 When Maryanne Saunders took her 3-year-old granddaughter into a public restroom in the town of Dawlish in England, she was shocked to see what she claims was a man dressed as Tigger having sex with a naked woman.
The alleged incident happened Oct. 28 and Saunders said when she and the child entered the bathroom, the costumed man and his partner were having "full blown sex," according to the Exeter Express and Echo newspaper.
Saunders reported the incident to the Dawlish Neighborhood Police via their Facebook page.
"They slammed the door in my granddaughter's face and caught her hand in the door resulting in bruising to her fingers," she wrote. "This is a disgusting act and in a baby changing room."
Saunders said Tigger and his companion both looked to be in their 30s.
No arrests have been made. It comes on the heels of a disturbingly similar story about another randy man in a tiger outfit.
Last week, British bus driver Andrew Holland, 51, declared he is battling against the United Kingdom's Extreme Pornography Act, which caused him to be wrongly accused of possessing bestiality porn in 2009.
Charges were dropped when authorities realized that what they thought was a video of a woman and a tiger was actually a video of a woman and a human man in a tiger costume.
Like Us On Facebook |

Follow Us On Twitter |

Contact The Author
BEFORE YOU GO