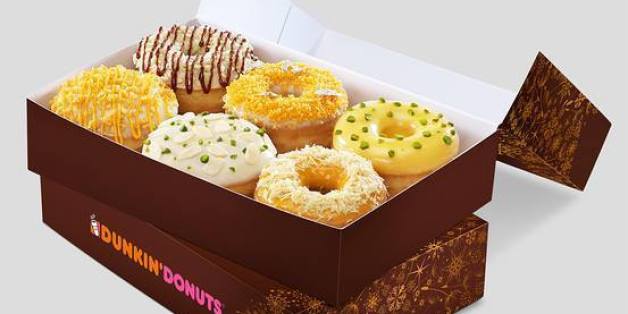 India may not seem like the most likely place to find good doughnuts, but it turns out the subcontinent is home to a budding doughnut industry and some amazing-sounding doughnut flavors. Chains like Dunkin' Donuts and Krispy Kreme are opening throughout the country, and the flavors they're offering make us want to travel to India in time for breakfast tomorrow.
Dunkin' Donuts launched in India in 2012, and has since opened 38 locations. The chain offers doughnuts as well as India-specific menu items like veggie burgers, Wicked Veg wraps and Marinated Cottage Cheese sandwiches. (If that leaves you scratching your head, think paneer, India's version of cheese, and let your nerves settle down.) When it opened in India, Dunkin' released a mango doughnut, and later for Diwali, the Hindu "festival of lights," introduced flavors like the motichoor ladoo donut and the gulab jamun donut. (Both ladoos and gulab jamuns are popular ball-shaped sweets in India, the former made with flour and ghee, and the latter with milk solids and sugary syrup.)
For Diwali this year, which took place on October 23, Dunkin' released some special doughnuts that grabbed the world's attention. The Wall Street Journal reported that the doughnut chain unveiled: a Kesar Badam doughnut, which comes filled with saffron cream and topped with blanched almonds and pistachios; a Milk Cake doughnut, which is filled with rice pudding and a chickpea flour covered Soan Papdi doughnut, which is more flaky in texture. Also on Dunkin' Donut's Indian menu is a guava and chili topped white chocolate doughnut. These flavors sound like they belong more in the gourmet doughnut shops that have proliferated around New York City than in the omnipresent -- and dare we say lackluster -- Dunkin' Donuts lining highways and filling strip malls in the U.S.
While the new Indian doughnut flavors may have a global appeal -- saffron cream in a doughnut?! Rice pudding filling?! -- and a gourmet sensibility, they were inspired by traditional Indian desserts. Diwali is synonymous with sweets in India. Families and friends bring boxes of mithai -- milk-based sweets -- over to each others' houses, and you'll find people indulging in everything from kheer, the South Asian version of rice pudding, to jalebis, deep-fried pretzel-shaped treats. Dunkin' Donuts India chef Pedro D'Mello told the Wall Street Journal that since Diwali is so closely associated with sweets, his team figured, "why not incorporate traditional flavors into a doughnut?" He certainly grabbed our attention.
Dunkin' isn't the only doughnut chain in India churning out exciting flavors. Mad Over Doughnuts, which has been open in India since 2008, offers savory doughnuts like the Pi'Dazzled, which is covered in cheese, homemade tomato sauce, chili flakes and herbs. Yep, it's a pizza doughnut. The chain also sells a chocolate ganache filled doughnut dipped in After Eight minty chocolate, so you can wash your pizza doughnut down with a minty dessert. Krispy Kreme is getting in on India's doughnut action too. Just a day before Diwali this year, Eater reported Krispy Kreme would be opening 80 stores throughout India in the coming years. Judging by the competition, Krispy Kreme better think of some exciting new flavors to introduce to India's growing doughnut market.
Want to read more from HuffPost Taste? Follow us on Twitter, Facebook, Pinterest and Tumblr.
Follow HuffPost's board Doughnuts (Or Donuts) Forever on Pinterest.