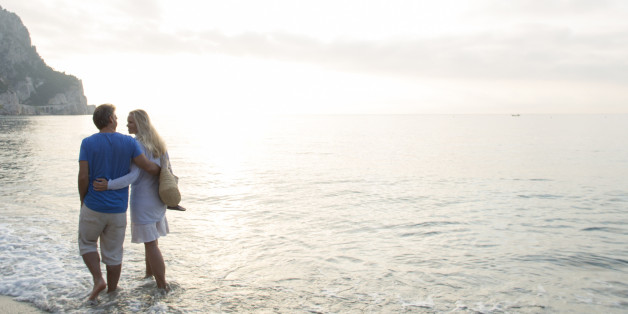 The late Maya Angelou said it best: "Love is like a virus. It can happen to anybody at any time."
No matter how old you are, how long you've been single or how many times you've had your heart broken, there is always a chance that Mr. or Mrs. Oh-So Right is waiting just around the corner. On Tuesday, Redditor Throwaway_723 asked users, "People who were still single into their late 30s or 40s, did you eventually find love?" Below are 12 hopeful stories to remind you that it's never, ever too late for love.
1. "I met my husband in my mid 30s, got married in my late-ish 30s. We've been together for 11 years, married for nine with one kid. I had definitely resigned myself to a solo life, and had already begun living that way -- very independent and pretty happy that way. Of course, just when I got in that groove, that's when everything changed. I really think there's something to that: when you stop looking and wanting, and instead focus on the here and now and how to make it enjoyable, that's when the person shows up."
2. "My mom started dating a guy in the assisted living facility. She is 84. He is 90. I thought I was done dealing with middle school puppy love when my kids got out of middle school."
3. "40 here. I was 34 when a girl I last spoke to in high school contacted me on MySpace. We emailed and chatted for a long time, during which I began to feel I would be forever alone. I went on a disastrous date with someone else. Finally went to meet with the girl from high school, and almost didn't click -- she was so shy -- but I stayed close and asked her if I could come in and talk, instead of going home. I stayed all night. We began dating, moved in together and quickly after got married. It's been four years and I'm as happy as could be, deeply in love with her. I was her first kiss. Time isn't anything."
4. "Dated a lot, sometimes. Spent long stretches alone, sometimes. Was comfortable with both. A true 'confirmed bachelor'. At 36, I met my wife (she was 28) at a party. It was love at first all-night-chat. We were living together in a month, married in a year. It's been 16 years."
5. "I was 37 when I met my future husband. We met on a plane, both headed to the same city for work. It was a long flight, we talked almost the entire time. We exchanged numbers when we landed and lo and behold, five days later he was on my flight home. I didn't have any kids and he had three, so that was something I had to consider when he asked me out. I'm so glad I did because six years later, we are happily married. I think you have to keep yourself open to possibilities, more so than when you were younger."
6. "37-year-old male. In the last two years I lost my dad, my dog, and developed a bit of a problem with depression. I completely gave up on the prospect of falling in love. 'Maybe it isn't in my cards this lifetime,' I thought. On a drunken whim I set up an OkCupid account. We met and have not wanted to be apart since. We are meant for each other, truly and completely. I wish my dad could have met her. He would have loved her as much as I do."
7. "I was not really dating at all for 15 years after a shitty break up. Met the love of my life at 53!"
8. At 34 I went to an old friend's wedding. The bride's sister was the girl I was madly in love with in my 20s, but was always too shy to tell her. She was incredibly sweet and insanely beautiful and way out of my league. After a glass or two of liquid courage, I jokingly told her how in love I was with her back then. She then punches me in the arm and told me she was also crazy in love with me. She said she had pages and pages written about me in her old diary, and she still had a photo of us together that someone had taken at a party. Amazed, I then told her I had a copy of the same photo and had treasured it all these years. I asked her to marry me that night (No one saw me propose, it was after the dinner and we were outside by ourselves). She said 'yes' and we got married the following year."
9. "Met online playing 'World of Warcraft', flew out to physically meet her in 2006. She moved in with me in 2008 (from Canada to the U.S.), and we got married in 2010. I was 38 at the time, she was 34. Kiddo a year later, and another one coming in two months (gulp!)."
10. "I was 37 and engaged to someone I'd been dating for nearly a decade when we had an epiphany that our marriage wouldn't make it. I handed back the ring and resigned myself to start buying cats. Instead, one of my best friends, a guy I'd spent years laughing with and acting as 'the best wing-person he'd ever had' stepped up and confessed that he'd been waiting for my fiancé to drop the ball. We've been married for more than a decade now, have two awesome kids (which I had at ages 38 and 41) and are crazy happy. He's my best friend and a true partner. Could I have said that had he and I married in our 20s? Unlikely. So it can definitely happen later in life. Hell, it can even be wonderful!"
11. "I was married in my 20s and divorced at 31. I swore that there was no way I'd ever do it again; 'fool me once versus fool me twice' kind of thing. Until I met the girl of my dreams at age 37. We've been married for years now, and we're looking forward to years more."
12. "I spent most of my 30s in a relationship that I knew was never going anywhere. I thought I would be single forever after that because I didn't think having a man again would be worth the trouble. Afterwards, I reconnected with friends, partied a little more often and was happy that I had left behind a bad relationship. A few months later, I met a man at a bar who lived halfway around the world. One hot three-week love affair, two visits to Europe (I'm American) and about a billion hours on Skype later, I have my house on the market and I'm planning to quit my job and move around the world to a place where I don't speak the language. I couldn't be more excited. I'm a 38-year-old woman, he's 31. Rawr. Adventure is out there!"
*Some responses have been condensed and edited.
H/T Reddit
Keep in touch! Check out HuffPost Weddings on Facebook, Twitter and Pinterest. Sign up for our newsletter here.
BEFORE YOU GO
PHOTO GALLERY
Best Love Quotes On Pinterest