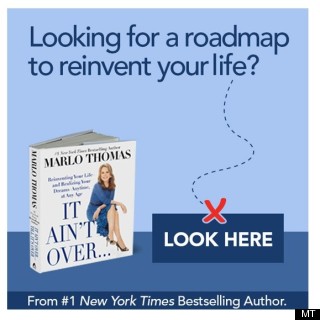 "One of the reasons I started my website is that I wanted a place for women to come together and dream. We women need to know that we don't have to hang on to an old dream that has stopped nurturing us—that there is always time to start a new dream. This week's story is about Amy Knapp – a busy mom of two kids, one with special needs, who couldn't find a product that would help her stay organized – so she created one!"—Marlo, MarloThomas.com
Amy Knapp had it all under control. That's because Amy Knapp was super-organized.
 She had to be. As the young mother of two, she was the owner of her own specialty advertising company, which produced custom pens, folders, and other promotional items—and she did it all: ran meetings, scheduled conference calls, managed sales incentive programs, juggled deadlines.
So imagine Amy's surprise when she could barely manage her own household.
It started in 1995, when her two-month-old daughter, Natalie, was hospitalized for meningitis. The baby recovered, but several months later it became obvious that the infection had left its mark. Natalie would have lifelong disabilities from the illness, doctors told Amy, and would require intense therapy to overcome them.
With an active toddler son and now a disabled infant, Amy decided to sell her business and dig in as a full-time mother and care manager. Who better to oversee the dizzying schedule of medical appointments for Natalie than the ultimate planning pro?
"I thought, I have this in the bag," recalls Amy. "I'm used to multitasking." But she soon discovered that running a busy household for a family with special needs was different from running a business.
She was in a tailspin.
Within six months, Amy realized she needed to do something to get her life under control. So she went to her local Barnes & Noble to pick up a day-by-day planner or calendar—any kind, she figured—just to help her get organized.
Amy wound up spending $17.99 on a calendar with a beautiful Monet painting on the cover. She took it home and began filling in her schedule.
But then she ran out of room.
"Within three months, the entire painting was covered with sticky notes," Amy says. "I tried really hard to write small and squeeze the words together on the Post-its, because I couldn't fit them into the calendar. The more I looked at them, the more I realized that these notes were not appointments, but rather all the other parts of being a stay-at-home mom—or any kind of mom, really—things you absolutely need to keep track of."
Among these notes were Amy's grocery list, what she planned to make for dinner, and reminders of personal calls she needed to make—a blizzard of jotted reminders that make up life.
Amy thought, This is ridiculous. I'll make a planning calendar for myself.
Article Continues Below Slideshow
"I knew what I needed," she says. "First, I needed to see everything I planned to do in a full week—starting on Monday, not Sunday. You don't want to be flipping back and forth, with the calendar in one place and the grocery list on the back page, and your to-do list somewhere else. You needed it all in a format that can lie open on your counter, where you can see all of your responsibilities in one glance. And you definitely needed to see the weekend as one unit—not divided up with this Sunday at the beginning of the week, and next Saturday at the other end of it."
In a flash of inspiration, Amy grabbed a spiral notebook and a Sharpie and sketched out her own system—one that chronicled her crammed schedule across a two-page spread.
"It became my lifeline," says Amy, who then hauled her spiral notebook everywhere she went, its ratty cover and curled-up corners a testament to its indispensability.
Amy's design wasn't as simple as it appeared—it was actually rather ingenious. In addition to her one-glance, seven-day spread, there was a separate area for to-do notes and reminders. Down the far right column of the right-hand page, there was a space for her to list her dinner menus for the week. The grocery items she'd need to make those dinners went on the outside of the left-hand page—on a perforated column she could tear off and take to the grocery store with her. Since this week's shopping list appeared on the front of last week's menu, the tear-off left her current weekly view completely intact.
Amy's makeshift spiral organizer served her well for a few years; and once Kyle and Natalie were both in school, she decided to turn her brainstorm into a business. She began by showing her idea to the owner of her local copy store; together they sat down with one of his designers to translate the hand-written book into a digital format.
Amy placed an order for a print run, producing 50 simple versions of her planner. Holding that first one in her hands, she was simultaneously proud and nervous.
"I was probably more scared than anything," she says, "because I knew the print bill was coming right around the corner! But I said to myself, 'Okay, you made it, now you've got to go out there and sell it.'"
Amy decided to give away most of that first batch of planners in order to get feedback. "It was like an expensive focus group," she says, "but it paid off big, because the original design evolved and improved." Then, once she decided the planner was finally ready for prime time, she took a breath and followed her old marketing instincts, calling the head buyer for calendars at Barnes & Noble in New York.
"It was a cold call!" she says. "They transferred me about five times, but I finally got through to him. I later discovered that he never took those types of calls. I still don't know why he took mine."
But he did take the call—and he was intrigued.
"He asked me for a real prototype, which would cost real money, and I said sure. I hung up and thought, Yikes! I called my husband and asked him if we should invest the money—a couple thousand dollars. He said—and I'll never forget this, because it was probably the nicest thing he's ever said to me—'I will put my money on you every time.' Boy, he did not realize what he was getting into!"
The buyer recommended some changes to the prototype, and after Amy made the tweaks he agreed to carry the calendar at Barnes & Noble, sold under the name Amy Knapp's Family Organizer.
Amy was ecstatic. "It was incredible to see that my idea had become a reality," she says, "but it was also scary. On one hand you have this great success, but on the other hand you suddenly have these huge pallets of organizers being delivered to your house."
So Amy the organizer is organized once more. She divides her time between tending to business and keeping up on all the family activities, including going to Natalie's softball games (now 18, Natalie plays in a league for children with disabilities).
What also gives Amy great pleasure is connecting with the families who use her calendars and share with her how invaluable they are.
"Many people tell me they save them as a record of their family's activities over the years," Amy says. "That makes me feel like they've invited me into their home to be a part of their family."
And for the ultimate family organizer, that just might be the ultimate success.
To find out more about Amy's journey -- and to read 59 other inspiring stories -- buy your copy of "It Ain't Over Till It's Over." Click here.

Add Marlo On Facebook:
Follow Marlo on Twitter:
Sign up to receive my email newsletter each week - It will keep you up-to-date on upcoming articles, Mondays with Marlo guests, videos, and more!