With the holiday season steadily approaching, ESSENCE magazine has decided to tap Jamie Foxx and Quvenzhané Wallis for the cover story of their December issue titled, "Gifted & Grateful."
And in addition to the pair discussing their family values and being gifted, they also dished details surrounding their roles in the forthcoming Dec. 19 modern remake of "Annie." According to Fox, the "Beasts of the Southern Wild" actress was the ideal candidate to portray the lead role in the musical flick, which was originally slated for Willow Smith.
"I don't think we could have done this movie unless Quvenzhané came along," he said. "It's sort of like she's tailor-made for the role in a sense. I would challenge you to find a girl who personifies 'Annie' better than Quvenzhané does…"
Aside from recently admitting her interest in becoming a veterinarian in the future, Wallis may also gain notoriety for her newfound vocal chops. Last month during an interview with the Associated Press, the 11-year-old detailed her singing preparation for the revamped film, produced by Will Smith, Jada Pinkett-Smith and Jay-Z: "My vocal chords got better as I sang in the car, and when I (took) singing lessons, they got even better."

Check out more of the Jamie Foxx and Quvenzhané Wallis' exclusive interview in the December 2014 issue of ESSENCE magazine now on newsstands.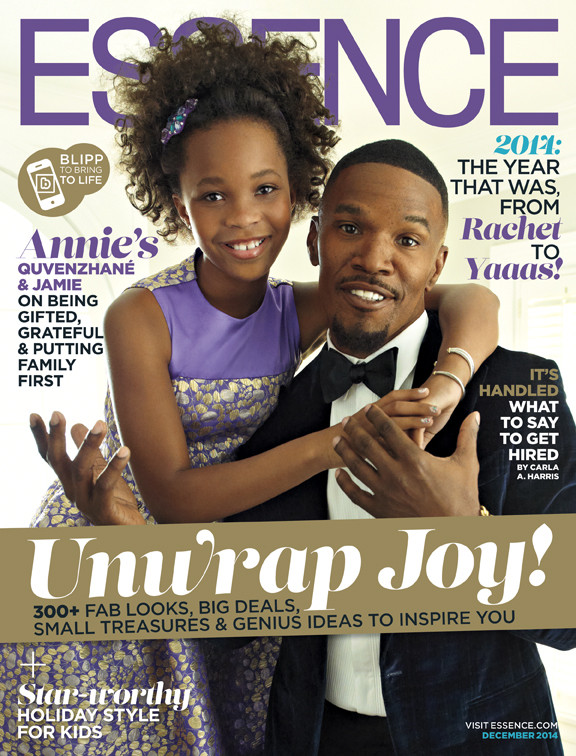 BEFORE YOU GO
PHOTO GALLERY
Quvenzhané Wallis