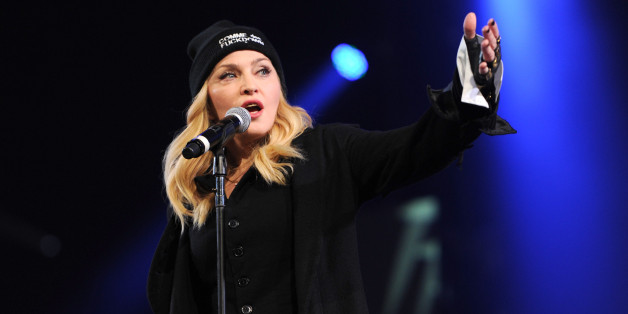 While fans impatiently wait for Madonna's 13th studio album, her follow-up to 2012's "MDNA," to drop in 2015, the Queen of Pop has provided plenty of teasers on Instagram (consistently hashtagging "Rebel Heart" and "Unapologetic Bitch"). On Wednesday morning, she shared a close-up shot of Chance The Rapper. "Taking a Chance ! #rebelheart," she wrote. We can only hope this means that a collaboration between the artists is on the way.
Madonna also reminded us that regardless of age, there is no better gift to give to a best friend than a Razor electric scooter. Chance posted a photo of his brand new ride on his Instagram, with Madonna stretching across the scooter's box (which was complete with a nice red bow). "Thanks so much @Madonna! So grateful for this awesome present! You are a true friend," Chance wrote.
Chance recently announced his own new project, "Surf," the follow-up to his breakout tape, "Acid Rain." The free album collaboration with his band, The Social Experiment, could be out before the year ends.
BEFORE YOU GO
PHOTO GALLERY
Madonna: 56 Of Her Most Memorable Looks