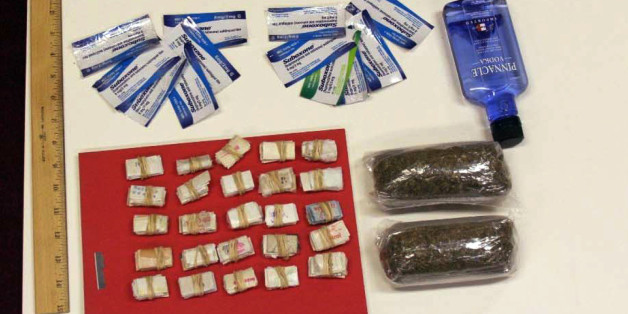 An undercover investigator posing as a guard at the country's second-largest jail was able to easily smuggle $22,000 worth of contraband into the facility on multiple occasions, a new report reveals.
The report, released Thursday by the New York City Department of Investigations, exposes what the department says are "serious problems with security screening protocols" at New York's sprawling Rikers Island jail complex.
For each security test, the report says, the DOI's undercover investigator stuffed his cargo pants pockets with "one plastic bag containing 250 glassine envelopes of heroin; one plastic bag containing 24 packaged strips of suboxone [a prescription opiate substitute similar to methadone]; two plastic bags containing a total weight of one-half-pound of marijuana [...] and one razor blade." Additionally, the investigator carried "one 16-ounce water bottle containing vodka" in his hand.
Together, all of that contraband had an estimated resale value inside Rikers of over $22,000, the report says.
The investigator attempted to smuggle his cargo into six different Rikers facilities, and was successful each time. The report does not mention any instances of the investigator being unable to smuggle his contraband into a Rikers facility.
At each facility, the investigator walked through the security checkpoints with ease. At one location, the investigator set off the metal detector twice, and a security officer asked him to empty his pockets. When the investigator replied that he had already emptied them, the security officer "accepted his answer without further inspection of his pockets," the report says.
DOI Commissioner Mark Peters said in a statement that the "investigation exposes the dangerous problem of weapons and narcotics smuggling within the City's jails."
Although visitors sometimes smuggle in contraband to Rikers inmates, the report suggests the majority of smuggling is actually carried out by guards. DOI investigations have led to the arrests of six Rikers Island guards for smuggling in contraband in the past year and a half. In those cases, the guards were given "courier fees" by inmates, who then distributed the drugs and weapons to fellow prisoners. An average courier fee was $600, the report says.
The DOI report suggests a number of ways to reform the security screening process, and Department of Correction Commissioner Joseph Ponte said Thursday that he plans to implement all of them.
"I have zero tolerance for anyone, including staff, bringing contraband into DOC facilities," Ponte said in a statement.
"As part of DOC's ongoing system-wide reforms, we are working on significant new steps to improve our methods for searching for contraband," he continued. "These include: the requirement that all items including food and medications be x-rayed; the random deployment of drug-sniffing canines at facility front gates; and the deployment of Special Operations Division officers at front gates. DOC is also exploring the use of equipment and screening techniques similar to those used at airports at our facilities."
Ponte was appointed by Mayor Bill de Blasio earlier this year to bring sweeping change to Rikers Island, which has been plagued for years by reports of corruption and violence.
Earlier this year, a scathing Justice Department report described the "culture of violence" at the Robert N. Davoren Center, a Rikers facility that houses adolescent inmates. The DOJ report said there was "rampant use of unnecessary and excessive force" by guards against the 16-, 17- and 18-year-old inmates, and that guards relied too heavily on solitary confinement as a way to discipline their charges.