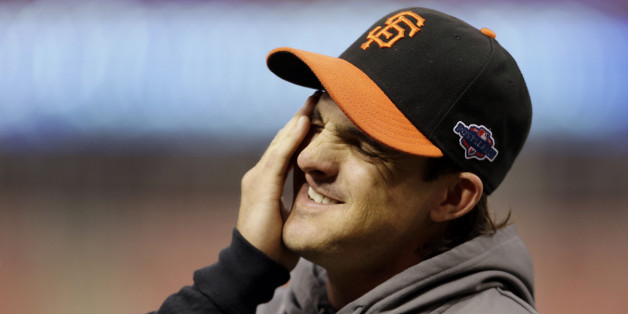 If you ask former Major League Baseball player and two-time World Series champion Ryan Theriot, playing experience is what makes for a great general manager, not a statistical background.
On Wednesday, Theriot mocked the Los Angeles Dodgers' hiring of Farhan Zaidi as their new GM. Zaidi was previously an assistant under A's GM Billy Beane, who is well known for his analytics-based "Moneyball" approach.
Apparently, Theriot is not a believer in baseball's sabermetrics movement, as evidenced by his usage of #moneyballdoesntwork:
Wow Dodgers! Nice hire for the GM job.
Hahahahahaha.......Good luck with that!
#moneyballdoesntwork

— ryan theriot (@rtheriot7) November 5, 2014
Should be a Prerequisite for ALL sports GM jobs that they actually have PLAYED the game. Too much riding on their decisions!

— ryan theriot (@rtheriot7) November 5, 2014
Free-agent pitcher Brandon McCarthy took exception to Theriot's comments and fired back on Twitter:
@rtheriot7 your two world series rings were brought to you by GMs who didn't play.

— Brandon McCarthy (@BMcCarthy32) November 5, 2014
Theriot won the World Series with the St. Louis Cardinals in 2011, then with the San Francisco Giants in 2012. As McCarthy pointed out, neither Cardinals GM John Mozeliak nor Giants GM Brian Sabean have ever played in the big leagues.
But Theriot wasn't done. And neither was McCarthy, who responded again with a lengthy rant:
@BMcCarthy32 Wonder how many times Zaidi has put a uniform on.... ANY uniform!
Sabean played college ball, Mozeliak was a stud HS player..

— ryan theriot (@rtheriot7) November 5, 2014
@rtheriot7 but so what? Literally it matters zero. The time we all spent playing, he accumulated outside knowledge.

— Brandon McCarthy (@BMcCarthy32) November 5, 2014
@rtheriot7 combine that with staff who can lend playing perspective, that's dangerous. Baseball players are myopic.

— Brandon McCarthy (@BMcCarthy32) November 5, 2014
@rtheriot7 we don't understand market fluctuations, inefficiencies etc. because we didn't study it. Hell, I don't understand hitting.

— Brandon McCarthy (@BMcCarthy32) November 5, 2014
@rtheriot7 if I wanted to evaluate hitting or position player D, someone would have to teach me what to look for cause I haven't done it.

— Brandon McCarthy (@BMcCarthy32) November 5, 2014
@rtheriot7 baseball is a business, not a pickup game in the park.

— Brandon McCarthy (@BMcCarthy32) November 5, 2014
@rtheriot7 I'm ranting but if someone like that didn't listen to people w/ baseball knowledge, then that's dangerous. But that's not his MO

— Brandon McCarthy (@BMcCarthy32) November 5, 2014