The unlikely New York City landmark known as 5Pointz has been at the center of controversy ever since landlord Jerry Wolkoff whitewashed the complex's walls last fall, destroying layers of graffiti art painted there with his permission. Now Wolkoff tells HuffPost he plans to use the name "5Pointz" for the two new condos going up in place of the former graffiti "temple."
"I'm trying to get the name registered," Wolkoff told HuffPost in a phone interview Friday. Earlier this week, a report surfaced of a bid Wolkoff submitted in March to the U.S. Patent and Trademark Office, which was denied due to a preexisting real estate development in California with a similar name. In the call to HuffPost, Wolkoff clarified that he plans to challenge the denial.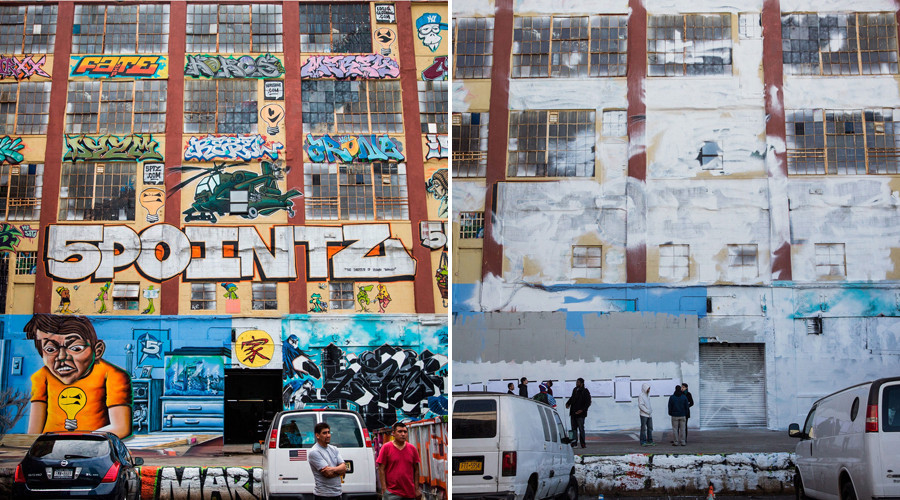 5 Pointz, before and after Wolkoff's whitewashing.
The move makes one more bullet point in a list of grievances for the key artists and activists associated with 5Pointz, for whom Wolkoff became an enemy after his dramatic overnight whitewashing. One, Marie Cecile Flageul, acted as the group's press liaison when plans were underway to sway the city to preserve the graffiti-smothered building. Speaking to a reporter this week, Flageul accused Wolkoff of trying to "bank off our name." She called the name-grab "ironic," asserting that "the same corporation which single-handedly destroyed all the artwork known as 5Pointz" is "trying to capitalize" on its cache.
Speaking to HuffPost, Wolkoff insisted that the name is his to use. He contested an earlier New York Times report that seems to attribute the moniker "5Pointz" to Jason "Meres One" Cohen, a street artist who acted as the lead "curator" for the site in its heyday.
Wolkoff says he collaborated with Cohen on the name, which is meant to signify a meeting point of the city's five boroughs. "We were talking, and we decided to use this thing of 5Pointz," Wolkoff said.
He is also adamant that the name should be his to reuse in the context of the two condo buildings set to rise. Bringing up New York's Museum of Natural History, he hypothesized that "if they took that down and put up another building with more or less the same stuff inside, you'd still call it the Museum of Natural History."
The new condos will by no means duplicate the function of 5Pointz, a decrepit building that for much of its later life did not meet city codes. For years, the building was legendary for its studios -- cheaper than any for miles. When a staircase collapsed in 2009, the primary allure of the complex was its external facade, which artists of all ages tagged with spray paint.
Wolkoff says the upcoming $400 million luxury development will channel the ethos of the old 5Pointz, calling the property's second incarnation "the same" as its first. He plans to designate a tagging wall and studios inside the building, both features of which have been preemptively derided by artists as pale echoes of their soulful originals. Critics "don't believe that I'm going to bring them back," Wolkoff said, referencing the artists who once flocked to his property. "But they will be back."
BEFORE YOU GO