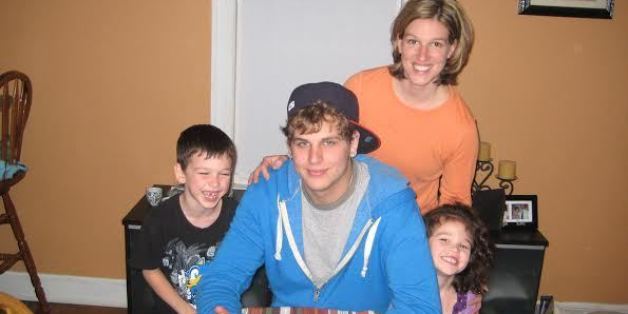 As part of our Blended Family Friday series, each week we spotlight a different stepfamily to learn how they successfully blended their two families. Our hope is that by telling their stories, we'll bring you closer to blended family bliss in your own life! Want to share your own story? Email us at divorce@huffingtonpost.com.
Beth Martin fell in love twice at 22. First with the man who would become her husband, Mike, then with his 4-year-old son, Michael Jr.
Falling in love with Mike's little family was easy. Figuring out what role she would play in that family was a challenge.
"My husband had to learn how to trust me with his precious boy and I had to embrace my new role," she told us. "And my poor stepson had to get used to having three parents that were very invested in his well being. Looking back on that time, I can't believe how much we all matured together."
Below, Beth tells us more about her family and shares some of her best step-parenting advice.
Hi Beth. Want to introduce us to your family?
Sure. There's me and my husband Mike our three kids: Michael Jr., 23; Jacob, 12; and Elizabeth, who's 9.
How long have you and Mike been a couple?
Mike and I have been together for 18 years and married for 15.
What were those early days like as a new stepmom?
I remember being warned when I started dating my husband that I was very young and taking on someone's "baggage" would not be easy. But since I was living on my own after receiving my bachelor's degree, I felt that this was the next step in my journey. Sure, there were times when I envied my girlfriends who were out enjoying their Saturday nights while we were home with a sleeping 4-year-old, but I was very much in love. I do remember playing with my stepson so often that at one point he thought I was his playmate rather than his dad's girlfriend. One night he asked why he had to go to bed at 8 p.m. but I did not! They were small bumps in the road, but with time, we all started to gel.
What were some of those challenges?
The biggest challenge for us was keeping things relatively the same at both our home and Michael Jr.'s mother's home. Everyone's parenting style is different and that can confuse a child who is being shuttled back and forth a few times a week. The next big challenge was having our own children together when Michael was 11. We were distracted and tired and Michael was becoming a teenager. Any teenager in their right mind would have taken advantage of that fact that we all were not hovering over him anymore and boy, did he! But we eventually got a handle on things.
What do you appreciate most about blended family life?
The best thing about our blended family is that there is a lot of love in our home. Michael has lived with us since our children were very young so as far as they are concerned, he is their brother. Our kids don't use the terms "half" or "step." We still all sit down for family dinners a few times a week and it warms my heart every time. All that said, I would never tell anyone that step-parenting is easy and I do not recommend it for everyone. I got really lucky. My husband and stepson made it very easy for me to join their little family and I will always be grateful for that.
What makes you proudest of your family?
I am proud that we can manage our family together as a team. It really is the only way to be successful in any family situation.
How do you deal with family stress?
We use comic relief to manage stress in our home. We really don't yell or fight often. We all know how to laugh at ourselves and each other without being hurtful.
What's your advice for new stepparents having a hard time finding their place within the family?
Define your role with your spouse or partner before you get serious. I had no interest in making the hard decisions that my husband and his ex-wife had to make for Michael. I saw myself as support for both of them if they needed me. As long as it did not affect me negatively I stayed on the sidelines. I never spoke badly of any situation involving my stepson's mom in front of him. I really feel it is the golden rule of step parenting to take the high road at all times.
PHOTO GALLERY
Meet Beth And Mike's Family
Keep in touch! Check out HuffPost Divorce on Facebook and Twitter. Sign up for our newsletter here.
BEFORE YOU GO
PHOTO GALLERY
Blended Family Friday