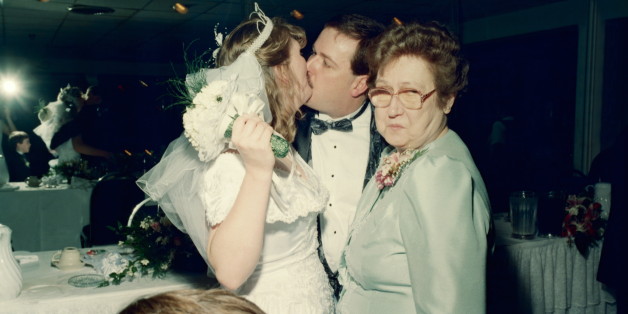 Many people say that your wedding day will be one of the happiest days of your entire life.
Evidently those people have not met any of the brides and grooms in the stories below. We've rounded up 12 tales of wedding day disaster from this Reddit thread that will make you feel better about your big day mishaps.
1. "I got hypothermia (I'm from the sub-tropics and we had a winter wedding in Canada) during the outdoor photography and missed the reception because I was in the hospital -- with my brand new wife, who was still in her wedding dress."
2. "My mom's best friend (and maid of honor) showed up the day of my mom's first wedding with her head shaved. Apparently she was in love with the groom and this was her silent protest. The marriage only lasted two years and the groom eventually married the maid of honor."
3. "The justice of peace was running late. When she finally arrives, she loudly proclaims that she had bowel problems and couldn't get out of the bathroom. When asked why she didn't call and let us know, she just shrugged and said, 'Well, I'm here now.' We make it through the vows no problem. Then she asks to read a poem that she picked out for the wedding. It turns out that the poem is about the plight of the Native Americans. Neither my wife nor I are Native American, so this particular poem at this time seemed odd and out of place."
4. "My dad played in a band at a wedding where the bride's uncle dropped dead in her arms on the dance floor. Talk about bringing the party to a halt."
5. "Friends of ours were going to get hitched at The Flying W ranch in Colorado Springs, Colorado, but it burned down in a massive forest fire. So they rescheduled the wedding for the next year at a B&B in Black Forest, Colorado. Another forest fire happened and the mandatory evacuations prevented them from using that venue. They ended up poaching a public park near a pond for their big day instead. It turned out beautifully."
6. "My 3-year-old brother got loose and pulled the fire alarm during the ceremony. They definitely got their 'memorable' moment."
7. "I briefly owned a photo booth business that was hired mainly for weddings. The worst thing I saw was a wedding planner who showed up drunk and/or high and disappeared with the best man to go hook up. So no one was in charge and the ceremony had to be delayed while people went to find the best man. He also couldn't be found for his speech. They also tried to have sex in my photo booth."
8. "Fifty percent of the people who RSVPed didn't come. My brother-in-law who volunteered to DJ didn't actually bring any DJ equipment, so our reception was powered by Pandora. He also said he would video the ceremony and highlights of the reception but didn't bring his video camera."
9. "Not mine, but my sister's. She got married in a Catholic church. Her father-in-law is Venezuelan and doesn't speak English well. He didn't understand the priest when he said not to get out your Brownies. He didn't even use the modern word for camera. Anyway, her father-in-law stands up to take a photo. This part kills me because he was so happy for his son and just wanted a photo of the moment. The priest slams his bible down mid-ceremony and yells at him in front of everyone."
10. "At my friend's sister's wedding the best man's speech caused so much pain, the family has not spoken to him since. He said, 'Mike has always been a greedy bastard. I remember once when we all got hookers in Amsterdam and he got three!'"
11. "The venue called to say that they had double-booked two weeks before the wedding date, asking if we could move it to another weekend."
12. "My wife and I eloped overseas, but there was a party for family and friends when we got back. My family insisted on traditional speeches, which was our downfall. My father repeatedly called my wife by my ex's name and had to have it repeatedly pointed out to him before he corrected himself."
*Some responses have been edited and condensed.
H/T Reddit
Keep in touch! Check out HuffPost Weddings on Facebook, Twitter and Pinterest. Sign up for our newsletter here.

BEFORE YOU GO
PHOTO GALLERY
Hilarious FAIL GIFs