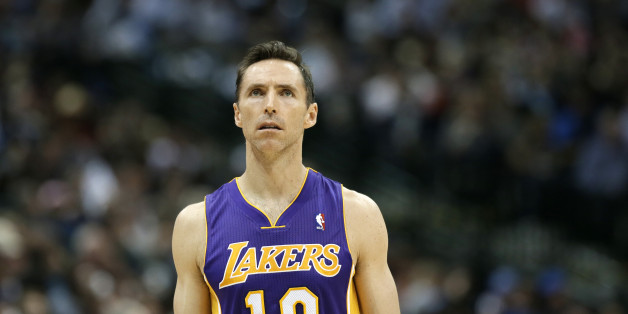 The truth about Steve Nash's back hurts. It may hurt Los Angeles Lakers fans who want the two-time NBA MVP on the court. But it sure sounds like it hurts Nash much, much more.
In an open letter to fans and critics, the two-time NBA MVP detailed his back problems and myriad aches and pains. The tabulation of the injuries picked up by logging more than 1,300 career NBA games with the Dallas Mavericks, Phoenix Suns and Lakers is enough to make just about any reader cringe. The letter posted to Facebook on Friday might also give pause to some of Nash's critics. The 40-year-old point guard, who has been ruled out for the 2014-2015 season due to nerve damage in his back, drew the ire of some Lakers fans earlier this week when he posted a video of himself hitting a golf ball to Instagram.
Nash is in the final year of a three-year contract reportedly worth approximately $28 million that he signed with the Lakers in 2012. Plagued by injuries, he appeared in just 65 combined regular-season games in his first two seasons in Los Angeles. He will miss all of the 2014-2015 campaign but is still set to earn $9,701,000, according to Basketball-Reference.com.
BEFORE YOU GO
PHOTO GALLERY
Amazing Sports Photos