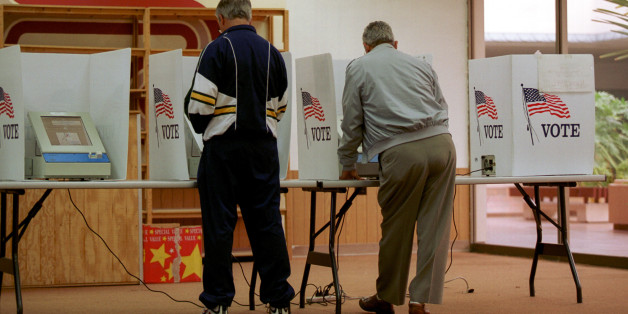 Some 79 percent of politicians elected to state legislatures will belong to the Democratic Party following midterm elections, according to data compiled by the National Association of Elected Officials Education Fund.
As Republicans pat themselves on the back for their performance among Latino voters in midterm elections, the figures serve as a reminder that the GOP still has a long way to go when it comes to recruiting Latinos into the party.
The imbalance is most pronounced in the upper houses of state legislatures across the country, with Democrats accounting for 88 percent of Hispanic state senators. Only nine Latino state senators belong to the Republican Party, compared to the Democrats' 65.
By contrast, Democrats hold 76 percent of the lower house seats in state legislatures occupied by Latinos, with 173, compared to 54 for Republicans.
There is, however, some good news for Republicans.
Ten new conservative Latinos were elected to the lower houses of state legislatures on Tuesday, while Hispanic Democrats lost six of those seats.
One Latino Democrat will take a state senate seat next year, however. No new Republican Latinos were elected to office in a state senate.
The RNC trumpeted its performance in the midterm elections, noting that the national exit poll conducted by Edison Research on behalf of a group of major news organizations showed the GOP had performed better than expected in several key races.
The poll also found, however, that some 63 percent of Latino voters backed Democrats in U.S. House races -- a six-point jump from the last midterm elections in 2010.
Latino Decisions, a pollster that specializes in surveying the Hispanic electorate, disputes the exit polling data. A Latino Decisions poll of 4,200 Hispanic voters conducted in the five days leading up to the election showed that Republicans fared much worse among Hispanics than the exit poll indicated.
BEFORE YOU GO
PHOTO GALLERY
2015 Will Be The Most Latino Congress Ever