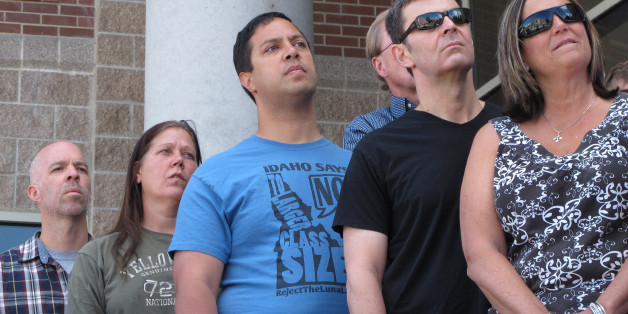 While Election Day brought bad news for many Democrats, there was a big win for LGBT equality in the deeply red state of Idaho. Democrat John McCrositie became the first openly gay man elected to Idaho's House of Representatives, and became only the second openly gay, lesbian or bisexual elected official in the state, after openly lesbian Nicole LeFavour had been elected in 2008 and served until 2012.
"I had to decide for myself," the longtime schoolteacher said in an interview with me on SiriusXM Progress, regarding the moment when the opportunity presented itself for him to run in Boise's 16th district. "I want to represent education in our state legislature. But the reality of life is, I'm a gay man. And people are going to find out that I'm gay. I can either run with integrity and let people know, 'Yep I'm gay.' Or I can lose that integrity."
It's a bit of a transition for McCrostie, going from teaching band, choir and guitar to middle and high school students, to the public life of a politician. But education and the economy were issues he was becoming passionate about politically, he said, and he knew he could also use the platform to speak out for LGBT equality.
He's been doing just that since he announced in 2013 that he'd be running for the Democratic primary, which he won last May. McCrostie publicly supported the "Add the Words" protests that rocked the legislature earlier this year, when many were arrested in acts of civil disobedience while demanding the addition of sexual orientation and gender identity to Idaho's human rights protections. And he criticized Governor Butch Otter as the GOP governor vowed to fight the 9th Circuit Court of Appeals ruling that brought marriage equality to Idaho last month.
McCrostie didn't have a moment when he "came out" as a budding politician, he said, but rather has been out all along.
"The people in the community know me," he said. "They know my partner, currently my husband, as of December of last year, according to Hawaii standards -- according to Idaho standards, as of October 15, once the Supreme Court denied the second stay [of the 9th Circuit's ruling]."
Still, his being gay, refreshingly, has been such a non-issue in his Boise race that even some gay people didn't always know he was gay.
"I even had a fundraiser recently at our local gay bar, and I was talking to some folks and they said, 'You know John, I'm so happy to have a candidate that is so gay-friendly,'" he recounted. "And I told him right there, 'You know, I'm about as gay-friendly as they come. And you can take the "friendly" off.'"
Listen to the interview below: