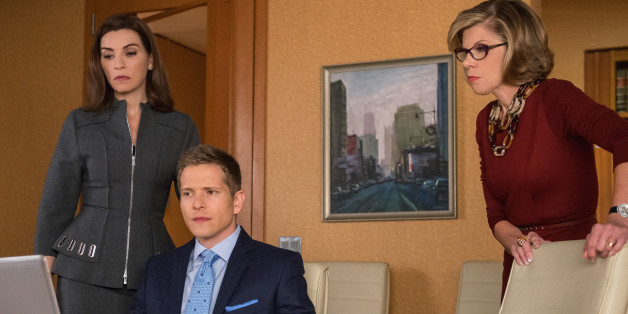 Pressure was on the rise on Sunday night's "Good Wife" episode, "Red Zone." Cary continued to face trouble in court prep, as Alicia made missteps in her State's Attorney's campaign, and Kalinda tried (but not all that hard) to stay out of harm's way. Here's a look at the episode's five most OMG moments:
1. Cary eats it in witness prep
Cary may be the only person able to testify that a recorded conversation in discovery for his trial misrepresents a conversation he had with Bishop's associates. Because lawyers make for notoriously terrible witnesses, Dianne brings in Rita Wilson's Viola Walsh as a practice prosecutor for Cary. He gets agitated on the make-believe stand, and Walsh tells Dianne: "If I'm on the jury, he's going away for 15 years." Cary pulls it a little more together by the end of the episode, but his future as a free citizen still looks iffy. Walsh proved just how strong a case the prosecution will be able to make against him.
2. Finn looks mighty fine in casual wear
After the two enjoy some chemistry-filled drinking on a window sill, Finn invites Alicia to join him at his regular soup kitchen volunteer gig. When she shows up in a suit straight from court, Finn calls her the "best dressed in the soup kitchen," and Alicia takes in Finn's casual look. "You dress down well," she says -- which, yeah, we noticed. The back and forth between these two continues to move slightly forward each episode, with a tension-breaking moment hopefully coming up on the horizon.
3. Alicia finally understands politics
While the soup kitchen visit was successful in terms of Alicia-Finn interaction, it was a misstep in Alicia's political campaign. A photo is released showing Alicia clad in her formal suit from court, scrubbing a pan while talking on the phone, with gossip articles claiming that she was just there for show -- distractedly washing an already-clean pot. Alicia is shocked that the sites could just make stuff up --"It wasn't clean. I cleaned it!" Eli swoops in to salvage the situation, arranging for another soup kitchen visit with an official photo op. The situation finally seems to convince Alicia that politics is about playing up appearances, and that she needs to trust the professionals to shape her image if she's going to have a fighting chance. "Now we just have to beat Prady," Eli tells her toward the end of the episode, to which she replies, "Tell me what to do."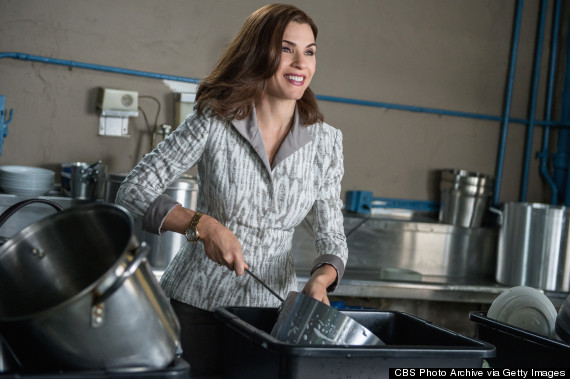 4. Kalinda breaks Cary's heart
Cary breaks his parole requirements to show up at Kalinda's apartment and confront her about her relationship with Lana. He knows she's not exclusive with him, he tells her, but he doesn't want to be with anyone else. Kalinda, unfortunately, doesn't feel the same way -- and tells Cary as much. It's a heartbreaking moment in an episode full of them for Cary, who hasn't had much good news in his personal or professional life in recent memory.
5. Lemond Bishop makes trouble for Kalinda
Bishop discovers Kalinda has an intimate relationship with a federal agent, which he does not like given that the agency is currently investigating him. He asks Kalinda to prove the agent isn't working on his case by slipping some kind of card into her wallet. Kalinda says she will, but at the moment of truth, snaps the card in half. It's a great moment of emotional development for Kalinda -- who is actually showing genuine care for Lana -- but also a highly dangerous one. With Archie Panjabi's announced exit at the end of the season, is it possible the show is setting her up to need to flee from Bishop for her safety?
Hopefully we'll find that out, and more, next Sunday at 9 p.m. on CBS.
BEFORE YOU GO
PHOTO GALLERY
The Good Wife