Europe marked Armistice Day on Tuesday, the holiday that commemorates the armistice that ended World War I on Nov. 11, 1918.
Ceremonies to honor those fallen in conflicts took place across the continent.
In France, President Francois Hollande laid a wreath at the tomb of the unknown soldier in the capital, Paris. The president would later travel to the north of the country for the opening of a new international war memorial.
Britain marked the day with remembrance services at Westminster Abbey, the Cenotaph, Trafalgar Square and around the country. The country observed two minutes of silence at 11 a.m. In London, a young boy planted the final symbolic ceramic poppy in an art installation that marks the 100th anniversary of the Great War at the Tower of London.
A ceremony at the tomb of the unknown soldier in Brussels, Belgium, was attended by King Philip. Thousands gathered at the Menin Gate in the town of Ypres, which was ravaged by the 1914 - 1918 war, to listen to buglers play the Last Post. That ceremony has been observed every night since the late 1920s and was only interrupted during the Second World War.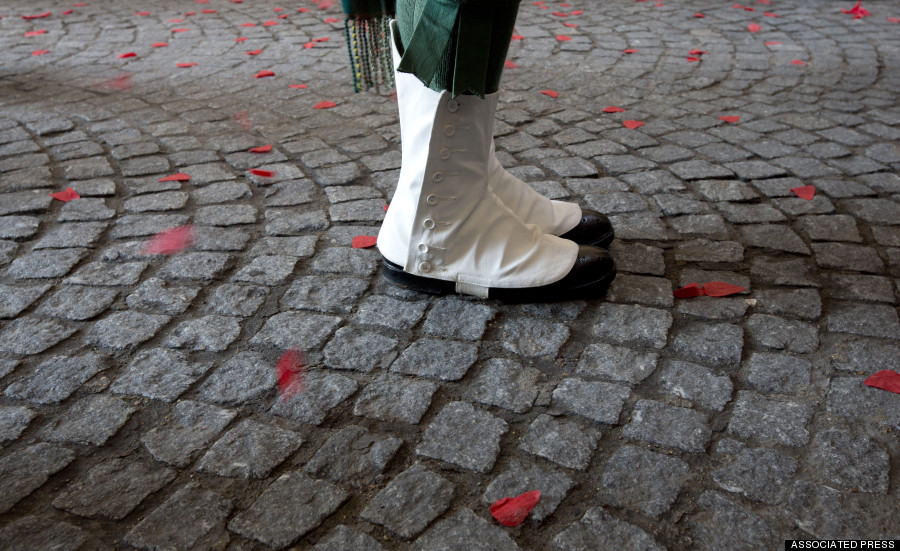 A bagpiper stands amidst paper poppies during an Armistice Day ceremony at the Menin Gate in Ypres, Belgium on Tuesday, Nov. 11, 2014.(AP Photo/Virginia Mayo)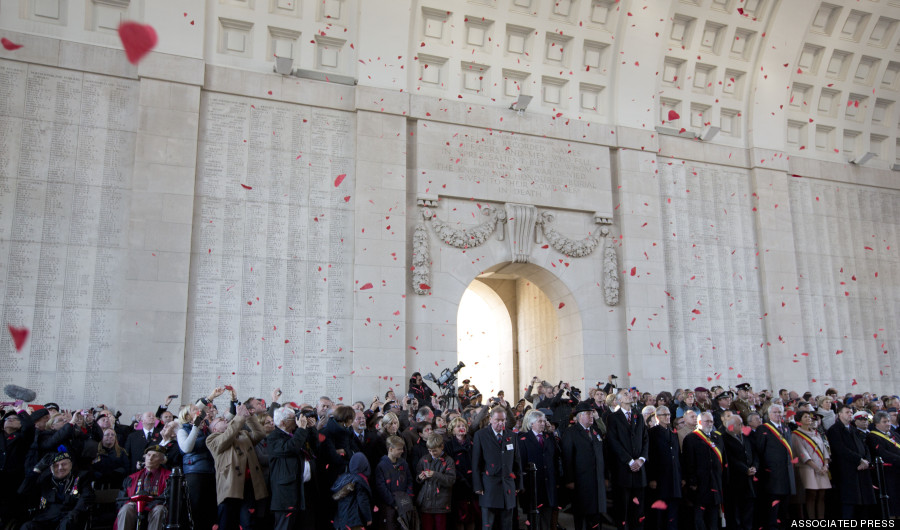 Red paper poppies fall from the ceiling during an Armistice Day ceremony at the Menin Gate in Ypres, Belgium on Tuesday, Nov. 11, 2014. (AP Photo/Virginia Mayo)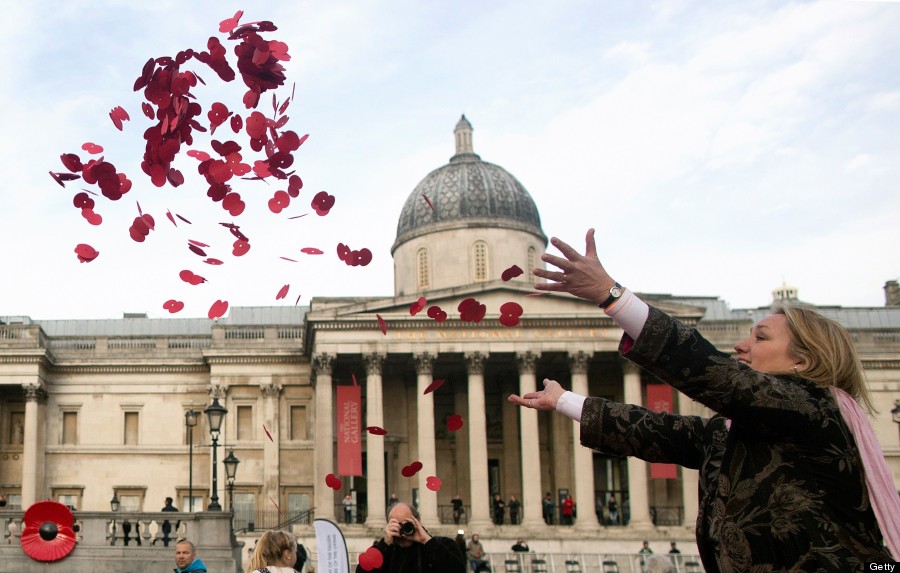 A lady throws poppies in to the fountain in Trafalgar Square in London on Armistice Day, November 11, 2014. (ANDREW COWIE/AFP/Getty Images)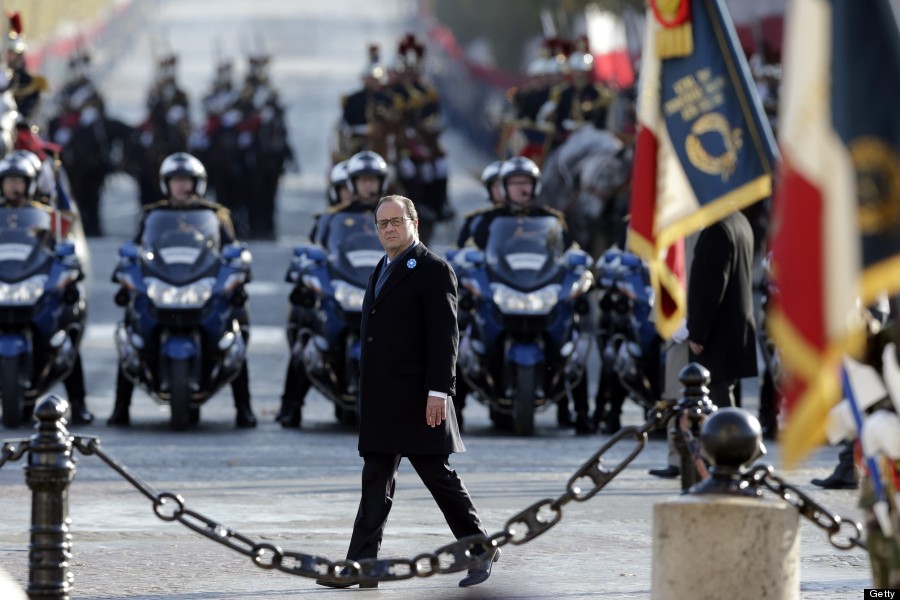 French President Francois Hollande wearing a bluberry (bleuet) flower, tribute to the WWI French soldiers, attends a ceremony to commemorate the end of the World War One at the Arc de Triomphe, on November 11, 2014 in Paris, as part of the Armistice Day ceremonies marking the 96th anniversary of the end of World War I. (PHILIPPE WOJAZER/AFP/Getty Images)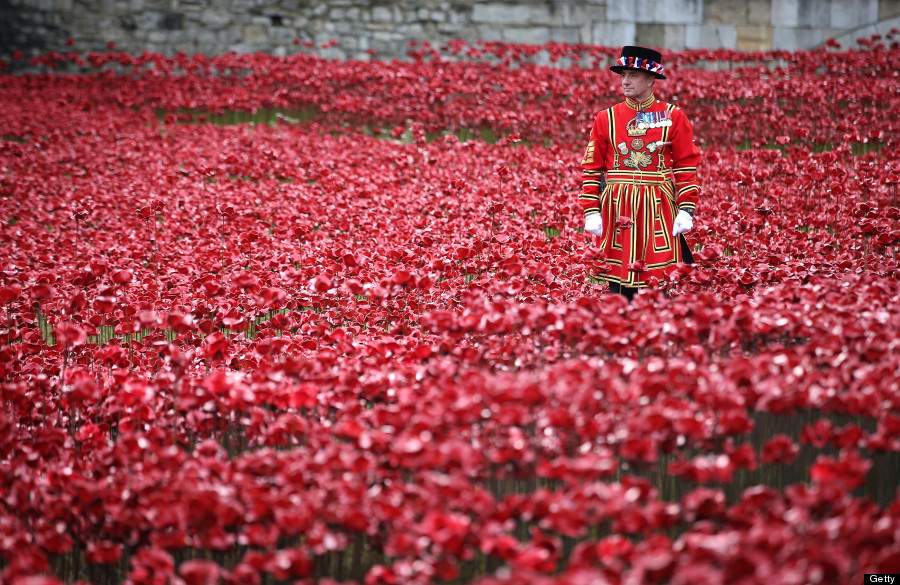 A Yeomen Warder awaits the placing of the last ceramic poppy in the moat of Tower of London to mark Armistice Day, on November 11, 2014 in London, England. (Peter Macdiarmid/Getty Images)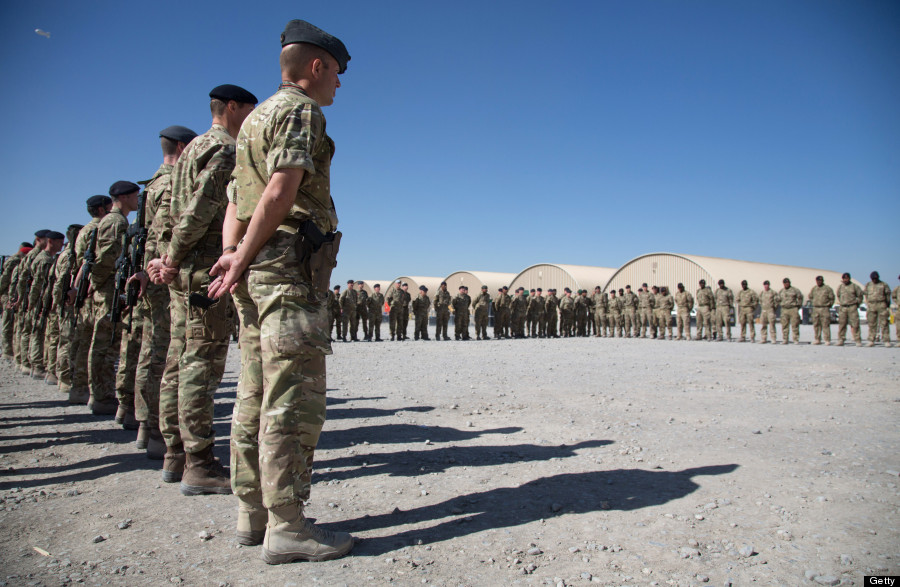 British troops gather for a ceremony to mark Armistice Day at Kandahar airfield on November 11, 2014 in Kandahar, Afghanistan. (Matt Cardy/Getty Images)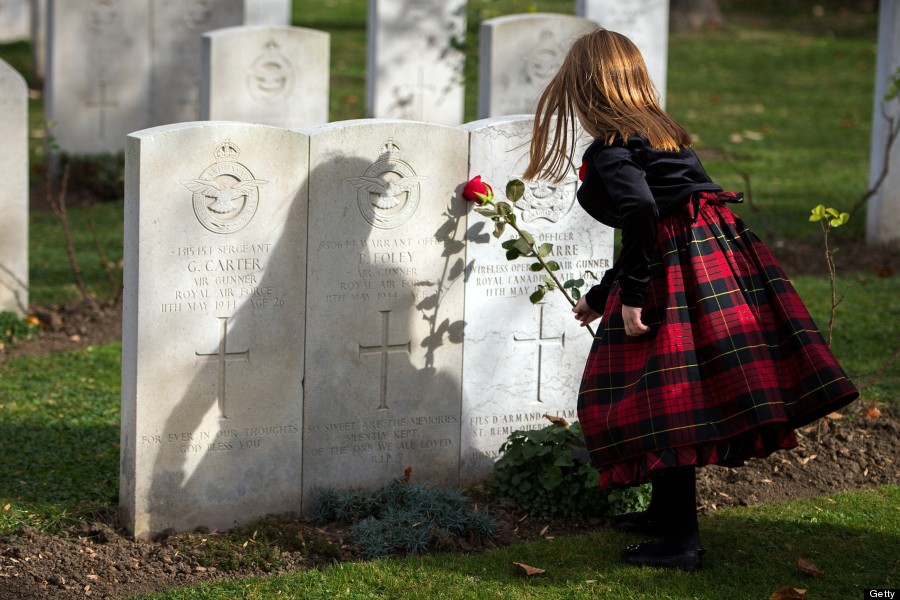 A young girl places a red rose in front of a tombstone after an Armistice Day ceremony at the Belgrade War cemetery in Belgrade on November 11, 2014, as part of Armistice Day ceremonies marking the 96th anniversary of the end of World War I. (ANDREJ ISAKOVIC/AFP/Getty Images)