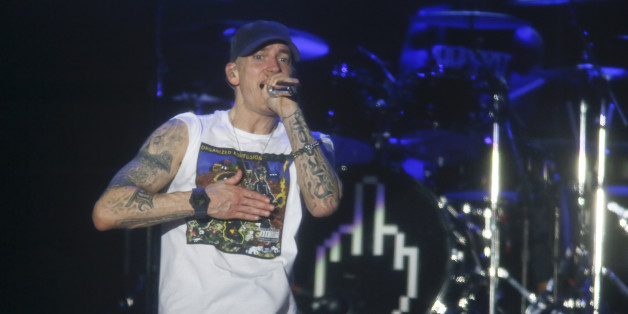 In a new cypher released in support of Eminem's upcoming compilation, "Shady XV," he raps that he would punch "Lana Del Rey," then compares the act to the recent Ray Rice controversy. Vine user Hannah Bouchard captured the single line, but the full video is below.
He makes a clear reference to Ray Rice, the Baltimore Ravens running back currently suspended after being seen on tape assaulting his fiancee (now wife), Janay Rice. Del Rey has yet to respond to Eminem, but in a 2012 interview, she spoke about his influence on her music: "He really changed my life. I didn't know music could be intelligent. He wasn't just rhyming for rhyme's sake. That made me think I could actually talk about the way things actually were. He's a genius."
Eminem is known for targeting female pop stars in his music and has rapped offensive lines about Christina Aguilera, Mariah Carey, Britney Spears, to name a few.
Here's the full rhyme, which can be heard at 15:37, in the video below:
"But I may fight for gay rights, especially if they dyke is more of a knockout than Janay Rice/ Play nice? Bitch I'll punch Lana Del Rey right in the face twice, like Ray Rice in broad daylight in the plain sight of the elevator surveillance/ 'Til her head is banging on the railing, then celebrate with the Ravens."
BEFORE YOU GO