Singer-songwriter Sam Smith and out actors Ellen Page, Zachary Quinto and Samira Wiley take top honors on Out Magazine's OUT 100 list for 2014.
Smith, whose smash debut album "In the Lonely Hour" dominated radio airwaves this year, was named Breakout of the Year, while Page ("X-Men: Days of Future Past,""Juno") nabbed Entertainer of the Year honors. Quinto, who will star opposite James Franco in the hotly anticipated "Michael," is the magazine's Artist of the Year, and "Orange is the New Black" veteran Wiley is Ingenue of the Year.
Each year Out magazine chooses 100 of the most compelling lesbian, gay, bisexual and transgender people in the world to create its Out 100 list. Honorees are chosen from all walks of life and include celebrities, writers, politicians, activists, sports figures and artists, among others.
Take a look at all four Out 100 covers, then scroll down to keep reading: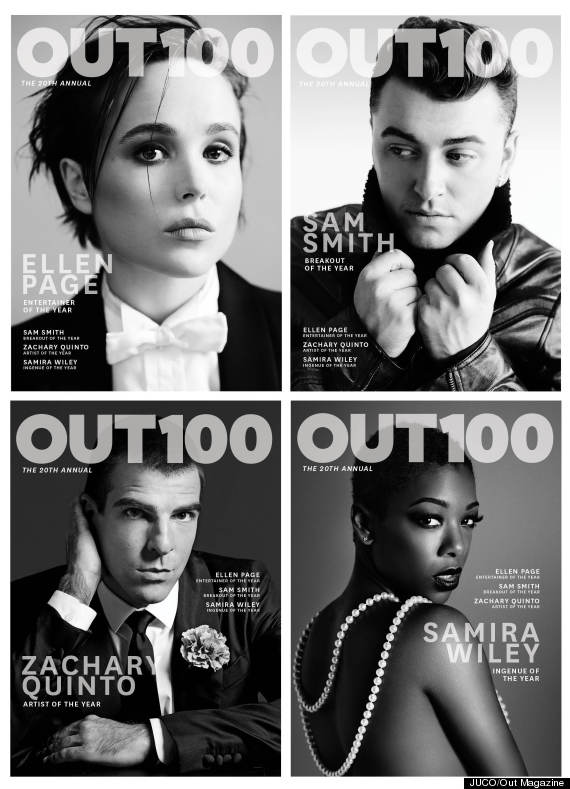 Page, who garnered praise from the LGBT community for her profound coming out speech at the Human Rights Campaign's Time to Thrive conference, tells the magazine:
"You just feel different in the world. Once you've done something that you used to think was impossible, what could ever really scare you again? Even now, press is more enjoyable because I don't have to have certain conversations. For instance, I'm never going to have to have a conversation about a dress, or heels, ever again."
Check out the full list of OUT 100 honorees here.
Meanwhile, check out a selection of the list in the slideshow below.
PHOTO GALLERY
Out Magazine's OUT 100 for 2014