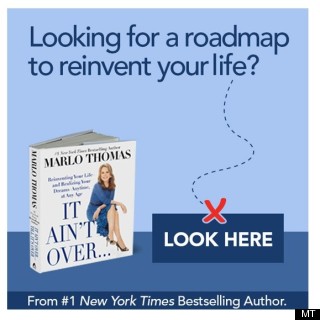 "One of the reasons I started my website is that I wanted a place for women to come together and dream. We women need to know that we don't have to hang on to an old dream that has stopped nurturing us—that there is always time to start a new dream. This week's story is about Laura Treloar – a widowed mother of three, who found a creative way to make money after her husband's untimely passing."—Marlo, MarloThomas.com
In college, Laura Treloar was the artsy, tattooed girl who vowed that she would spend her life as an artist, making art every day. But that's not quite the way it worked out.
"The day I got out of art school, I slipped into a panic, asking myself, 'Oh my God, what am I really going to do?'" So she enrolled at the University of British Columbia to get a teaching degree.
There, at a pub near campus, she met a six-foot, four-inch, dark-haired, blue-eyed lifeguard, also studying to be a teacher. His name was Dave. It took a year for their first date to happen, but ten months later the two were a solid couple, and they bought a small, dilapidated heritage house in Vancouver and began restoring it to its original condition.
Shortly after their dream cottage was complete, the punk-rock-girl-turned-high-school-art-teacher and the high-school-gym-teacher-and-basketball-coach married. For five years they worked, adopted rescue dogs (three) and cats (two), and tended multiple fish tanks.
Then one day Laura, who'd never thought she wanted children, was on her way to pick up a third cat and had an epiphany. "I realized that it wasn't really a cat I wanted. I wanted a baby." She went home to tell Dave. "He literally started jumping up and down with joy. 'I knew you'd change your mind!'"
After struggling to conceive, Laura had three miscarriages, but finally Austin arrived. "We called him the lucky swimmer," she says, laughing. Six months later, lucky swimmer number two, Michaelie, was conceived—and suddenly the couple who had given homes to cats and dogs and now kids was in need of a bigger place.
Their second fixer-upper was a 100-year-old, apocalyptic mess. "Rats. Bed-bugs. Everything you can imagine was wrong with it," says Laura. "People would walk in and say What have you done?! And we'd laugh and say, 'You gotta have the vision!' "
Less than a year later, baby Aiden came along. Feeling the financial pinch of raising three children on two teachers' salaries, Laura also started tutoring to bring in extra cash, but it was too stressful. So Dave suggested she try something creative instead and urged her to do her jewelry-making on the side.
Laura bought some basic tools and set up shop on their dining room table. From the start, Dave was her biggest fan. "Everything I made, he would be like, 'Wow, this is the best thing you've ever done! What are you going to sell that for?' And then he would tell me to charge more."
Selling her jewelry on Etsy, the super-popular e-commerce site where craftspeople market their wares, Laura was able to pay for the family's groceries. "Whenever they featured one of my pieces, Dave was the first one I'd show and he'd go crazy texting all his friends."
During spring break of 2011, Dave asked his mom to watch the kids for the weekend so he and Laura could spend some time together. "Between the kids and work, it was just really tough for us to have any time alone," Laura says. But that Saturday morning, their romantic weekend turned into a shattering nightmare.
"Dave was sleeping next to me in bed and I couldn't wake him. I called 911 and while I waited for the ambulance, the operator took me through how to try to resuscitate him. As I tried, I could hear the deafening sound of the ambulance; then I watched the paramedics work on him for 20 minutes until they told me there was nothing they could do." At 38, Dave was gone.
Article Continues Below Slideshow
PHOTO GALLERY
Laura Treloar
"I remember sitting in the living room with my sister, looking out my window as the kids came home," says Laura of the moment she had to tell the three boys that their dad had died. "I watched them walking up the path to our house and they were all laughing and giggling, and I remember thinking That's the last time those kids are going to feel truly happy for a long time. Their life is changing the second they walk through that door." Austin was six; Michaelie, five; and Aiden, three.
"Our world crashed and then stopped. I spent those first days immobilized, trying to make this horrific thing sink in. I felt as though someone was following me around, sucker punching me in the back of my head."
"Dave and I could barely take care of these kids together when he was alive. I can't possibly do this by myself." Her dad leaned back and said flatly, "Well, then, I guess you're going to have to put them in foster care."
Laura became enraged. "I was just hysterical. I screamed, 'How can you say that?' and stormed up to my room. But then I got to thinking about my dad—how once when I was a little kid, a piece of hot plastic landed on my arm and I ended up with a third-degree burn. I was screaming and crying, and my dad just looked at me and said, 'Stop crying' and picked it out of my arm—and I immediately stopped.
"Now he'd done the same thing to me 30 years later, kind of like a big slap in the head. He made me see the situation more clearly. I thought, 'If I just curl up in a ball and am unable to deal with any of this, what's going to happen to my kids? They're little, they didn't deserve this, and they'll be ruined if I screw this up.' So I wiped away my tears, came downstairs, and said, Dad, you're right. I've got to pull it together,' and the next day I did. I got up. I packed their lunches. And I drove my kids to school."
"I've always thought of myself as a super-strong, really in-control person. Work wise—you have to be in control of yourself every second you're in front of a classroom of kids. Losing Dave was a situation out of my control, and it had made me anxious.
"So getting back in my studio—and being able to make something that I could send to someone, knowing they'd be overjoyed with it—calmed my brain down and got me into a rhythm," she says. "When I'm on my workbench, everything melts away. It's the only thing I've tried that has really helped with my anxiety. I can control what I'm making, my finances, and my time."
Laura's business took off. Etsy began including her pieces in its promotions and late in 2011 the site contacted her to say that she was going to be promoted as a featured seller. "That means they choose you and your shop as being exemplary and they give you a feature on their front page with an interview and pictures of you in your studio for three days," she says. "You cannot pay for advertising like that." After that, things got over-the-top busy for Laura. She does some occasional business from her home studio through local word-of-mouth, but Etsy is her true marketplace and she has had no trouble cracking her monthly goal of $10,000; in a good month, she can now make $20,000.
"I'm grateful every day that I don't have to worry now about how we're going to buy groceries or pay property taxes," she says. "I could never stop teaching fully, because I'm so invested in my students. But my teaching job basically pays for childcare. My jewelry business is what sustains us.
"Jewelry is such a special heirloom in many families, and it's kind of cool to think something I've made is going to become one of those pieces," she says. "It's very fulfilling to be attached to a joyful point in someone else's life."
Laura's own life is gaining joy, too, though it's been only a few years since the loss of Dave. She feels him everywhere, and his love and enthusiasm are a big part of her creativity. "I've finally become the artist I always wanted to be, making my own designs and supporting my family. I'm really proud. And I know Dave would be, too."
To find out more about Laura's journey -- and to read 59 other inspiring stories -- buy your copy of "It Ain't Over Till It's Over." Click here.

Add Marlo On Facebook:
Follow Marlo on Twitter:
Sign up to receive my email newsletter each week - It will keep you up-to-date on upcoming articles, Mondays with Marlo guests, videos, and more!