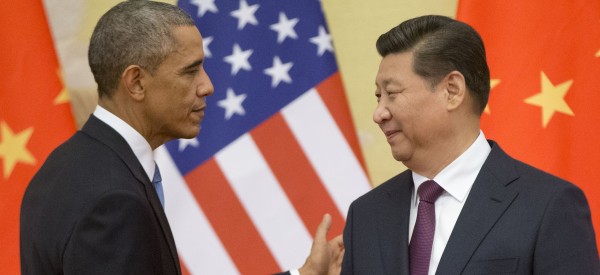 TOP STORIES
U.S., CHINA REACH LANDMARK CLIMATE CHANGE AGREEMENT "China and the United States made common cause on Wednesday against the threat of climate change, staking out an ambitious joint plan to curb carbon emissions as a way to spur nations around the world to make their own cuts in greenhouse gases. The landmark agreement, jointly announced here by President Obama and President Xi Jinping, includes new targets for carbon emissions reductions by the United States and a first-ever commitment by China to stop its emissions from growing by 2030." The move caught many experts by surprise. The two countries also cut deals on military movements and tariffs. [NYT]

MAJOR BANKS SETTLE FOREIGN EXCHANGE PROBE FOR $3.3 BILLION Here are five things you need to know about the settlement as well as a timeline of the probe. [WSJ]
FCC CHAIR BREAKING FROM OBAMA ON NET NEUTRALITY "The dissonance between Obama and Wheeler has the makings of a major policy fight affecting multibillion-dollar industries. The president wants clear rules to prevent Internet service providers from auctioning the fastest speeds to the highest bidders, a scenario that could favor rich Web firms over start-ups. Wheeler, a former lobbyist for the cable and telecommunications industry, has floated proposals that aim to limit the ability of service providers to charge Web companies, such as Netflix or Google, to reach their customers. But critics have argued that his approach would give the providers too much leeway to favor some services over others." [WaPo]
UN: 13.6 MILLION DISPLACED BY IRAQ AND SYRIA CONFLICTS "About 13.6 million people, equivalent to the population of London, have been displaced by conflicts in Syria and Iraq, many without food or shelter as winter starts, the U.N. refugee agency said UNHCR on Tuesday." [Reuters]
AS FERGUSON WAITS, STATE PREPARES "Speaking at a press conference, Gov. Jay Nixon (D) said that over 1,000 police officers have received a combined 5,000 hours of training on dealing with protests ahead of the grand jury's announcement, which is expected later this month. He said that the National Guard would be on standby and that several law enforcement departments would work together to deal with any protests that happen." Gun sales in the area are on the rise, and protest organizers vow to continue after the verdict is released. [HuffPost]
WATCH THE ROSETTA COMET LANDING "The European Space Agency's Rosetta space probe has deployed its robotic lander Philae, which is now set to touch down on Comet 67P/Churyumov-Gerasimenko." You can follow along with the live blog. [HuffPost]
REPUBLICAN DAN SULLIVAN WINS SENATE SEAT IN ALASKA "Republican Dan Sullivan has won the Alaska Senate race, ousting Democratic incumbent Mark Begich, according to The Associated Press, which called the race for Sullivan late Tuesday night following the first day of counting early and absentee ballots … Sullivan's victory gives the GOP a net gain of eight Senate seats in this year's midterm elections. The party can add a ninth seat if Rep. Bill Cassidy (R-La.) knocks off Democratic Sen. Mary Landrieu in next month's Louisiana general election." [Politico]
MALI CONFIRMS SECOND CASE OF EBOLA "Mali became the sixth West African country to record a case of Ebola when a two-year-old girl from Guinea died in October. It has not recorded any confirmed cases since then and 108 people linked to the girl were due to complete their 21-day quarantine period on Tuesday." [Reuters]
AMERICA'S MOST DANGEROUS CITIES Be careful out there. [HuffPost]
WHAT'S BREWING
AUBURN FOOTBALL: STRUGGLING TO MAKE A BUCK "At major football schools like Auburn—which played in last season's national-championship game and won the 2010 title—ticket sales and contributions are the lifeblood of the athletic department. The $53 million Auburn that collected in 2013 accounted for more than half of its total athletic revenue, according to a school financial report. Still, these millions failed to cover its expenses." [WSJ]
KIM KARDASHIAN IS 'TRYING TO BREAK THE INTERNET' By baring her backside for Paper Magazine. This is obviously NSFW. [HuffPost]
YO DAWG, RANDY JACKSON IS OUT After 13 seasons, Randy Jackson is saying goodbye to "American Idol." [Variety]
BENEDICT CUMBERBATCH TALKS CUMBERBABIES Imagine the accents. [People]
THESE COUNTRIES DON'T HAVE MILITARIES "The Vatican is one of the rare countries in the world without armed forces. But it's not totally alone. More than 20 other countries lack standing armies, though the length of the list varies depending on how you count armies and countries (and it grows substantially longer if you include autonomous territories like Puerto Rico and the Cayman Islands)." [The Atlantic]
WHY YOU NEED NEGATIVE EMOTIONS "What many people fail to realize is the fact that doubt, in moderation, performs a healthy function. Doubt is a psychological state that prompts us to take stock of our skills and to work to improve in areas where they might be deficient." [HuffPost]
IF YOU'RE GOING TO POP YOUR BLISTER Here's how to do it right. [HuffPost]
ON THE BLOG
TO FIGHT FUTURE EPIDEMICS "Yet the agencies have largely ignored primary care and the development of public health protection infrastructure in these countries. The consequence, as we now know, is a largely under-funded, overworked and disaffected front-line medical staff, backed up -- if at all -- by weak public health systems of laboratories, health communicators, and epidemiology staff who are the detectives of public health. Health system instability ramped up the current crisis. Unless changes come soon, future catastrophic epidemics are all but inevitable." [HuffPost]
BEFORE YOU GO
~ This is what a Calvin Klein plus-sized model looks like.
~ Here's how to design for iOS.
~ Walmart just extended its Thanksgiving deals.
~ Instagram: the new killer of teenage girls' self-esteem.
~ Spotify stands up for itself post-Taylor Swift.
~ You can now draw your texts -- imagine the possibilities.
~ Bruce Jenner's mom doesn't love his new look.
~ The complete "Blood Swept Lands and Seas of Red" poppy installation in Britain is breathtaking.
~ You could buy a Warhol today.
~ Meet the Candy Crush sequel -- sayonara productivity.
~ And Wikipedia edits, transformed into a realtime audiovisual website.
Send tips/quips/quotes/stories/photos/events/scoops to Lauren Weber at lauren.weber@huffingtonpost.com. Follow us on Twitter @LaurenWeberHP. And like what you're reading? Sign up here to get The Morning Email delivered to you.