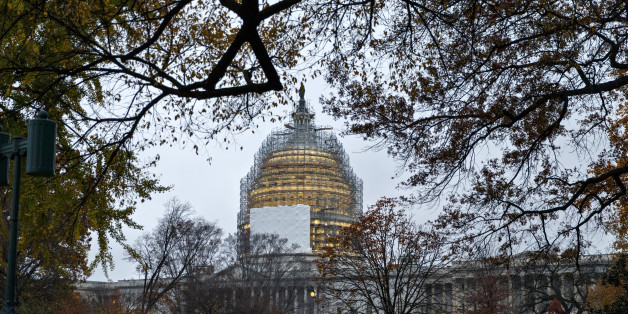 Republicans won control of both houses of Congress, but Pew Research finds Americans are divided on who should lead. Democrats' problems with non-college whites in Iowa could be the canary in their 2016 coal mine, but demographic trends suggest the diverse "Obama electorate" will stick around. This is HuffPollster for Wednesday, November 12, 2014.
PEW RESEARCH FINDS SPLIT VIEWS OF WHICH PARTY SHOULD LEAD - "The new national survey by the Pew Research Center, conducted Nov. 6-9 among 1,353 adults, finds divided opinions over who should take the lead in solving the nation's problems – 41% say Republican congressional leaders, while 40% say Barack Obama. That represents a shift from four years ago, when far more wanted Obama than Republican leaders to take the lead (49% to 30%). It also is a sharp contrast with the public's views after the 2006 election – ahead of President George W. Bush's final two years in office – when by 51% to 29%, more preferred Democratic leaders than President Bush to take the lead in solving the nation's problems….About one-in-five Americans (21%) say Republican control of the Senate will change the way things are going in this country 'a lot' and 37% say it will change things 'some.' Nearly four-in-ten (38%) expect little or no change as a result of the election….A majority of Americans would like to see Barack Obama and Republican leaders work together over the coming year. But Republicans are far more likely than Democrats to favor a confrontational approach toward the political opposition, even if that results in less getting done….About half of Americans (49%) expect that Republican leaders will be successful in getting their programs passed into law, while 40% say they will be unsuccessful. This is a more positive outlook for the GOP than after the 2010 election (43% successful)." [Pew]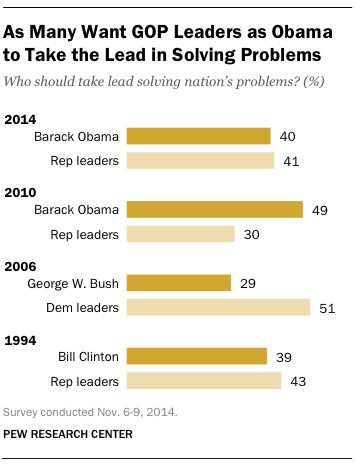 ...But Gallup finds majority support for GOP leadership - Lydia Saad: "Following the midterm election that some have termed a Republican wave, the majority of Americans want the Republicans in Congress -- rather than President Barack Obama -- to have more influence over the direction the country takes in the coming year. This is a switch from early 2012 when a slim plurality, 46%, wanted Obama to prevail in steering the nation....Although Americans are presumably happy with the outcome of the election -- as it gave full control of Congress to the party they want in charge of the nation's direction -- most are not expecting a major upturn in national conditions as a result of the Republicans' success at the polls. While more say the country will be better off now that the Republicans have won control than say it will be worse off (34% vs. 19%), close to half say it won't make a difference." [Gallup]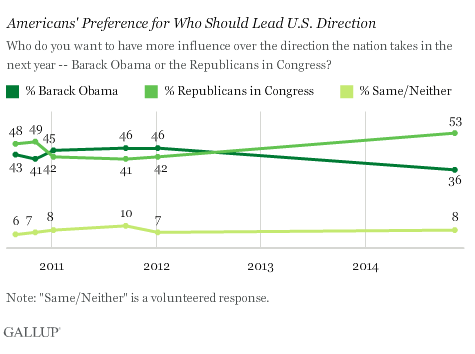 IOWA: NON-COLLEGE WHITES SHIFT AGAINST DEMS - Harry Enten: "Republican Sen.-elect Joni Ernst easily won her race in Iowa last Tuesday, beating Democrat Bruce Braley by 8.5 percentage points....What the heck happened? Here's one explanation: White voters in Iowa without a college degree have shifted away from the Democratic Party. And if that shift persists, it could have a big effect on the presidential race in 2016, altering the White House math by eliminating the Democratic edge in the electoral college....Obama saw a similarly distortional decline in his popularity among Iowans without a college degree over the past two years. His approval rating in Iowa used to run at or ahead of his national approval rating, but it hasn't in his second term. Obama's approval in Iowa this year has been just 38 percent, according to Gallup. His average approval rating nationally has been 42.3 percent...In other words, we're not just talking about Iowa shifting with the nation as a whole. Instead, the state's relative political position has changed. Iowa has moved more against Obama than expected based on a uniform swing." [538]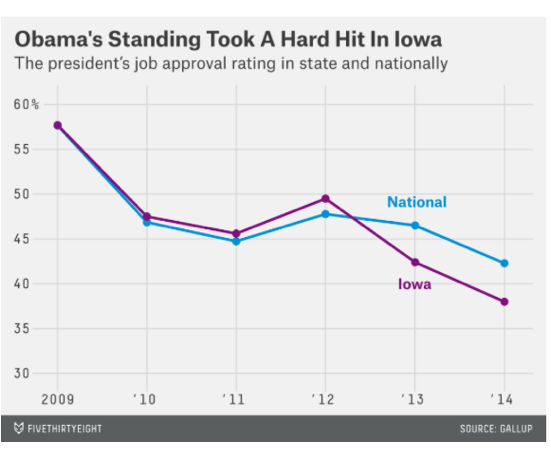 2016: 'OBAMA ELECTORATE ISN'T GOING AWAY' - Nate Cohn: "A midterm election has come and gone, and now begins a new round of speculation about whether the Democrats can remobilize young and nonwhite voters in 2016. The question hinges on how much of the growing nonwhite share of the electorate is the result of President Obama's unique appeal. This is a topic that will get a far deeper treatment in time, but for now, we can say that the preponderance of data on demographics and turnout suggests that voters will be at least as diverse as they were in 2012, when Mr. Obama won re-election. The reason for such confidence? The data on turnout and demographics suggests that the growing nonwhite share of the electorate is primarily the result of demographics, not enthusiasm for Mr. Obama...That's not to say that Mr. Obama didn't drive turnout higher, particularly among black voters. But even there, the contribution of Mr. Obama is smaller than one might expect. Sixty percent of eligible black voters turned out in 2004, compared with 66 percent in 2012." [NYT]
ASSESSING THE POLLS & MODELS - John Cassidy: "The question, going forward, is how seriously to take the models' numerical predictions. Since the models' performance is so similar, and they mimic the polls so closely, one answer, especially in the immediate run-up to elections, is that we should regard [the forecasting models] as an appendage, or addition, to the latest crop of poll numbers, rather than as an independent source of information. When the forecasters raise the probability of a given outcome, what they are usually saying is that the polls, on average, have shifted in that direction. In the forecasting world, this is widely acknowledged; indeed, it's largely taken for granted. But many non-statisticians seem to think the forecasters have a 'secret sauce' that enables them to see beyond the polls....In any case, perhaps the main thing we've learned, or learned again, is that opinion polls have an enormous impact on how we view election campaigns, and they should come with health warnings attached." [New Yorker]
AMERICANS SPLIT ON IRAQ TROOP INCREASE - HuffPollster: "Americans are split on President Barack Obama's decision to authorize the sending of up to 1,500 more noncombat troops to Iraq, according to a new HuffPost/YouGov poll. Forty-three percent of survey respondents support the potential troop increase, while 39 percent oppose it, with another 18 percent unsure….The tepid public backing for the planned troop increase contrasts with wider public approval of the airstrikes against the Islamic State, which a broad majority of Americans have supported. Much like the airstrikes, however, the idea of a troop increase garnered more public support after it became a policy rather than a hypothetical: An August survey found that Americans opposed sending in troops to assist Iraqi army units by a margin of 15 percentage points. Obama's approval rating for his handling of the Iraq situation, which showed signs of modestly increasing last month, now looks worse than it did in late August, when 36 percent of Americans gave him a positive rating." [HuffPost]
HUFFPOLLSTER VIA EMAIL! - You can receive this daily update every weekday morning via email! Just click here, enter your email address, and and click "sign up." That's all there is to it (and you can unsubscribe anytime).
WEDNESDAY'S 'OUTLIERS' - Links to the best of news at the intersection of polling, politics and political data:
-Americans like Hillary Clinton more than Barack Obama. [YouGov]
-Ben Highton assesses the Monkey Cage/Election Lab U.S. House forecasts. [WashPost]
-Jim Hobart (R) says President Obama is Hillary Clinton's biggest obstacle. [POS]
-Mark Mellman (D) says a sense of worry, and not just "fundamentals," was at play in 2014. [The Hill]
-Nicole McClesky (R) says Democrats real gender problem is having lost men by 20 points. [POS]
-The NY Times publishes an interactive compilation of U.S. House national exit poll data stretching back to 1992. [NYT]
-Pollster Stan Greenberg (D) interrupts a burglary. [Politico]
BEFORE YOU GO
PHOTO GALLERY
U.S. Capitol Photos