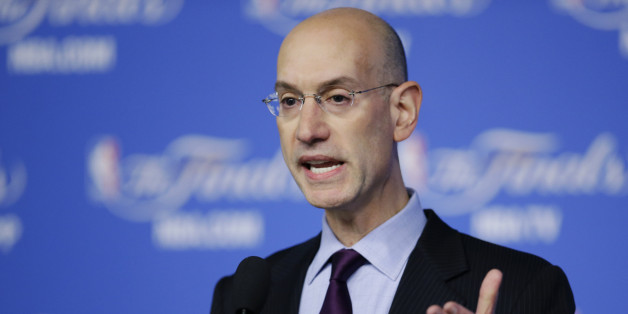 NBA Commissioner Adam Silver argued for the legalization of betting on professional sports games in a New York Times op-ed published Thursday night, writing, "Congress should adopt a federal framework that allows states to authorize betting on professional sports."
Silver wrote that sports betting, currently illegal in all but a few U.S. states, "should be brought out of the underground and into the sunlight where it can be appropriately monitored and regulated." He called on Congress to enact laws to help with oversight and technological safeguards.
Silver outlined his proposal for how legalized sports betting could be regulated:
These requirements would include: mandatory monitoring and reporting of unusual betting-line movements; a licensing protocol to ensure betting operators are legitimate; minimum-age verification measures; geo-blocking technology to ensure betting is available only where it is legal; mechanisms to identify and exclude people with gambling problems; and education about responsible gaming.
In 1992, Congress passed the Professional and Amateur Sports Protection Act, or PASPA, which prohibited states from permitting betting on sports. Major professional sports leagues endorsed the move. As a result, sports betting has moved to illicit exchanges and shady websites, Silver said. Thus, an estimated $400 billion is wagered on sports each year without oversight to ensure fairness.
Silver argued that it is time for U.S. to wake up to the reality that sports betting is here, it is popular and it needs regulation. Many states already have other forms of betting (e.g., lotteries, casinos) and several have legalized Internet gambling. Silver said sports betting would be an extension of a trend that U.S. sports fans and many states support. For example, New Jersey passed a law authorizing sports betting earlier this year that was later blocked by a federal court. Other states already exempt from PASPA include Nevada, Delaware, Montana and Oregon. Silver also pointed to other nations that have legalized sports betting, calling on the U.S. to respond to its immense global popularity.
SB Nation reported in September that Silver feels the legalization of sports betting is "inevitable," .
Silver said that any move to legalize betting on sports must be done with care and should not compromise the integrity of sports.
"I oppose any course of action that would compromise these objectives," Silver wrote. "I believe that sports betting should be brought out of the underground and into the sunlight where it can be appropriately monitored and regulated."
BEFORE YOU GO
PHOTO GALLERY
2013-14 NBA Highlights