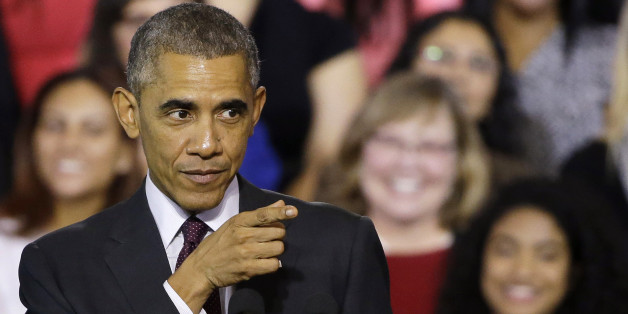 Obamacare enrollment begins again on Saturday, and there's a lot for consumers to figure out.
President Barack Obama aims to enroll about 9 million people into private health insurance plans for 2015 through the online exchanges. The federal government and some states, along with a slew of private organizations, are kicking off campaigns this weekend to get the word out about the three-month sign-up period.
It won't be easy. The Affordable Care Act has been law since March 2010, yet Americans remain poorly informed about Obamacare. Almost 9 in 10 uninsured individuals didn't even know enrollment was starting again, a poll from the Henry J. Kaiser Family Foundation found last month.
Health insurance is complicated, and so is Obamacare. Here are the basic facts you need to know to be a better-informed consumer:
Who is supposed to use an Obamacare exchange?
The exchanges are for people who don't have health coverage through their jobs or under programs like Medicare and Medicaid. You're not actually required to use an exchange because the insurance companies and private sector websites also will sell you health insurance directly. But the exchanges are the only place where you can apply for the financial assistance provided by Obamacare.
HealthCare.gov is the website for insurance shoppers in 37 states, while 13 states and the District of Columbia have their own exchanges. If you don't know where to go based on your home state, HealthCare.gov will direct you to the right place.
How much is it going to cost?
Health insurance premiums vary a lot for a number of reasons. Where you live, how old you are, how many people are in your family and whether you use tobacco all go into the equation. Prices on the exchanges range widely too, even for health plans with very similar benefits, so shopping around is crucial.
Compared to this year, premiums nationwide are going up just 5.6 percent on average in 2015, and the average monthly premium will be $344, according to PricewaterhouseCoopers. But those numbers aren't really important. What's important are the prices for the plans sold where you live and whether your insurer is raising rates, or even lowering them. Especially if you receive tax credits, failing to look for better deals could wind up costing you a lot more, while shopping around could save you money (it's complicated).
Is there help available to make insurance more affordable?
Yes, for some people. The Affordable Care Act established tax credits to cut the cost of coverage. These are provided on a sliding scale to households with incomes between the federal poverty level (about $23,500 for a family of four) and four times that amount (about $94,000). In addition, families that earn up to 250 percent of the poverty level (about $59,000 for a family of four) receive extra subsidies that reduce out-of-pocket costs such as deductibles and copayments for medical care and prescriptions.
The law also expanded Medicaid to people who earn up to 133 percent of the poverty level (around $31,300 for a family of four), and Medicaid generally comes at no monthly cost. But this expansion is only available in 27 states and the District of Columbia. The other states opted against a bigger Medicaid pool after the Supreme Court in 2012 said they could, which means millions of their residents remain uninsured. Those tax credits for private insurance go only to people who make at least poverty wages, so contrary to what the Affordable Care Act intended, some people are too poor for Obamacare.
What's the deadline to sign up?
There are two important deadlines, so don't delay. The first is Dec. 15, 2014. If you're a new enrollee, that's the last day you can enroll in a private health insurance plan that will be in place on Jan. 1, 2015. If you already have an exchange plan and don't act by that date, you'll automatically be renewed into your current plan.
The other deadline is Feb. 15, 2015. That is the final day to pick or change your plan for all of next year -- with a few exceptions. If your life circumstances change during the course of the year -- if you have a baby, for example, or move to a different state -- you can access the exchange again. And there is no deadline to enroll in Medicaid or the Children's Health Insurance Program.
Am I supposed to figure out this stuff all on my own?
You don't have to. Insurance agents and brokers make their livings helping people choose a plan. They get paid by the insurance companies, so there's no cost to you. There are also armies of enrollment counselors in communities across the country who have been trained and certified to assist consumers at enrollment fairs, libraries, pharmacies and other locations. They don't charge fees either.
Don't put off finding out what help is available where you live and making an appointment. HealthCare.gov has a page where you can find local help. The organization Get Covered America also has one.
Is the website going to crash again and drive me crazy?
Probably not? As practically everyone knows, HealthCare.gov started in October 2013 as a terrible mess, and people could barely use it for months. The websites for some of the state-run exchanges were as bad or even worse.
That shouldn't happen again, although don't expect an Amazon-like level of performance. HealthCare.gov was patched up with the digital equivalents of duct tape and chewing gum last year and worked well enough for more than 8 million people to sign up. Since then, its caretakers have beefed it up even more, added a number of new features and shortened the application. Meanwhile, states with bad websites last year, like Maryland and Massachusetts, have built new ones that supposedly will function.
Am I really required by law to buy health insurance now?
Sort of. The Affordable Care Act's individual mandate says that most people who can afford it (as the law defines that, anyway) must obtain some form of health coverage or pay a penalty at tax time. For this year, the minimum penalty is just $95 per person. If you've been uninsured for more than three months this year, you'll owe money to the Internal Revenue Service when you file your taxes next April.
The penalty gets much bigger for 2015: $325 per adult and $162.50 per child (up to a total of $975 per household), or 2 percent of your household income (after subtracting about $10,000), whichever is higher. The maximum penalty you could pay is the same as the average national annual price for a "Bronze" insurance plan in 2015 (a figure that's currently unavailable, but it has been $2,448 per person this year). The penalty goes up to $695 or 2.5 percent of income in 2016 and future years.
Another very important aspect of the mandate is that it has exemptions. Lots of them. For instance, people who live in a state that didn't expand Medicaid and who earn too little to quality for subsidized private insurance don't have to buy coverage with the money they don't have. People with religious objections to insurance also don't have to get covered if they don't want to.
Isn't the Supreme Court going to take my subsidies away?
Maybe! The Supreme Court agreed this month to hear a case arguing that the federal government isn't allowed to give tax credits to people in states that don't have their own health insurance exchanges. If the court agrees, those subsidies will go away. But you can't do anything about it, so it shouldn't be a reason to not take advantage of what's available now -- or to risk having to pay a tax penalty for being uninsured.
Didn't the Republicans who won Congress on Election Day say they were going to repeal all this?
They did. But they pretty much can't. The guy mentioned in the law's nickname is still president.
To see an estimate of how much your health insurance might cost, use this calculator from the Henry J. Kaiser Family Foundation: