Pop culture is full of surprising little stories that completely challenge the way you think about Hollywood and its inhabitants. We've pulled together 11 that will change your perception about the most famous of icons:
1. Christopher Robin is based on a real child and his stuffed bear.

A.A. Milne, author of 1926's Winnie-the-Pooh, based Pooh's friend on his son, Christopher Robin Milne.
2. The Beatles also walked the other way across Abbey Road.

Abbey Road isn't a one way street. This rare photo was sold in 2012 for £16,000.
3. Mr. Rogers was really good at giving the middle finger.

This happened while he was playing "Where is Thumbkin?" with kids.
4. Charlie Chaplin didn't always have a moustache.

Chaplin eventually grew the moustache to "add age without hiding [his] expression" for his comedic character.
5. The Hollywood sign originally read "Hollywoodland."

The development was called Hollywoodland and the sign was a real estate advertisement.
6. Michael Jordan was just a dorky college kid at one point.

Of course, he became cool pretty quickly.
7. Ronald Reagan acted with James Dean.

In 1954, they appeared together on a live episode of "General Electric Theater," with Reagan fighting off an armed Dean.
8. Marilyn Monroe used to be a brunette who assembled drones during WW II.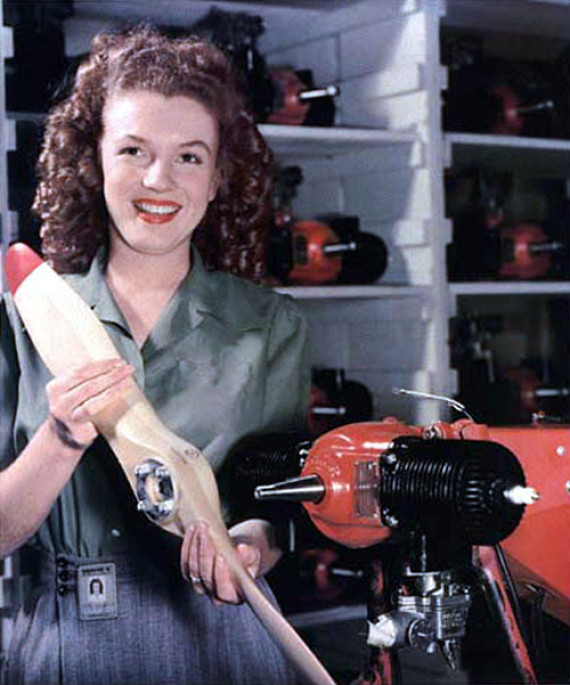 At the time, she was just a teenager named Norma Jeane Dougherty.
Image: WikiCommons
9. This is Salvador Dalí hanging out with Alice Cooper.

Dalí may have been born at the turn of the century, and created "The Persistence of Memory," in 1931, but he lived long enough for Alice Cooper to share a beer with him, in 1973.
10. Michael Jackson had a skin pigmentation disease.

Jackson's autopsy confirmed the star had vitiligo, which causes "some areas of the skin appear light and others appear dark."
11. For a festival that promoted love and harmony, the Woodstock grounds were devastated in the aftermath.

The concert was considered a "catastrophe" for the town.
BONUS: Betty White has been around longer than sliced bread.

That looks like a piece of toast on her plate, doesn't it? White was born in 1922; sliced bread was introduced in 1928.
BEFORE YOU GO
PHOTO GALLERY
Betty White At Home