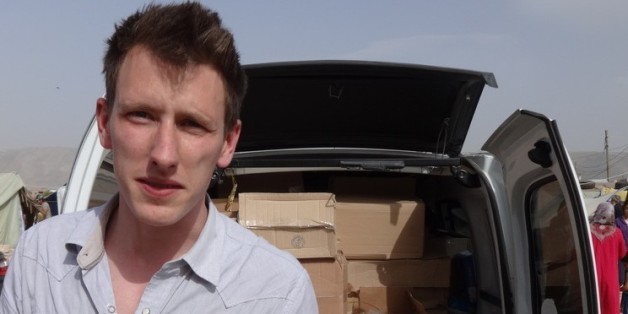 On Sunday, the Islamic State said that it had killed Abdul-Rahman Kassig, an American soldier-turned-aid worker who had dedicated himself for years to helping civilians in war-torn Syria.
Abdul-Rahman Kassig, who was known as Peter before his conversion to Islam in 2013, was kidnapped in October of last year. Islamic State militants had threatened his life in a video documenting the death of a British hostage, Alan Henning.
A former Army Ranger, Kassig was honorably discharged from the military for medical reasons in 2007 and began a series of endeavors to help those in need, often at great risk to his own well-being.
Friends, family members and colleagues who have spoken to the media about Kassig paint a portrait of someone who cared immensely about the lives of those affected by war and violence. His time in the Middle East took Kassig across several countries and into war zones and hospitals, all to help where he was needed most.
He Traveled To The Middle East As An Aid Worker
Kassig trained as an emergency medical technician after he left the military, and he traveled to the Middle East to help Syrian refugees. CNN profiled Kassig in 2012 while he was working in a Lebanese medical facility, using his EMT skills to help treat those injured in Syria's war. "The way I saw it, I didn't have a choice," he told the network. This is what I was put here to do."
Kassig had bonded with fellow aid workers in Lebanon, CNN reported. In turn, the doctors and nurses he worked with told CNN of their appreciation for his dedication and understanding. "We are not what the regime says we are -- terrorists and al Qaeda," one Syrian nurse said. "Peter knows we are good people, who love joking and laughter. We just want to live."
Kassig: "The way I saw it, I didn't have a choice. This is what I was put here to do."
He Started His Own Aid Organization
Kassig founded an aid organization in Lebanon called SERA, Special Emergency Response and Assistance, which aimed to provide medical help, clothing and food to victims of Syria's brutal civil war. The organization raised thousands of dollars and led Kassig to travel into Syria to deliver aid on its behalf. When donor money wasn't enough to meet the demand for supplies from SERA, Kassig would pay out of pocket to cover expenses, the Telegraph reported.
Speaking with Time Magazine in early 2013, Kassig explained his hopes for the future of SERA, saying, "This work is important for the message that it sends to people back home, that one of the best aspects of the American way of life is our ability to come together in the face of adversity and to stand beside those who might need a helping hand."
He Was An Intense Idealist
Upon news of his capture, many of Kassig's friends and colleagues praised his character and accomplishments. They talked of his intensity and idealism. Writing in New York magazine in early October, journalist Sulome Anderson described Kassig's desire to become an aid worker and "change his legacy in the region from one of violence to one of healing."
Alison Meuse wrote for NPR that Kassig was someone who felt a deep need to make the world a better place, and "wanted so much to ease the suffering he saw in Syria."
Katie Sola, another friend of Kassig's in Lebanon, recalled that he "found deep happiness driving a truck full of supplies with a heart full of hope into a darkening Syria."
He Risked His Life To Help Others
After relocating SERA's headquarters from Lebanon to Gaziantep, Turkey, in 2013, Kassig continued to make aid runs into Syria, despite worsening security conditions. His destinations included the Syrian city of Deir Ezzor, where one friend described how he was elated to receive permission from the local government to work in the area. As freelance journalist Michael Downey wrote in The Telegraph, the city was devastated by the war and in dire need of help. "What would deter most people away from Deir Ezzor attracted Pete," Downey wrote. "He needed to be there. So he went."
Over a year ago, Kassig was captured on an aid mission to Deir Ezzor, his family told CNN.
"He Needed To Be There. So He Went.
Watch CNN's 2012 profile of Kassig below.