The president of South Dakota's Rosebud Sioux (Sicangu Lakota Oyate) tribe has called the House of Representatives' vote to force approval of the Keystone XL pipeline an "act of war," the Summit County Citizen's Voice reported on Saturday.
"The House has now signed our death warrants and the death warrants of our children and grandchildren. The Rosebud Sioux Tribe will not allow this pipeline through our lands," President Cyril Scott said in a statement. "We will close our reservation borders to Keystone XL."
Scott said he and other tribal elders have not been appropriately consulted on the pipeline, which would run through the tribe's land. He also contended the House vote violates the 1851 and 1868 Fort Laramie treaties, which gave the Black Hills to the Sioux Nation, according to the Summit County Citizen's Voice.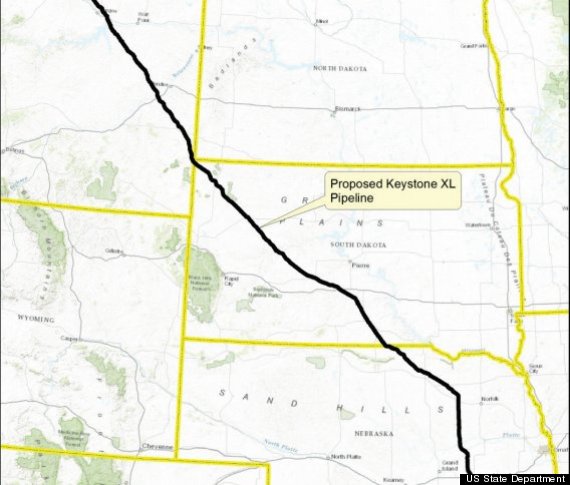 The proposed 1,660-mile pipeline would carry oil from Canada's tar sands to refineries in Texas. Scott echoed the concerns many environmentalists have raised about the pipeline, namely that it would be detrimental to the environment and further U.S. dependence on fossil fuels.
"The Lakota people have always been stewards of this land," said Scott. "We feel it is imperative that we provide safe and responsible alternative energy resources not only to tribal members but to non-tribal members as well. We need to stop focusing and investing in risky fossil fuel projects like TransCanada's Keystone XL pipeline. We need to start remembering that the earth is our mother and stop polluting her and start taking steps to preserve the land, water, and our grandchildren's future."
The Rosebud tribe and other members of the Great Sioux Nation have adopted tribal resolutions opposing the Keystone XL project in February, according to the Grand Island Independent.
The pipeline has become a political football in recent weeks. Rep. Bill Cassidy (R-La.), the lead sponsor of the House bill, is in a tight runoff election, challenging incumbent Mary Landrieu (D-La.) for her Senate seat. Landrieu is the co-author of a parallel Senate bill that is set for a vote on Tuesday, Nov. 18.
Several Democratic lawmakers said on Sunday that President Obama would veto a bill authorizing the pipeline. White House officials have also indicated that the president is leaning toward a veto. Because the pipeline would cross an international border, the decision on whether to approve falls to the State Department. The State Department has delayed a decision on the project until after a court in Nebraska decides on the legality of the proposed route through the state.
BEFORE YOU GO
PHOTO GALLERY
Least Environmental Senators