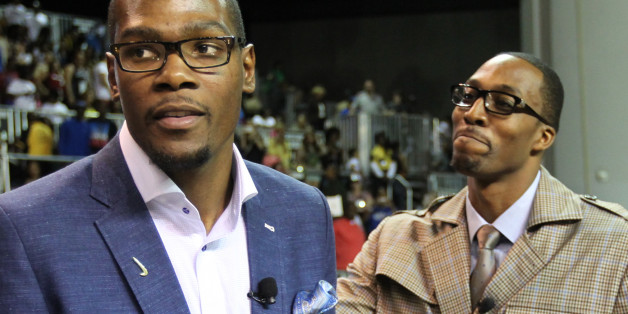 Kevin Durant sat out Sunday's game against the Houston Rockets due to a foot injury, but that didn't stop the Oklahoma City Thunder star from getting involved in what's been described as an "emotional, physical and nasty" night of basketball.
Sitting on the sidelines during the game, Durant "repeatedly" called the Rockets' Dwight Howard a "p---y," according to The Oklahoman's Anthony Slater. The alleged insult comes just a few weeks after Kobe Bryant was heard calling Howard a "soft mother f----r" and a "bitch-ass n---a" during a Lakers-Rockets matchup in October.

Lotta chirping between Thunder and Rockets right now. Kevin Durant repeatedly to Dwight Howard: "You're a pussy"

— Anthony Slater (@anthonyVslater) November 17, 2014
"It is interesting to see Durant getting this vocal towards another player, as he is widely known as one of the calmest and most professional players in the league," Fansided.com noted after the game. "Who knows what rubbed him the wrong way about Howard, but it was very obvious that he was not pleased with him tonight."

Durant wasn't alone in unleashing his temper during Sunday's game. In the fourth quarter, Rockets player Patrick Beverley clashed with a referee, prompting Thunder coach Scott Brooks to run onto the court and voice his own objections.
VIDEO: Tempers flared during Rockets-Thunder, bringing Scott Brooks onto the court. http://t.co/IJ0MeJeUUQ pic.twitter.com/wgUrpdU3GM

— Bleacher Report (@BleacherReport) November 17, 2014
The Rockets, shooting at just 28.8 percent, beat the Thunder 69-65.
BEFORE YOU GO
PHOTO GALLERY
101 NBA Posterizations