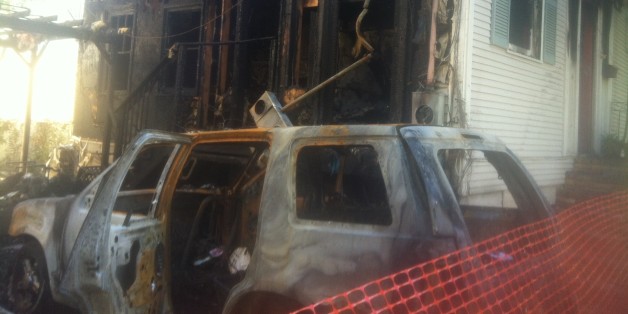 The crime was arson -- and some are wondering whether the motive may have been politics.
For nearly two weeks, an obscure runoff race in Louisiana centering on solar energy has been shadowed by mystery after a Nov. 6 fire at the home of Mario Zervigon, a political consultant. Zervigon is the campaign treasurer for Forest Bradley-Wright, an affordable energy consultant hoping to join the Louisiana Public Service Commission, the state body that regulates energy utilities.
Eight people barely escaped the fire in Zervigon's multifamily building. His car was torched, as was his wife's. "Someone, whoever it was, did target him," said Andrew Tuozzolo, a friend and colleague to whom Zervigon has referred media requests.
Since the fire, agents from the Bureau of Alcohol, Tobacco, Firearms and Explosives have been combing the Uptown neighborhood where Zervigon lived to determine who might be responsible. Investigators are treating the blaze as arson, having ruled out the possibility that it was accidental. On Monday, the agency announced that it was offering a $2,500 reward for information leading to an arrest in the case.
"They're pounding the pavement," ATF Special Agent Kevin Moran told HuffPost. "There is a lot of ground for these guys to cover. And this is one that's possibly a little more in depth in terms of what they have to rule out."
Part of the case's complexity has to do with Zervigon's involvement in a divisive political race. Moran has said investigators are interviewing not only Zervigon and neighbors, but also the campaigns of Bradley-Wright and his runoff opponent, Louisiana Public Service Commissioner Eric Skrmetta.
Zervigon played a role in other campaigns this election cycle, but none was as fiercely contested as the Public Service Commission race. On Nov. 4, two days before the fire, Bradley-Wright forced the incumbent Skrmetta into a Dec. 6 runoff election. The two candidates, both Republicans, have quarreled fiercely over alternative energy.
Bradley-Wright supports rules that favor homeowners who want to feed in electricity from rooftop solar arrays. He has received significant donations from the solar power industry. Skrmetta, on the other hand, has placed limits on how much electricity ordinary homeowners can sell back to the electrical grid -- and has garnered the strong backing of utility companies.
This summer, Skrmetta offered to compromise with solar companies in a way that might have been palatable to homeowners -- but Bradley-Wright's supporters allege that Skrmetta only extended the compromise in an attempt to guarantee the solar industry's political backing in the election.
Moran said the ATF became involved in the case, which it is investigating along with the New Orleans fire and police departments, in part because of the possibility of a political motive.
"That's probably something just a bit more concerning to law enforcement, that we don't have these violent crimes taking place to change the course of an election," he said.
But no one has offered a convincing explanation for how the fire and the campaign might be connected.
Skrmetta, for his part, immediately issued a statement condemning the arson. "My thoughts and prayers are with Mr. Mario Zervigon and his family, and the residents in that neighborhood who have been shaken by this crime," he said.
Bradley-Wright's spokesman, Seung Hong, told HuffPost he would "absolutely not" speculate on any connection between the fire and the public service commission race.
"We're not going to go there," said Hong. "We're going to let the investigators determine that themselves."
Zervigon's friend, Tuozzolo, also declined to comment on the possibility of a political connection. But as the runoff election approaches, political insiders continue to wonder.
Neighbor Erica Centurion, who also escaped the blaze, told HuffPost that immediately after the fire, Zervigon confessed his suspicions to her.
"'I think it's political,'" she recalled him saying. "'I think it's because of the campaign work I do.'"

BEFORE YOU GO
PHOTO GALLERY
2014 Election Results: Winners & Losers