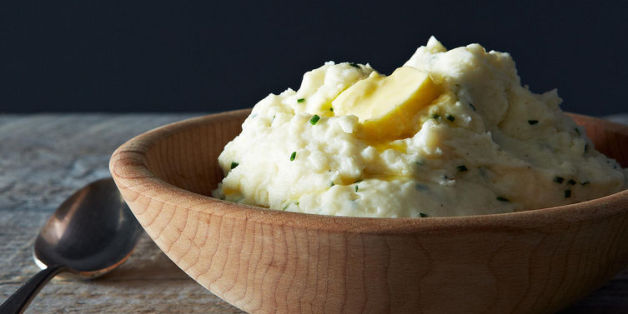 When we think of Thanksgiving, we automatically think of -- and start salivating over -- mashed potatoes: the creamy, buttery, pillowy dish that is one of our all time favorite comfort foods. Though mashed potatoes took an unjustly early exit in HuffPost Taste's Thanksgiving Side Dish Deathmatch and were rudely ranked a measly third place in the ranking of the best Thanksgiving sides, some of us (ahem) think they're the tops. Mashed potatoes are the perfect vessel for butter (we like to create a crater in our potatoes to hold a pool of melted butter), and at Thanksgiving they become a home for our favorite sauce of all time: gravy.
Whether you like them plain, smooth, lumpy, smashed, infused with flavor or loaded with accessory ingredients, we've got the recipe you need. We've also got tips to help keep you from ruining your mashed potatoes. Check out the recipes below to see how you can fancy up your potatoes with butter, horseradish, bacon and everything in between.
PHOTO GALLERY
Mashed Potato Recipes 2013
Want to read more from HuffPost Taste? Follow us on Twitter, Facebook, Pinterest and Tumblr.
BEFORE YOU GO
PHOTO GALLERY
Stuffing Recipes