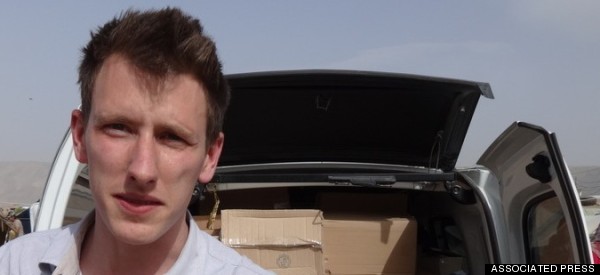 TOP STORIES
ISIS BEHEADS AMERICAN HOSTAGE "Islamic State militants released a chilling videotape on Sunday showing they had beheaded a fifth Western hostage, an American aid worker the group had threatened to kill in retaliation for airstrikes carried out by the United States in Iraq and Syria. President Obama on Sunday confirmed the death of the aid worker, Peter Kassig, a former Army Ranger who disappeared more than a year ago at a checkpoint in northeastern Syria while delivering medical supplies. Mr. Kassig 'was taken from us in an act of pure evil by a terrorist group,' Mr. Obama said." Family and friends of Kassig remember a courageous veteran who was working tirelessly to help those in the embattled region. Some believe Kassig fought his beheading due to discrepancies in his execution video. ISIS holds one more American hostage, a 26-year-old female aid worker. [NYT]

CHILD HOMELESSNESS HIGHEST IN YEARS "The number of homeless children in the U.S. has surged in recent years to an all-time high, amounting to one child in every 30, according to a comprehensive state-by-state report that blames the nation's high poverty rate, the lack of affordable housing and the impacts of pervasive domestic violence." [AP]
CNN: GOP USED TWITTER TO SHARE POLLING DATA WITH PACS "Republicans and outside groups used anonymous Twitter accounts to share internal polling data ahead of the midterm elections, CNN has learned, a practice that raises questions about whether they violated campaign finance laws that prohibit coordination. The Twitter accounts were hidden in plain sight. The profiles were publicly available but meaningless without knowledge of how to find them and decode the information, according to a source with knowledge of the activities … At least two outside groups and a Republican campaign committee had access to the information posted to the accounts, according to the source. They include American Crossroads, the super PAC founded by Karl Rove; American Action Network, a nonprofit advocacy group, and the National Republican Congressional Committee, which is the campaign arm for the House GOP." [CNN]
STATE DEPARTMENT COMPUTERS HACKED "The State Department has taken the unprecedented step of shutting down its entire unclassified email system as technicians repair possible damage from a suspected hacker attack. A senior department official said Sunday that 'activity of concern' was detected in the system around the same time as a previously reported incident that targeted the White House computer network." [AP]
JAPAN SLIPS INTO RECESSION After two consecutive quarters of contraction, Japan is officially in a recession. Japan stocks fell dramatically. [WSJ]
AVIAN FLU STRIKES BRITAIN AND THE NETHERLANDS Over 150,000 chickens suspected to have the virus have been condemned. This strain is transferable to humans. [NYT]
DEA RAIDS THE NFL "Federal drug enforcement agents showed up unannounced Sunday to check at least three visiting NFL teams' medical staffs as part of an investigation into former players' claims that teams mishandled prescription drugs. There were no arrests, Drug Enforcement Administration spokesman Rusty Payne said Sunday." [AP]
ISIS SEIZING FOREIGN AID "Islamic State militants have been seizing foreign aid destined for the neediest Syrians to redistribute under the extremist group's black flag, the latest tactic in its quest for power. Representatives of aid agencies that work in areas controlled by the militants told The Wall Street Journal they are trying to work around that problem as they confront another one: the detentions of their employees by the group, also known as ISIS or ISIL." [WSJ]
DOCTOR TREATED IN U.S. FOR EBOLA IN CRITICAL CONDITION He previously had received a clean bill of health from a negative Ebola test and possibly infected his friends in the week before a second test came back positive. [WaPo]
ANOTHER WOMAN HAS ACCUSED BILL COSBY OF RAPE "Another woman who claims she was raped by Bill Cosby has spoken out about her encounter with the embattled comedian. The accusation is just the latest of numerous allegations of sexual abuse by Cosby, and follows the claims of another alleged victim who spoke out earlier this week." [HuffPost]
POPE CONFIRMS U.S. VISIT Pope Francis will stop in Philadelphia in his first U.S. papal visit. A stop in New York is also possible. [NYT]
WHAT'S BREWING
ARE APPS KILLING THE INTERNET? "The Web—that thin veneer of human-readable design on top of the machine babble that constitutes the Internet—is dying. And the way it's dying has farther-reaching implications than almost anything else in technology today. Think about your mobile phone. All those little chiclets on your screen are apps, not websites, and they work in ways that are fundamentally different from the way the Web does." [WSJ]
WHERE TO WATCH TONIGHT'S METEOR SHOWER When you wish upon a star… [HuffPost]
'FROZEN' HAS MADE MORE MONEY THIS YEAR THAN FOUR BLOCKBUSTERS Let it go, rest of Hollywood. You can't compete with a movie about singing ice princesses, even if it was released last year. [HuffPost]
SOLANGE IS MARRIED! No one said anything about the elevator incident or the 23 years between her and her now-husband Alan Ferguson after they saw her in that awesome dress. Blue Ivy won best-dressed for the wedding. [Page Six]
YOUR PET'S CHRISTMAS LIST Tucker, Ranger, Sparky, and Whiskers will thank us. [Vanity Fair]
BONO HAS THE WORST LUCK First his plane lost a door mid-flight, then he got into a bike accident? Stay safe, Bono. [HuffPost]
ON THE BLOG
'WHY WE LOVE GOSSIP' "Anthropologists believe that throughout human history, gossip has been a way for us to bond with others -- and sometimes a tool to isolate those who aren't supporting the group. Humans have a powerful drive to know about other people's lives. It's the fascination -- often seasoned liberally with schadenfreude -- behind a welter of magazines and television programs that have made celebrity gossip a more than $3 billion industry. 'Your life may be more glamorous than mine,' we might think as we scan the covers, 'but I'm not alcoholic.'" [HuffPost]
BEFORE YOU GO
~ You can buy Lauren Bacall's New York City apartment.
~ Facebook wants to be Microsoft with "Facebook at Work."
~ Timbaland's not a fan of the Aaliyah biopic, but the Internet's a fan of #LifetimeBiopics.
~ Dawson and Pacey still hang out, as do Draco and Ron.
~ "Do You Want to Build a Meth Lab?" wins all "Frozen" parodies.
~ Welcome to the new internet game that will consume your life.
~ Forget pumpkin beer -- you need to move onto winter beers.
~ And this is what happens when a squirrel steals a GoPro.
Send tips/quips/quotes/stories/photos/events/scoops to Lauren Weber at lauren.weber@huffingtonpost.com. Follow us on Twitter @LaurenWeberHP. And like what you're reading? Sign up here to get The Morning Email delivered to you.