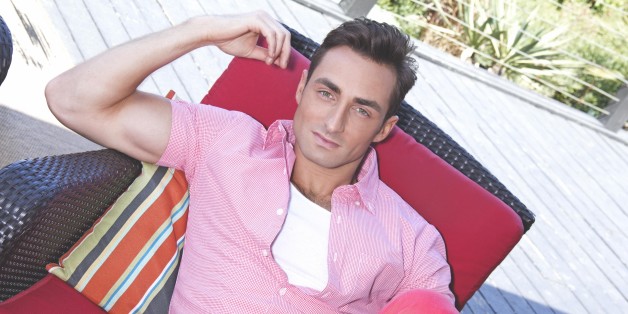 Out and proud "People's Couch" hunk Scott Nevins loves the sun, sand and surf of California, the state he now calls home. When it comes to the holidays, however, there's no suppressing the soul of this native New Yorker.
Fortunately, Nevins, 33, has found a perfect way to channel his yuletide glee with "Sparkle: An All-Star Holiday Concert," even if snow is in short supply in Los Angeles. Initially conceived as a one-off performance in Palm Springs five years ago, the show has evolved into an annual tradition, bringing together television stars, Broadway performers and Manhattan nightlife personalities on both coasts for an evening of spirited holiday music that Nevins describes as "one-part grade school Christmas pageant and one-part old-school variety special."
The New York incarnation of "Sparkle" at 42West on Dec. 7 will feature performances by Lillias White, Anthony Rapp, Lesli Margherita and Bobby Steggert. Also featured will be Erich Bergen of the "Jersey Boys" film, "On The Town" star Tony Yazbeck and celebrity blogger and entrepreneur Perez Hilton, who is included on this year's "Broadway's Carols for a Cure" album.
"I'm such a holiday fanatic and I love all of the buildup to Christmas," Nevins, who was born and raised in Queens, said. The show itself, he added, is his way of "getting together with loved ones and friends for a great holiday celebration. I want this to feel home-spun and like a real love fest between friends, performers and fans."
Nevins, who already had playlists of carols synced on his iPhone by early November, is tight-lipped in regard to the show's specifics, but says the evening will likely feature a nod to Mariah Carey's "Merry Christmas" album as well as Judy Garland's "Have Yourself a Merry Little Christmas," which are among his holiday favorites.
"You could play me any track from Mariah's album and I could sing it and re-enact the music videos," Nevins quipped. "And if you don't get a lump in your throat when Judy gets to the line, 'Through the years we all will be together/If the fates allow,' well, I don't know what's wrong with you."
In keeping with the spirit of the holidays, "Sparkle" has a beneficent cause, with proceeds from the performances in New York and Los Angeles going to The Actors Fund, a nonprofit human services organization that assists entertainment and performing arts professionals.
"What they do is so important. They've helped so many friends of mine, so I can't help but want to give back," he says. "They help everybody, whether you're an actor, a dancer, a writer, a stagehand, a director or a grip. There are peaks and valleys to every career, so it's important in this industry to have that."
"Sparkle: An All-Star Holiday Concert" plays New York's 42West on Dec. 7. Head here for tickets and more information.
BEFORE YOU GO
PHOTO GALLERY
19 Christmas Songs That Are Actually Funny