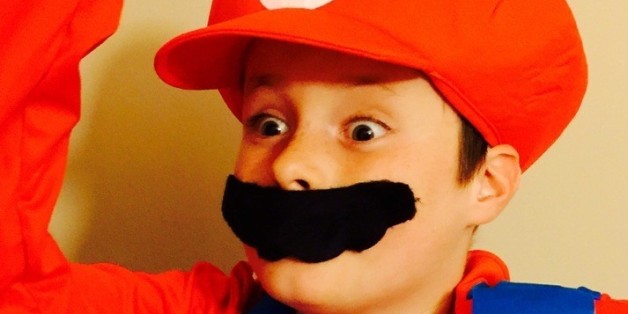 British 12-year-old William Heath can't grow a real mustache yet, but he's already won "Movember," the annual November-long fundraiser in which men grow out their facial hair to raise money for and awareness about men's health issues.
After losing his grandfather to pancreatic cancer earlier this year, William decided he wanted to celebrate Movember 2014. William's mother, Clare Heath told the Huffington Post that, "Knowing that he would struggle to grow his own mustache, [William] decided to disguise himself as famous people that sported a mustache to make people laugh."
The mother-son team used their creative savvy, and the help of their local costume shop, "Costume Hire Earls Barton," to put together a different costume for each day of the month. The costumes honored mustach-ioed icons ranging from Ali G to Zorro. So far, William's John Lennon costume has been a fan favorite. Here's what William has worn so far:
Story continues below photos.
PHOTO GALLERY
12 Year Old Proves You Don't Have To Be Able To Grow A Beard To Win Movember
While the project makes for one very entertaining photo gallery, Clare also thinks Willam's Movember celebration is a wonderful way to honor her late father. She says, "William's Pappa had a wonderful sense of humor and was great fun to be around. He would have loved this idea."
Indeed, William's unique approach to Movember has earned him fans and supporters around the world. So far, he's raised 3,330 British pounds for The Movember Foundation, which supports prostate, testicular and pancreatic cancer charities. He's currently ranked 10th in the U.K. Movember competition. The Heath family has been floored by the enthusiastic response to William's costumes.
Clare says, "We are still in amazed and astounded by the support and encouragement William has received from all over the world. It has been incredible and very humbling."
Feeling charmed by William's fabulous array of mustaches? Donate to the cause on his Movember fundraiser page and stay updated all November-long via his mom's Twitter page.
[h/t BuzzFeed]
Follow HuffPost Teen on
Twitter |
Instagram |
Tumblr |
Pheed |
BEFORE YOU GO
PHOTO GALLERY
World Beard And Moustache Championships