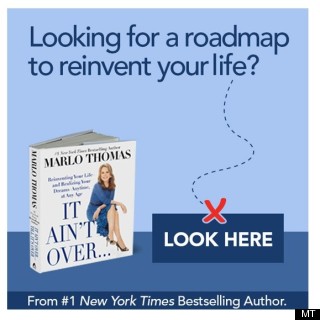 "One of the reasons I started my website is that I wanted a place for women to come together and dream. We women need to know that we don't have to hang on to an old dream that has stopped nurturing us—that there is always time to start a new dream. This week's story is about Deana Gunn and Wona Miniati –- two former college classmates who wanted to share their love of cooking (and a certain food store) with others."—Marlo, MarloThomas.com
There's made-from-scratch, and then there's made-from-almost-scratch. Deana Gunn was a specialist in the latter. She had to be: A pioneering PhD rocket scientist who developed technology for an optics start-up company, she woke up early for conference calls with European partners before handing off her two kids to a full-time nanny so she could head to the office— then at the end of a frenetic workday ran in the door at six o'clock to cook dinner. "It was quite a juggle," she says.

To make it all work, Deana had to become a genius in fast-track meal prep. The truth was, she had a sneaky little secret: She was always amazing dinner guests and delighting her kids with fancy concoctions like bruschetta-stuffed bread, black bean soup, or corn bread layered casserole. But all of that time-consuming prep work for her meals? It was being done by the pros at Trader Joe's, the nationwide gourmet supermarket that specializes in already-prepared ingredients, like sauces, doughs, cooked shredded meats, or cut-up veggies. "I could buy little pouches of brown rice from the freezer section and something that usually takes 45 minutes to cook was ready in three minutes," she says.
Deana had never been shy about sharing the tricks of her trade with her friends, but it took a visit to her favorite grocery store (yes, Trader Joe's) to inspire her to share the wealth with other customers. During one of her twice-weekly shopping runs, she noticed a stranger staring glassy-eyed at a box of quinoa. "I heard Oprah say it's good for you, but what do you do with it?" the woman asked. Deana rattled off three recipes, wished her happy cooking, and continued shopping.
"As I drove home I thought, Why isn't there a Trader Joe's cookbook?" she says.
Article Continue Below Slideshow
PHOTO GALLERY
Trader Joe's

When Deana told her husband about her idea to write a cookbook using ingredients from Trader Joe's, he thought it was a home run (and this from a usually skeptical engineer who had given the thumbs down to all of her previous brainstorms, like marketing a baby food warmer).
Deana needed a partner in crime. So she called Wona Miniati, old pal from MIT and fellow foodie who struggled with balancing her high-tech-marketing job and being a mom of two. "When she called, it was like a lightbulb went off in my head," says Wona. The answer was yes.

After long hours at their day jobs, dinnertime became R&D time. Deana and Wona would whip up as many as five main dishes each night, along with sides and desserts, holding off kids and husbands until they'd meticulously photographed each plate. Only then could the family dig in.

The women made as many as four Trader Joe's runs in a single day and often worked well past midnight, paring down the recipes, photographing the dishes, and writing the stories behind their inventions. Their concoctions were global and varied, influenced by their ethnic backgrounds.

Within five months, their already-full plates were now overflowing, and they both quit their six-figure jobs. "Our friends thought we were joking," says Deana, "asking us why we thought we could change course like this at our age. But to me, it was like that great Winnie the Pooh line: It's today, my favorite day."
But they needed time to learn the ins and outs of publishing, marketing, and distribution. Eager to get the books out by the holiday season and wanting to expedite the process and control the final product, they chose to self-publish. "There were things that were super important to us, like color photos and a hardcover, and we didn't want to compromise," says Deana.

One obstacle they didn't count on: When they called Trader Joe's to arrange for the cookbook to be distributed in its stores, the company said no—it had a strict policy against carrying books. Wona turned to some old Stanford business school colleagues for help and they advised her to close up shop and move on. But Deana and Wona had already quit their jobs, and they knew they had a hot product. "It forced us to make lemonade out of lemons," Wona says.
So they launched Plan B. On a rainy afternoon in November 2007, Deana maneuvered a rented forklift to unload a pallet of 10,000 Cooking with All Things Trader Joe's cookbooks (their favorite 125 recipes, plus suggested wine pairings and nutritional info) from a semi-truck into her garage. Then she and Wona set up a website (now called www.cookTJ.com) and an 800 number and, through word of mouth, orders started trickling in. Wona couldn't help answering the 800 number at all hours of the night—even at four a.m. when an early riser on the East Coast called. "One by one, we started selling every one of those 10,000 books out of my garage," says Deana.
Trader Joe's still doesn't carry cookbooks, but no matter. Deana and Wona now have nine titles in the Cooking with Trader Joe's series. They also have vegetarian and gluten-free editions and a portable version to fit into readers' purses or back pockets and be taken into Trader Joe's with them.

"We love what we do—it's fun, not a chore," says Wona. "I never would have expected, coming out of MIT with an electrical engineering degree, to eventually end up authoring cookbooks and writing recipes. No one should feel trapped by their formal training or what their past experience points them toward. We need to give ourselves the open space to think beyond what our career path looks like."
To find out more about Deana and Wona's journey -- and to read 59 other inspiring stories -- buy your copy of "It Ain't Over Till It's Over." Click here.

Add Marlo On Facebook:
Follow Marlo on Twitter:
Sign up to receive my email newsletter each week - It will keep you up-to-date on upcoming articles, Mondays with Marlo guests, videos, and more!