As President Barack Obama prepares to announce an executive action on Thursday that will reportedly offer deportation relief to millions of undocumented immigrants, opponents are crying foul. To understand why advocates have pressed so hard for reform, it's helpful to review the president's record on deportation and detention.
By any reasonable measure, illegal immigration is less of a problem now than it was a decade ago. Apprehensions for crossing the border illegally last year, at around 415,000, stood at roughly a quarter of where they were in 2000. The number of Border Patrol agents has doubled over the same period of time to 20,000 despite the fact that fewer people are crossing illegally.
And yet, debates over how to handle illegal immigration remain focused on increasing border security. Though Obama supports comprehensive immigration reform and, in 2012, adopted a policy of deferring deportation for people brought here illegally as children, he has also presided over an expansion of the deportation and detention machine.
His coming executive action contrasts with statements he's made in the past in defense of his deportation record.
"I'm not a king," Obama told Univision last year. "I am the head of the executive branch of government. I'm required to follow the law. And that's what we've done."
Obama has racked up more deportations than any of his predecessors, though he's still two years shy of finishing his second term in office.
In addition, tens of thousands of people caught crossing illegally every year who were once deported voluntarily now serve jail sentences. Under Obama, illegal entry and reentry have become the most commonly prosecuted crimes on the federal docket.
The Obama administration is also expanding family detention, with a new 2,400-bed facility in Dilley, Texas, set to open next month.
The emphasis on enforcement in the absence of congressional action has earned Obama the nickname "deporter-in-chief" among immigration activists and some Hispanic leaders.
To understand why undocumented activists, immigration advocates and many Latino politicians are pressing so hard for an expansive relief from deportation, check out the infographic below.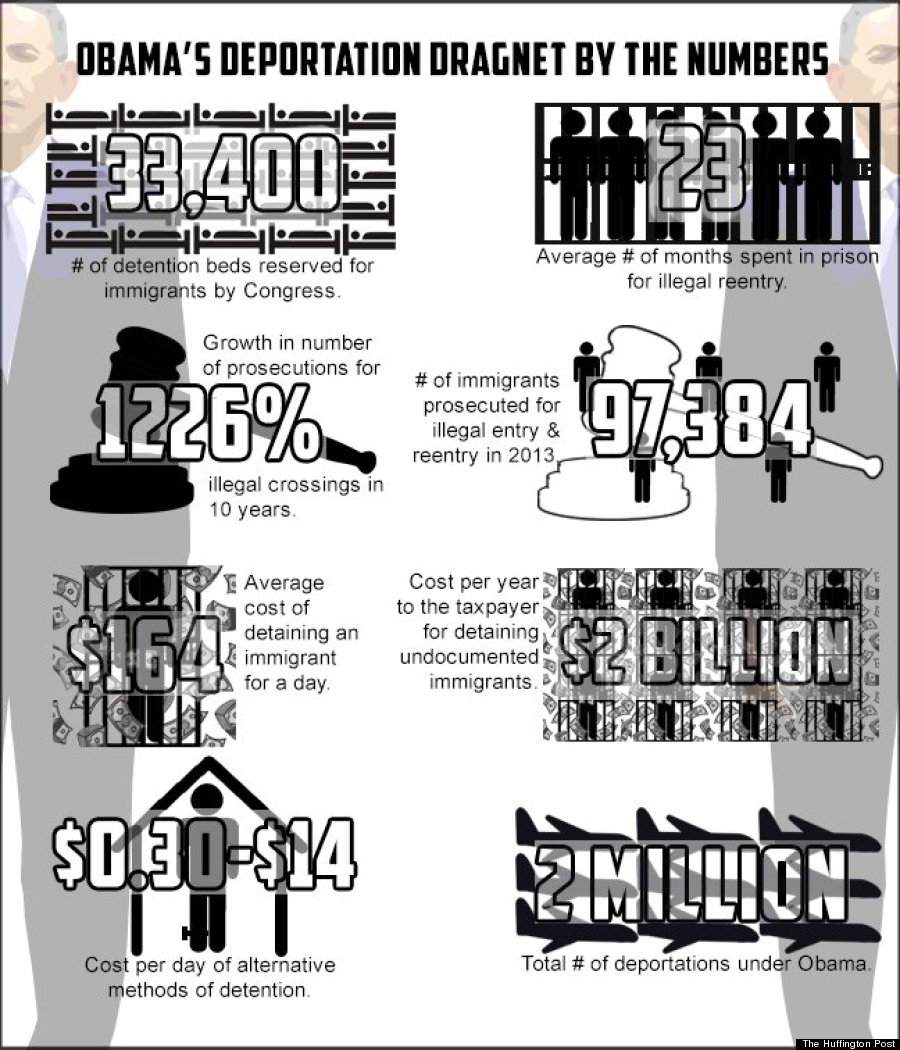 Sources: New York Times, Bloomberg News, The Nation, The National Immigration Forum, BusinessWeek, Customs and Border Patrol, Pew Hispanic Trends Project, Transactional Records Clearinghouse.
Infographic by Ana María Benedetti