Parents have a lot of creative ways to document their babies' growth over time, but this modern mom's tumblr is truly buzzworthy.
Mom Jen Hershberger grew up in the U.S. but is currently stationed in Germany with her military husband. So, her 6-month-old son Ben hasn't met all of his grandparents, aunts, uncles and cousins, she told The Huffington Post in an email. The mom turned to the digital realm to introduce her baby boy to his extended family and share updates about his life. She created BenFeed, a tumblr parody of Buzzfeed where she posts monthly photos of Ben on a quilt designed to look like an article from the popular website.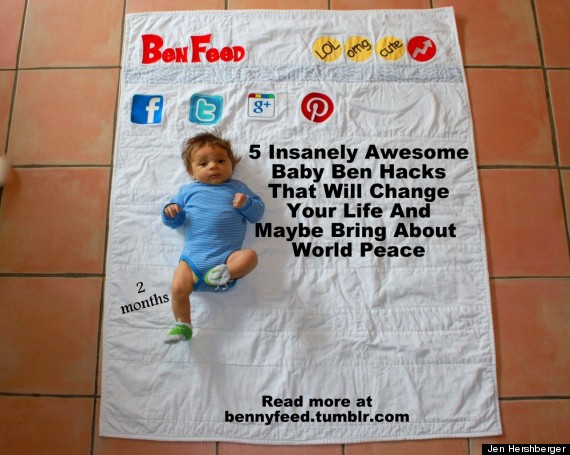 After photographing Ben on the quilt, Hershberger uses her computer to add a headline and article text about Ben's life and growth. The topics range from "Ben On Instagram Vs. Ben In Reality" to "5 Signs From Your First 2 Weeks on Earth That Prove You're in Store for a Fantastic Life." She said she drew inspiration for BenFeed from the large amount of time she spends "beached on a couch feeding my son" while "reading the entire catalogue of websites like HuffPost and BuzzFeed" -- the listicle model was a unique way to share her baby boy with loved ones back in the U.S.
"By being more than a static photograph of chubby cheeks and offering little snippets into the highlights and drudgery of our lives, it's my hope that these posts help our family feel connected and involved in our lives," Hershberger said. The creative mom added that she also documented her now 3-year-old daughter's growth as a baby with a quilt made too look like a piece of loose-leaf paper.
Living so far away from home can be difficult for her family, but Hershberger said she cherishes projects like "BenFeed," which allow them to have some fun together. "Things have been rough at times, I can certainly guarantee that we will have rough times ahead, but I'll deal with it and hopefully will find some laughs along the way."
Below are our favorite BenFeed headlines and some of the photo-filled listicles that accompany them.
H/T Buzzfeed
Read more on HuffPost Parents:
If We Let Pictures Do All The Talking
27 Breathtaking Photos Of Adoptive Families Uniting
20 Baby Names Headed For Major Popularity
Like Us On Facebook |

Follow Us On Twitter |

Contact HuffPost Parents
BEFORE YOU GO
PHOTO GALLERY
Amazing Time Lapse Videos