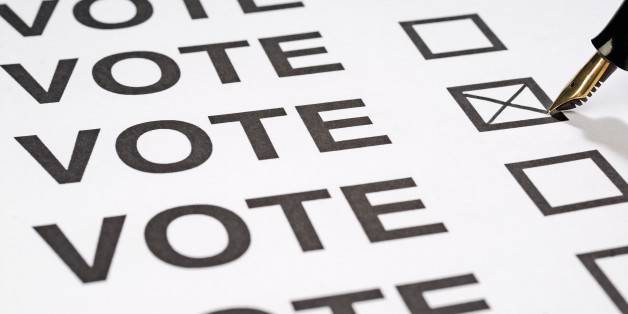 Most polls understated Republican margins in 2014, including the internal polls of both Democrats and Republicans. "Orphan states" drove extra GOP wins in the House. And Democrats assess the weakness of their economic message. This is HuffPollster for Wednesday, November 19, 2014.
EVERYONE HAD A 'NUMBERS PROBLEM' - On Monday, HuffPollster excerpted an article by Politico's Steven Shepard reporting on complaints from sources within the Republican party, some unnamed, that their pollsters "had understated Republicans' leads in a number of states." While the piece also noted that "Democratic internals and public polls also overestimated the Democratic turnout," its headline -- "The GOP's numbers problem" -- may have implied the opposite.
To add some further perspective on the issue, HuffPollster data scientist Natalie Jackson examined the error rates of poll conducted late in the campaign as well as house effects produced during the campaign. These statistics come with an important caution: The internal polls that are publicly released are just a tiny fraction of those conducted for the campaigns, party committees and Super PACs, and likely reflect a bias owing to their selective release -- sponsors who are eager to share good news but hold back the bad. Also, our numbers may change slightly as states continue to count provisional ballots and certify their results in December.
On a simple error calculation, polls sponsored by both sides tended to understate Republican margins, but the Republican-sponsored polls erred less than the polls conducted by Democrats. For each publicly released poll on U.S. Senate races conducted during the last three weeks of the campaign, we calculated the error on the margin -- that is, the difference between the margin separating the top two candidates in the poll and the margin in the results. Again, polls sponsored by Republican campaigns and interest groups had slightly less error on the margin (-4.1) than those conducted by Democrats (-5.8), but both groups of partisans missed by slightly more than non-partisan polls (-3.2). Note that the total number of publicly released partisan polls involved is small -- just 8 Republican-sponsored polls and 16 sponsored by Democrats compared to 154 non-partisan -- but all three sources tended to understate Republican margins.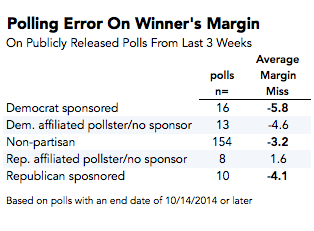 Similarly, we also calculated the average "house effect" produced by the Pollster poll tracking model for U.S. Senate races after recalibrating the trend lines to match the unofficial vote tallies in each contest on Election Day. The house effect statistic highlights the way results from individual pollsters differ from the overall trend across the entire campaign, assuming that the trend produces an accurate prediction of the final result. The pattern is similar: All pollsters showed house effects understating the Republicans, with a smaller miss by Republican-sponsored polls (-3.5) then polls sponsored by Democratic campaigns (-6.4). Polls conducted by non-partisan organizations fell somewhere in the middle (-4.1).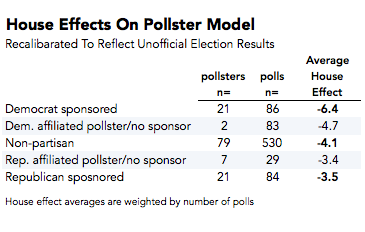 The one exception to the pattern of Republican understatement -- and then only on the simple error calculation at the end of the campaign -- is for a handful of automated polls conducted late in the campaign, mostly by the Republican-affiliated Vox Populi Polling. The danger here is the possibility that some methods obtained an accurate result for the wrong reasons. An automated-recorded voice methodology can only reach landline phones, and largely for that reason, tends to understate Democratic voters. In a year when Democratic turnout fell off, that methodological shortcoming may look like an asset.
WEIGEL ON GRAVIS - David Weigel: "Doug Kaplan had it right. Days before the midterms, his company, Gravis Marketing, polled the Virginia Senate race. It came back with a surprise: Republican Ed Gillespie was tied with Democratic Senator Mark Warner. Had the poll been released, it would have joined a survey by the conservative Vox Populi as the only numbers that correctly predicted the race. The public never saw the Gravis poll. Kaplan figured that the public would dismiss it. 'You know the way I'm treated in the media,' Kaplan said with a laugh...Earlier in 2014, Gravis Marketing was a source of fool's good for Republican campaigns. At my old Slate perch, I wrote a post with the SEO-friendly title 'The Worst Poll in America,' shaming Gravis for numbers that predicted a much closer contest in Texas's GOP Senate primary than the one voters actually made. In 2012, it was easy to find conservative-friendly polls that overrated Republican chances, and easier to find critics of Gravis. Not so in 2014...Gravis had a really good run. After the election, it reminded reporters that it was on the nose in Colorado, Iowa, and North Carolina. It saw a 6-point margin in Iowa when others, like Public Policy Polling, saw a tighter contest. 'We've changed our methodology, and we've gotten better at researching,' Kaplan said. 'In 2012 the operation was just me and a statistician. Did we get in over our heads? Probably. This time we brought in someone from a big polling firm. I had a brilliant kid from an Ivy League school.'" []
-David Nir, Daily Kos: "Absolutely bizarre for @DaveWeigel to praise Gravis for a deliberately withheld poll...@ForecasterEnten had it right when he said pollsters shouldn't take mulligans" [@DKElections here and here]
-Drew Linzer: "If you're a polling firm who always shows Rs ahead, an election where lots of Rs win doesn't validate your methods...Also, I thought we were mad at pollsters who claim to have had it right before the election and then suppress results" [@DrewLinzer here and here]
'ORPHAN STATES' HELPED REPUBLICANS WIN BIG IN THE HOUSE - David Wasserman: "Not even Republicans anticipated they were in for such a good year. So how did they beat the point spread? The answer lies less in what Republicans did, and more in what Democratic voters didn't do: show up to vote in so-called orphan states…..By winning just 52 percent of votes cast for the House, Republicans were able to win 57 percent of all House seats….The election of a historically large Republican majority coincided with the lowest turnout in a midterm election since 1942. But the 2014 race for the House played out in two very different sets of states. In the 24 states hosting high-profile, competitive Senate or gubernatorial races, raw votes cast in House races were down an average of 30.5 percent from 2012. But in the 26 states that weren't [competitive], raw votes were down a much more severe 43.9 percent...in plenty of states, the lack of a competitive statewide race sent turnout plunging to unforeseen lows and led to down-ballot disasters for Democrats." [538]
COULD DEMS DO WORSE THAN 2014? - Sam Stein: " In the days following their party's thrashing in the 2014 elections, Democratic operatives at all levels have been contemplating a frightening question. What if this is not rock bottom? The electoral landscape was certainly difficult, with high-profile Senate races in Republican-leaning states and the usual dip in turnout that comes in midterm elections, so things should turn around for the better in 2016. But a favorable year and demographics are only some of the components of electoral success. And there has been a rising sense of concern that the party lacks other critical elements: namely, a message that addresses the top concerns of voters and effective messengers to share it….[T]he party's midterm deficiencies were supposed to have been addressed by now. In 2010, Democrats suffered heavy losses from white voters who weren't college-educated. As Tom Edsall pointed out in The New York Times, they suffered the same miserable defeat from that group on Nov. 4 this year. Looking at these data points, it is possible to reach a non-apocalyptic conclusion. The problem the party faces is significant but one that primarily matters just every four years….But what if, as Pfeiffer posits, Obama is the linchpin to getting that coalition to the polls? What if the black community doesn't turn out like it did in 2008 and 2012? What about younger voters, whose support for Democrats has already waned, going from 58 percent in 2010 to 55 percent in 2014, according to exit polls? In more than a dozen interviews with party officials in the weeks since the elections, there are no clear answers to those questions." [HuffPost]
GOP MORE TRUSTED ON ECONOMY - Democrats Stanley Greenberg and James Carville: "The state of the American economy looms over the public creating long-term pessimism about the state of the country, making the economy, wages and jobs the biggest factor in people's vote in the last national election and the next. People are very aware of improvements in the macro economy and in the labor market, but they are even more aware that new jobs pay less and people have not seen a raise in a very long time….The public understands that the country faces huge new economic challenges, and yet, they do not at this point turn presumptively to Democrats to address them, nor do they embrace liberal and progressive arguments centered on these issues. Despite Democrats holding a five point partisan identification advantage, people believe by a 43 – 38 percent margin that Republicans are better than Democrats on the economy, a 10 point deficit based on the presumptive partisan orientation. The public really has pulled back from Democrats on the economy....There is no overall difference in [ratings for progressive and conservative] economic approaches when tested unbranded ('Speaker A' and 'Speaker B') versus branded ('Progressive Speaker' and 'Conservative Speaker')….The country splits evenly on key elements of the economic debate that you would expect progressives to win. People are divided on (and increasingly unsure about) whether rising middle class incomes or a better environment for businesses will have a more beneficial impact on the economy." [DemCorps]
Democrats 'credibility problem' - Democratic pollster Mark Mellman: "Democrats have to face the fact that the problems with our economic agenda go deeper than the machinations of individual candidates in particular races. We have a credibility problem rooted in both policy and performance....Raising the minimum wage is important and widely supported, as evidenced by the results on Election Day. But minimum wage jobs are hardly the aspiration of most Americans, nor is the direct impact of raising the minimum particularly large. If every voter whose wages would have been hiked by the minimum wage had cast a ballot (a dubious assumption at best) they would have constituted 3 percent of the electorate in Alaska and Arkansas...For years we have talked about minimum wage, equal pay and healthcare reform as ways to improve people's lives. In the one area we delivered, healthcare, only 16 percent say our solution has helped them, with more saying it has hurt, according to the Kaiser Family Foundation. And when people look around, right or wrong, fair or unfair, they see themselves and their children hurting economically despite six years of a Democratic president. Why would anyone believe that electing a Democratic senator in Arkansas or Alaska is going to change that? Democrats will need to answer that question and others like it to be successful in 2016." [The Hill]
ECONOMIC CONFIDENCE INCREASES - Justin McCarthy: "The U.S. Economic Confidence Index reached -6 for the week ending Nov. 16 -- its highest score since June 2013. This is up two points from the previous week, and furthers a series of incremental improvements seen since late September….Americans' outlook on the economy, meanwhile, reached its highest mark in 2014 so far and the best since last June. Forty-six percent of Americans said the economy was getting better while 50% said it was getting worse, resulting in an economic outlook score of -4. This is a six-point increase from the previous week….The improvements in Americans' ratings of the national economy in recent weeks suggest that Gallup's Economic Confidence Index could soon escape negative territory for the first time since the recession." [Gallup]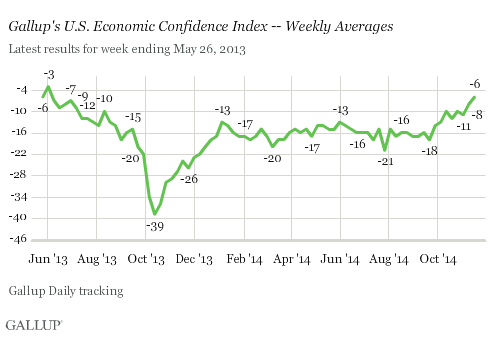 HUFFPOLLSTER VIA EMAIL! - You can receive this daily update every weekday morning via email! Just click here, enter your email address, and and click "sign up." That's all there is to it (and you can unsubscribe anytime).
WEDNESDAY'S 'OUTLIERS' - Links to the best of news at the intersection of polling, politics and political data:
-Alex Pappas looks at an unreleased Hampton University poll that may have shown Gillespie gaining. [Daily Caller]
-Chris Moody posts all of his screenshots of results from Republican internal polling shared via secret Twitter accounts. [CNN]
-Scott Clement finds support for immigration reform back to levels measured earlier in 2014. [WashPost]
-Nate Cohn sees little hope for Sen. Mary Landrieu in the Keystone pipeline vote. [NYT]
-Nathan L. Gonzales notes white evangelical voters turn out at the same rate in midterms and presidential years. [Roll Call]
-David Leonhardt says Democrats were hurt by a slowdown in wages. [NYT]
-Mike Lillis and Justin Sink look at a shift in voting among Asian Americans. [The Hill]
-Republicans Brad Todd and Glen Bolger explain why Thom Tillis won in North Carolina. [The Hill]
-Republicans Linda DiVall, Randall Gutermuth and David Kanevsky argue that Republicans are making significant gains with non-white voters. [American Viewpoint]
-Kathy Frankovic finds Americans are beginning to see signs of an economic recovery. [YouGov]
BEFORE YOU GO
PHOTO GALLERY
Conservatives Pointing Fingers