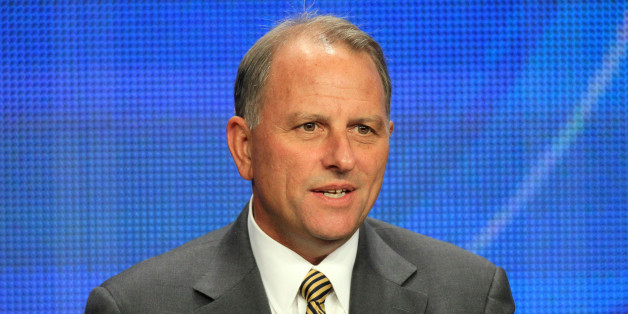 CBS News chairman Jeff Fager announced Thursday that he is stepping down, according to a memo obtained by The Huffington Post.
Effective at the start of next year, Fager will be returning to work for "60 Minutes" full time, a place he says has always been his "favorite perch."
Fager, the longtime executive producer of "60 minutes," joined CBS News in 1982. He took on the role of chairman in 2011 after former CBS News president Sean McManus left to lead CBS Sports.
"It is hard to believe that it has been four years since Les asked me to take the job," he wrote, "but we agreed that when the time was right I would be able to return to 60 Minutes full time. I can't imagine a better time for that than right now."
Read the full announcement below:
Today I am announcing that I will be stepping down as Chairman of CBS News and returning my full attention to 60 Minutes effective at the beginning of the new year.

It is hard to believe that it has been four years since Les asked me to take the job, but we agreed that when the time was right I would be able to return to 60 Minutes full time.

I can't imagine a better time for that than right now.

So much about CBS News is going well, and I am extremely proud of where we have come in these four years.

Every day the people of this news organization are turning in the kind of high quality reporting that is in keeping with our identity and heritage as the home of the best in broadcast journalism.

In my 32 years here, I cannot remember a time when you could feel as much good spirit and energy that exists today.

Some of it is related to the significant physical changes we have made at the broadcast center, creating new spaces and connecting newsrooms.

But mostly, I think it is about a common sense of purpose and pride.

Just in this past month we reached new heights. Our election coverage was the best it has been in a long time.

Face the Nation is celebrating 60 years on the air and it as strong as it has ever been.

CBSN is up and running after an exciting and successful launch.

Our television and radio broadcasts are thriving, and our international coverage has been courageous and outstanding at a time when the world seems more complicated and dangerous.

I am confident that it will only get better with David Rhodes, my friend and partner in all of this, continuing as president.

I hired him almost four years ago with this moment in mind, and he has exceeded all expectations.

I will continue to work with David whenever he thinks I can be of help. And the same is true for all of you.

You can find me at my favorite perch across the street, doing what I love doing, working on stories at 60 Minutes.

Thanks for everything you have done to make us all proud of CBS News.
CBS President Les Moonves sent the below memo to staff about Fager's move:
A Message from Leslie Moonves

Earlier today, Jeff Fager announced his decision to return exclusively to the crucial job of making 60 MINUTES the finest newsmagazine in the history of broadcasting, a position he has performed with distinction for 11 years while also leading the news division as its chairman since early 2011. It is remarkable that he has been capable of excelling at both roles for so long, and I fully understand this action on his part. At the same time, I would be remiss if I did not take this opportunity to express my profound admiration and gratitude to Jeff for the job he has done as chairman, as he, David Rhodes and the entire CBS News team have built and solidified the division's longtime status as the finest news organization in the business.

When I asked Jeff to take the post of chairman, and Jeff asked David to join the Company as president, we all realized that it was going to take some time before David got to know the organization and its many opportunities and challenges. Happily, Jeff and David have proven to be an unbeatable team, combining the wisdom, experience and proven creative track record of an industry leader with one of the most dynamic, exciting and seasoned young management voices in television news. We have come a long way under the leadership of that team. Now Jeff has convinced me that the time has arrived for the next step in the plan we implemented almost four years ago – for Jeff to return to an exclusive focus on a broadcast that defines the greatness of CBS, and for David to assume the sole leadership of CBS News.

I believe great days are ahead for our news division. We put tremendously vital broadcasts on the air every day, producing a quality of journalism unique in our medium for its integrity and seriousness. We have a new streaming news service that has already garnered a tremendous amount of excitement and praise from industry observers and Internet users alike. A few weeks ago, we topped all broadcast networks with our coverage of the midterm elections. As for 60 MINUTES, this amazing broadcast, now in its 47th year, has been in the top 10 of all shows on television consistently this season, most recently for four solid weeks in a row. Most of all, people know what we stand for – the kind of journalism that in many ways was invented here more than 75 years ago.

We would not be in such a strong position today were it not for Jeff's leadership and his willingness four years ago to supplement his role at 60 MINUTES with the duties of chairman as David integrated himself into CBS News. I want to thank Jeff for all he has done, and all I know he will do in the years to come. I am confident that under the leadership of David Rhodes as president, we will bring CBS News to even greater heights.