Before you decide to fall back on the same old dish you bring to every autumn party or office potluck, give this easy-to-make appetizer a try. The flavors are festive, the presentation is fun and you won't even have to worry about taking home a serving platter -- or any leftovers.
Herbed Pumpkin Dip in a Bread Bowl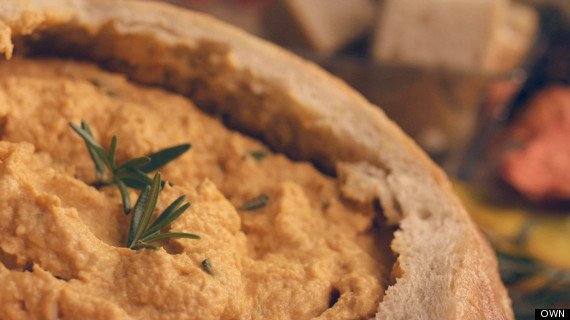 Ingredients
1/2 c. pumpkin puree
1/2 c. sour cream
1/2 tsp. chopped thyme
1/2 tsp. chopped rosemary
1/2 tsp. minced shallot
1 garlic clove, minced
1/4 tsp. salt
1 large, round loaf of bread (Italian or sourdough work well)
Directions
Combine the first seven ingredients into a bowl and mix them together. Chill for one hour.
Cut a "lid" off the bread loaf by using a serrated knife to cut a round slice from the top, about 1 inch deep. Set the bread lid aside. Scoop out the inside of the loaf to create a "bowl," leaving a wall about 1-inch thick. (See the above video for a demonstration.)
Pour the chilled pumpkin mixture into the center of the bread bowl.
Cut the bread lid into 1-inch cubes and use them for dipping. Enjoy!
BEFORE YOU GO
PHOTO GALLERY
7 No-Fail Holiday Potluck Recipes