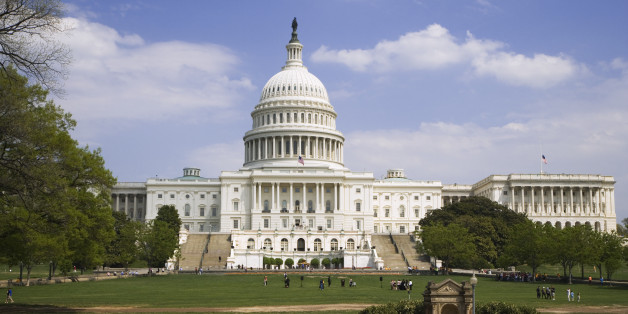 A new national poll finds little confidence that the election results will change things in Washington. Partisanship now drives ratings of U.S. healthcare quality. And, yes, data demonstrates that Twitter is an echo chamber. This is HuffPollster for Thursday, November 20, 2014.
NBC/WSJ: 'LIKE IT NEVER HAPPENED' - Mark Murray: "The recently concluded midterm elections cost billions of dollars, generated thousands of different headlines and resulted in Republicans winning control of the U.S. Senate. But they didn't change much else – especially the public's attitudes about politics in Washington, D.C., according a new NBC News/Wall Street Journal poll….More than three-quarters of Americans say the election won't substantially change the nation's direction; More say they have less confidence that elected leaders in Washington will start working together to solve problems...According to the poll, a combined 76 percent of respondents say there will be 'just some change' or 'not that much change' as a result of the election. By comparison, just 21 percent say it will result in 'a great deal of change' or 'quite a bit of change.' Similarly, more respondents say they have less confidence (32 percent) that politicians will start working together, versus those who have more confidence (26 percent). A plurality (40 percent) said the election made no difference here." [NBC]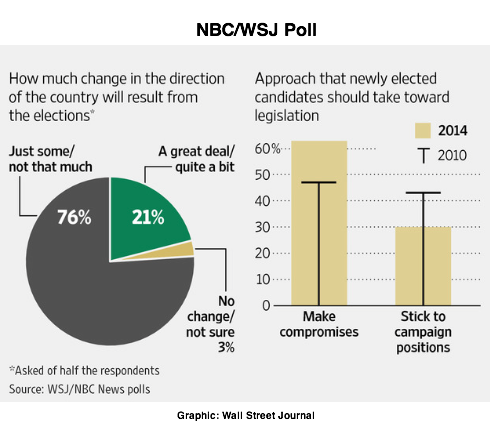 Support for compromise: Patrick OConnor: "The appetite for compromise is strong, a notable change from 2010, the last time Republicans made big gains in Congress. Some 63% of Americans want candidates who were elected to office this year to bend enough to broker deals, compared with the 30% who want lawmakers to abide by the promises they made in their campaigns. Voters had split almost evenly on the question in November 2010." [WSJ]
More from NBC: "The NBC/WSJ poll also tests several actions the next Congress might take beginning in 2015. From most popular to least popular: 82 percent support Congress providing access to lower the costs of student loans; 75 percent support increasing spending on infrastructure, roads and highways; 65 percent support Congress raising the minimum wage; 60 percent support approving emergency funding to deal with Ebola in West Africa; 59 percent support addressing climate change by limiting carbon emissions; 54 percent support building the Keystone XL pipeline." Fewer supported enacting tax reform, sending troops to fight ISIS, reducing entitlement spending, making new trade agreements in Asia, cutting funding for the ACA, creating a pathway to citizenship, or raising the age for Social Security.
PARTISANSHIP DRIVES SHIFTS IN PERCEPTIONS OF HEALTHCARE QUALITY - Although Gallup's measurement of American's perceptions of healthcare coverage and quality "held steady" in 2013, the overall numbers masked offsetting trends among partisans: When positive ratings of healthcare coverage increased in 2009, they improved about equally among Republicans (including independents who lean Republican) and Democrats (including Democratic leaners). Since then, however, Republicans' ratings have waned, while Democrats' have increased. Democrats' positive ratings have risen particularly sharply in the past year, possibly because of the implementation of the healthcare exchanges, which have broadened Americans' access to health insurance. As a result, for the first time, Democrats and Republicans are about equally likely to rate healthcare coverage in the U.S. positively, 41% vs. 35%, respectively....Just as Republicans' and Democrats' relative ratings of U.S. healthcare coverage have shifted during the past year, so have their ratings of U.S. healthcare quality. Fifty-eight percent of Democrats rate healthcare quality as excellent or good, compared with 52% of Republicans -- a much smaller difference." [Gallup]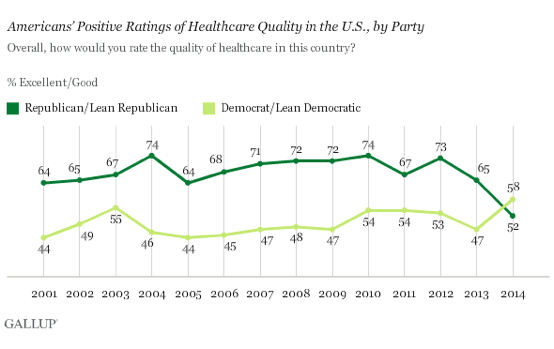 SOCIAL MEDIA MAY DEEPEN PARTISAN DIVIDES - Claire Cain Miller: "If there seems to be an unbridgeable gulf between conservatives and liberals in the United States, social networking sites might be partly to blame, according to a new study. Social media like Twitter and Facebook can create an echo chamber in which people are exposed only to opinions in line with their own, according to the study, which analyzed Twitter usage during the 2012 election. Both conservatives and liberals were disproportionately exposed to like-minded information, and like-minded tweets reached them much more quickly than those from people who disagreed with them….In some cases, social networks could expand the viewpoints people see, Mr. Barberá found; for example, if a liberal in San Francisco who does not talk much with his conservative aunt in Florida sees the articles and updates she posts online. Over time, people who are inadvertently exposed to more diverse points of view could become more politically moderate, he said. But social media can also have the opposite effect. A recent report by researchers at Pew Research Center and Rutgers University found that people are less likely to express divergent opinions online or in the real world if they use social media, because they learn more about the ways in which their friends and relatives disagree with them and want to avoid conflict." [NYT]
DID GOP MAKE 'HISTORIC GAINS' WITH LATINOS? - Stephen Nuño reviews the methodological debate over whether exit polls accurately measured an apparent gain in Republic support among Latino voters: "Tedious debates over research methodology seldom make headlines, but the consequences for these differences can be profound for politics. The GOP can take comfort in numbers suggesting it's made inroads with Latino voters and be lulled into thinking it won't suffer a backlash in future elections from its hard stance on immigration. Mismeasurement of Latino electoral support could also discourage Democrats from investing in Latino voters in conservative states with a growing population of Latino voters, like in Texas and Arizona. Getting the Latino vote right will matter a great deal in 2016, when the electorate will be more diverse across the states and across the nation....The race to understanding these differences has its own self-affirming impact so long as Republicans are winning elections, even if for the wrong reasons. The short-term toll for these inaccuracies, if Latino Decisions is accurate, will be paid for by Latinos in the form of policies that are incongruent or hostile to their needs and their experiences. In the long term, however, it may be the Republican Party that pays the cost for these differences in methodology." [WashPost]
HUFFPOLLSTER VIA EMAIL! - You can receive this daily update every weekday morning via email! Just click here, enter your email address, and and click "sign up." That's all there is to it (and you can unsubscribe anytime).
THURSDAY'S 'OUTLIERS' - Links to the best of news at the intersection of polling, politics and political data:
-The gender gap widened in 2014. [National Journal]
-Chris Cillizza finds 7 notable numbers in the exit polls. [WashPost]
-Only about a third of Americans know that the employment rate has fallen below 6 percent; twice as many Republicans as Democrats put the rate at over 8 percent. [YouGov]
-Sean Trende argues that midterm demographics, alone, didn't sink the Democrats in 2014. [RCP]
-Harry Enten doubts Hillary Clinton can expand the 2016 map. [538]
-Nate Cohn says voter ID laws don't swing many elections. [NYT]
-David Damore explains that immigration has been a consistent policy priority for Latino voters in Nevada, where President Obama will speak on the issue on Thursday. [Latino Decisions]
-Bloomberg Politics and Saint Anselm College will partner with Purple Strategies on New Hampshire polling. [Purple Strategies]
BEFORE YOU GO
PHOTO GALLERY
Conservatives Pointing Fingers