On Wednesday night, students and community activists began a major protest in Wheeler Hall at the University Of California-Berkeley. By midnight, more than 200 protestors were occupying the hall, according to student newspaper the Daily Cal.
The protesters are fighting the tuition increase which was passed by the Board of Regents on Thursday, raising tuition by at least 5 percent per year for five years.
Protestors have created a list of demands, which includes dropping the pursuit of charges against Jeff Noven, a Berkeley student who was arrested on Wednesday at the San Francisco regents meeting, and creating greater transparency for the UC budget, in addition to dropping the tuition hike.
Demands from @UCBerkeley students protesting the tuition hike. @insidebayarea pic.twitter.com/AIR9Lhe7lf

— Natalie Neysa Alund (@nataliealund) November 20, 2014
The protestors remained in the building overnight, but voted on Thursday morning to not fully occupy the hall, Daily Cal reported, so other students still have access to the building for classes.
Occupiers are having teach-ins and staying well-caffeinated, according to pictures from the scene. They watched the regent meeting via livestream.
Teach-in taking place #occupywheeler #fightthehike pic.twitter.com/QBAJS2TkQ0

— Cesca (@CyanEchoes) November 20, 2014
Partial blockade of Wheeler doors. Making our presence known
#fightthehike #OccupyWheeler pic.twitter.com/URZxAIGCVc

— Lorenzo Galdón Ramos (@lgaldonr) November 20, 2014
Gathered around laptop watching livestream of UC Regent Meeting
#fightthehike #OccupyWheeler pic.twitter.com/zY0OPRs1mz

— Lorenzo Galdón Ramos (@lgaldonr) November 20, 2014
Image sent to HuffPostCollege Snapchat at 5 p.m. EST: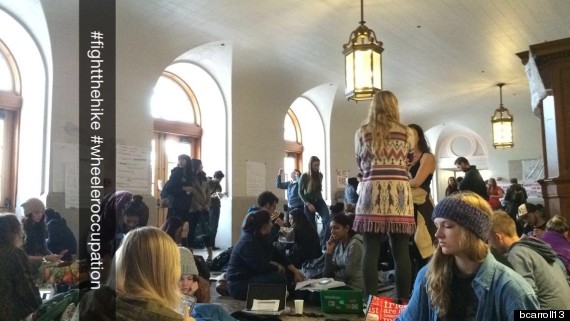 BEFORE YOU GO
PHOTO GALLERY
UC Protests And Police Violence