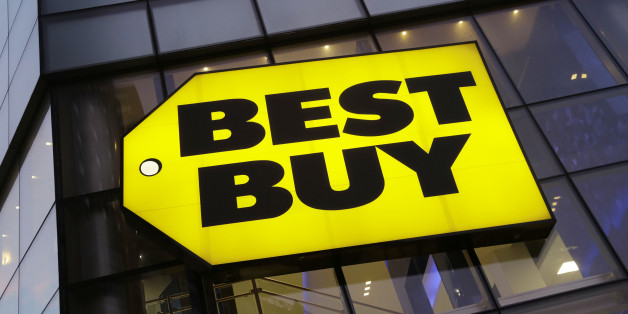 This article was reported by DealNews, a site that scours the web for the best retail deals.
This is not a drill! The release of Best Buy's Black Friday ad signals the entrance of a major player in the shopping season, and this electronics giant is not fooling around. The massive 47-page ad boasts some truly impressive price drops on name-brand HDTVs, MacBooks, and Beats headphones, but there are notable stumbles, too. Read on for our full analysis.
The Best Buy Black Friday Ad Analysis
The Best Buys
Panasonic 50" 1080p LED LCD HDTV for $199.99
If you want to make a statement, offering a brand-name HDTV as your show-stealing doorbuster is a heck of a way to do it. This Panasonic 50" set comes in at an astonishing $99 below our Black Friday prediction for the 46" to 47" class TVs. In fact, this deal will be tied as the best price we've seen for any 50" HDTV by about $100 — including refurbs. (We've only seen a 50" TV drop this low once before, on Thanksgiving last year.) Best of all, this price outshines the leaked Black Friday prices for every other TV in this size range, including Target's incredible $235 48" set. The only drawback to this doorbuster is that you'll have to go to the store to grab it.
Samsung 55" 4K 2160p Smart LED LCD Ultra HDTV for $899.99
Remember when we said you shouldn't buy a name-brand smart TV on Black Friday? Here's the glaring exception to that rule. You don't even have to brave the in-store crowds to score this incredible Samsung 55" 4K Smart TV deal; according to the ad, this doorbuster will be available online. At $900, this set beats our August mention of a refurb, becoming the cheapest Samsung 55" 4K TV we've seen by $315.
LG 65" 1080p LED LCD HDTV for $799.99
A truly pleasant Black Friday surprise for the super-size shoppers, this LG HDTV is about to become the cheapest brand-name 65" we've seen outside of refurbs. It's also a full $100 below the best price we've previously seen for an LG 65" set. For what it's worth, this TV also comes in at $149 below our doorbuster prediction for the 70" class.
Apple MacBook Air Haswell Core i5 11.6" Laptop for $779.99
If you're shopping for a current-gen MacBook Air on Black Friday, this is definitely the deal to beat. That $780 price point not only shatters our Black Friday prediction by $19, but it blows past our previous all-time low by $70. Best of all, it knocks a delightful $120 off Apple's price.
Samsung Galaxy Tab Pro 8.4" 16GB Android Tablet for $199.99
Although Best Buy disappointed us on the Galaxy Tab S (more on that later), this Galaxy Tab Pro offer is legit. At $200, it'll beat our previous price low for a new unit by $50, and be tied with our October mention of a refurb as the best price we've ever seen for this excellent quad-core KitKat tablet.
Beats by Dr. Dre Solo HD On-Ear Headphones for $79.99
Sorry, Target: Best Buy just became the place to buy a pair of Beats cans on Black Friday. Even we're floored by this $80 doorbuster; that ties the all-time best price we've seen for these headphones refurbished.
2nd-Gen Nest Learning Thermostat for $199.99
The ultimate home-warming gift for techies is about to see a serious price drop. Best Buy's Black Friday price blows past our $220 prediction for the Nest Thermostat, bringing this in-demand gadget to the lowest price we've ever seen by $24. (For further comparison, we saw it bundled with a $50 Apple gift card for $250 on Black Friday last year.)
Pebble SmartWatch for iOS and Android Devices for $79.99
Best Buy is slashing the prices of both the Pebble base model and the Pebble Steel, making either smartwatch a smart buy. The original Pebble will fall to $80, beating our previous low by $19; similarly, the Pebble Steel will surpass its previous best price by $20.
The Bad Buys
Samsung Curved 55" 4K 2160p LED LCD Ultra HDTV for $1,299.99
Although this Samsung Ultra HDTV will fall to a sexy $144 below the lowest price we've ever seen for any curved set, it's already been beaten. Sam's Club will also offer a Samsung 55" curved 4K TV ... but for $22 less than Best Buy's price.
Sony 32" 720p LED LCD HDTV for $189.99
This $190 Sony 32" TV handily beats Target's $198 Samsung, but it's worth mentioning that we've seen brand-name 32" sets as cheap as $160 in recent weeks. Furthermore, Best Buy's price comes in at $91 above our Black Friday prediction for this class. If brand isn't important, you're much better off going with Kohl's, which will offer a 32" TV for just $100.
Dell Inspiron Core i3 16" Touchscreen Laptop for $299.99
Despite this system's price falling to $25 below our mainstream laptop prediction, shoppers should really look for better specs in this class. Especially disappointing is the Core i3 CPU and 500GB HDD, as we saw a similarly-equipped Dell with double the hard drive space for a buck less at Walmart earlier this month.
Apple iPad mini 3 16GB WiFi Tablet for $324.99
Here's another discount that should be amazing, but is actually DOA. Despite the fact that we predicted the iPad mini 3 would only see moderate deals, Best Buy will knock $74 (or 19%) off of Apple's price. Unfortunately, Target has the deal to beat when it comes to the current-gen mini, offering this tablet at list price but bundled with a huge $100 gift card.
Samsung Galaxy Tab S 10.5" 16GB Android Tablet for $399.99
This top-of-the-line Android tablet is an excellent buy at $400 — which is why we're recommending you grab it at this price from Sears, where you'll also score a $20 credit with your purchase.
Amazon Fire TV 1080p Streaming Media Player for $74.99
Sure, this price is right in line with our Black Friday prediction for the Fire TV, and it's $24 below Amazon's current price. Unfortunately, both Staples and Meijer will offer this streaming box for a buck less.
Despite some disappointing missteps, Best Buy's Black Friday ad delivers in almost every way. From that jaw-dropping $200 Panasonic TV to those $80 Beats headphones, we've clearly got a lot to look forward to on Black Friday.
Excited for Black Friday deals? Consider subscribing to the DealNews Select Newsletter to get a daily recap of all our deals; you never know when a Black Friday price will be released! You can also download the DealNews apps, check out the latest Black Friday ads, or read more buying advice.
BEFORE YOU GO
PHOTO GALLERY
15 Stores Open On Thanksgiving