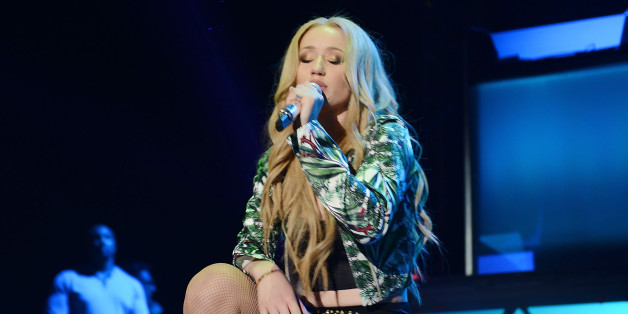 Iggy Izalea is not one to let a gross comment slide. On Wednesday night, Eminem previewed part of a new track, "Vegas," which will appear on the forthcoming album, "Shady XV." The verse mentioned Nicki Minaj and Azalea, and alluded to rape.
"You're lucky just to follow my ride/ If I let you run alongside the Humvee, unless you're Nicki/ Grab you by the wrist, let's ski/ So, what's it gon' be?/ Put that shit away, Iggy/ You gon' blow that rape whistle on me," he rapped.
Azalea responded on Twitter, saying she was "bored of old men threatening young women," an allusion to comments that Snoop Dogg made about her earlier this year.
im bored of the old men threatening young women as entertainment trend and much more interested in the young women getting $ trend. zzzz

— IGGY AZALEA (@IGGYAZALEA) November 20, 2014
its especially akward because my 14 year old brother is the biggest eminem fan and now the artist he admired says he wants to rape me. nice!

— IGGY AZALEA (@IGGYAZALEA) November 20, 2014
women in music have the bigger balls anyhow we endure much more harassment and critic. good morninnggggg!!!!!! off to camera block for AMAs!

— IGGY AZALEA (@IGGYAZALEA) November 20, 2014
Eminem has a history of rapping about abusing women. Earlier this year, he freestyled about punching Lana Del Rey in the face. Prior songs included grotesque lyrics about Britney Spears, Mariah Carey and Christina Aguilera.
BEFORE YOU GO
PHOTO GALLERY
Celebrity Feuds