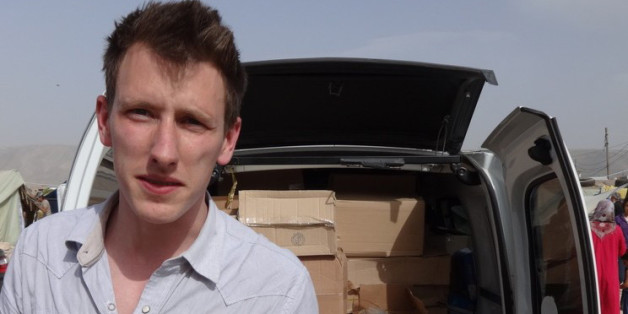 The Islamic State has released five videos since August depicting the gruesome beheadings of hostages from the United States and England. The most recent one showed 15 minutes of grisly attacks against Syrian soldiers before zooming in on the decapitated corpse of American aid worker Abdul-Rahman Kassig, formerly known as Peter Kassig.
While most media organizations, including The Huffington Post, refuse to post the videos themselves, it takes just a few seconds to find them through a simple Google search. But a HuffPost/YouGov poll conducted in the aftermath of Kassig's death revealed that not only have a majority of Americans not watched the footage, they also think it's disrespectful to the victims to do so.
Fifty-one percent of survey respondents said it's disrespectful to the memory of the hostages to watch the videos of their executions, while 18 percent disagreed and 31 percent said they weren't sure. And while more than a third of respondents said they had watched a video that depicts a real person being killed before, a mere 9 percent said they'd specifically watched one of the Islamic State beheadings. Twenty-three percent said they had watched parts of the videos that didn't include the executions.
The Islamic State released the first beheading video, which showed the execution of American journalist James Foley, in August. Two weeks later, the group posted a video depicting American journalist Steven Sotloff's murder, followed by videos showing the killings of British aid workers David Haines and Alan Henning in September and October.
The first four videos followed a familiar script: they showed footage of President Barack Obama or U.K. Prime Minister David Cameron ordering airstrikes against the Islamic State, then the beheading, then an image of the next hostage they planned to execute. The video of Kassig, released on Saturday, strayed from the format of the other ones, leading some to speculate that he had fought back.
In the days after each video's release, the Internet exploded with calls to avoid watching them for a range of reasons, from honoring the victim's life to lending legitimacy to Islamic State propaganda. "We prefer our son is written about and remembered for his important work and the love he shared with friends and family, not in the manner the hostage takers would use to manipulate Americans and further their cause," Kassig's family said in a statement over the weekend.
Still, some people did make the choice to watch the footage. Dr. Glenn Sparks, a Purdue University professor who studies the effects of violence in the media, said the desire to seek out such disturbing content could be driven by a variety of factors, including a need to orient oneself with an unfamiliar situation or a need to gather as much information as possible to cultivate survival skills. He also said that the endless barrage of gruesome violence in the media has de-sensitized people to traumatic imagery.
"It's very similar to a car accident," he told HuffPost. "When people slow down on the highway, there's almost a tendency to look and then not look. You look quickly, you look away. It isn't that people are looking forward to seeing someone in a horrific setting -- most people don't report that they enjoy that. The novelty of the event, the reality of the event -- some people are really driven to pay attention."
Sparks added that other people handle uncomfortable situations by blocking them out. "For some people, the stress of it, the negative emotion, is going to be enough of a weight to cause them to say, 'I want no part of this.'"
The HuffPost/YouGov poll was conducted Nov. 18-19 among 1,000 U.S. adults using a sample selected from YouGov's opt-in online panel to match the demographics and other characteristics of the adult U.S. population. Factors considered include age, race, gender, education, employment, income, marital status, number of children, voter registration, time and location of Internet access, interest in politics, religion and church attendance.
The Huffington Post has teamed up with YouGov to conduct daily opinion polls. You can learn more about this project and take part in YouGov's nationally representative opinion polling. Data from all HuffPost/YouGov polls can be found here.